12/19/2019 Breaking News Update: As of today Secretary Ross has found Virginia out of compliance, to hold Omega Protein accountable for their blatant disregard for the law. Thank you, Secretary Ross!
---
A few weeks ago Virginia Governor Ralph Northam wrote to Secretary of Commerce Wilbur Ross to request a moratorium on the harvest of menhaden, since Omega Protein blatantly over-harvested in 2019 (see Fisheries Alert on Menhaden: Go Northam, Go! for the details). Now, the governors of Connecticut, Delaware, Maine, Maryland, Massachusetts, New Jersey, New York, and Rhode Island have joined Northam in their condemnation of Omega's practices and request for action.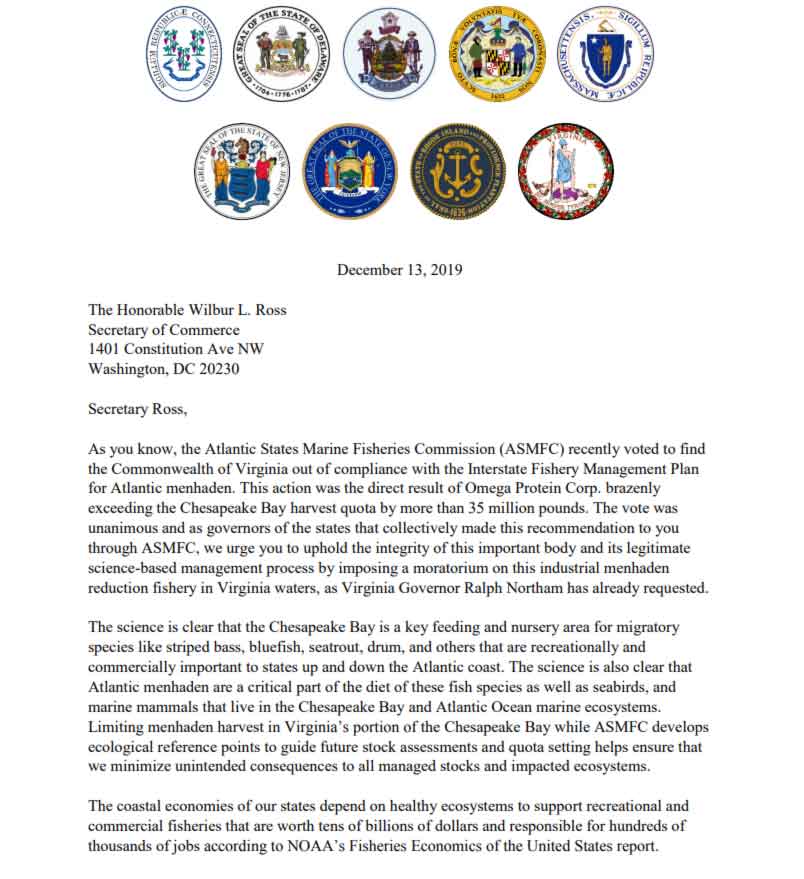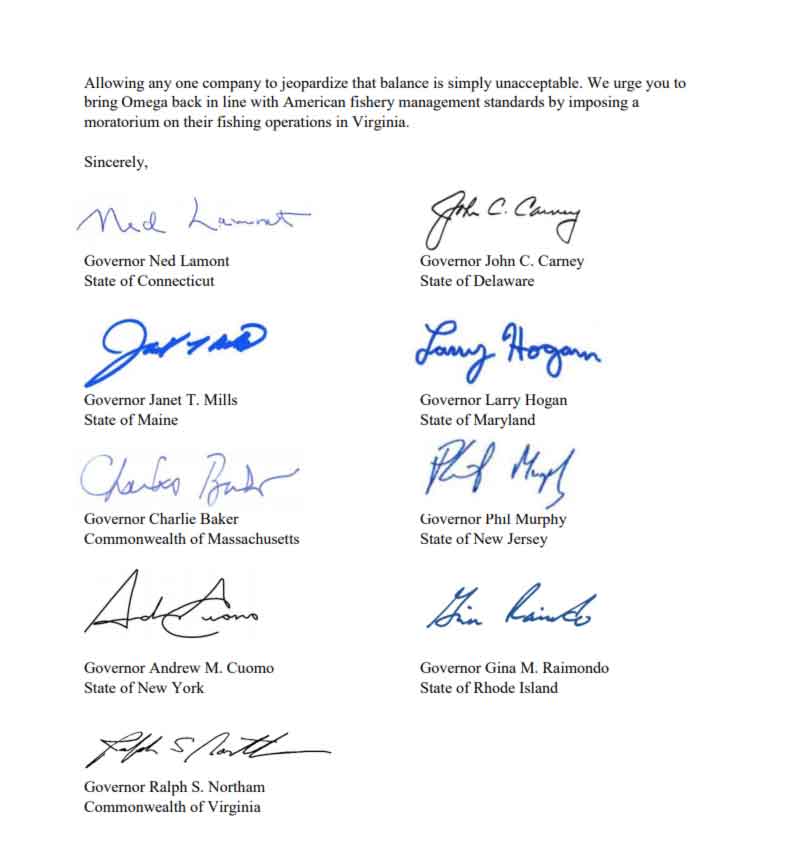 The sentences with the most impact in this letter come at the end: "Allowing any one company to jeopardize that balance is simply unacceptable. We urge you to bring Omega back in line with American fishery management standards by imposing a moratorium on their fishing operations in Virginia."
Plain and simple, they're right. When a company engages in mass over-harvesting and essentially thumbs its nose at regulators, there's no option but to shut it down completely. We not only agree with these governors, but would like to thank them for joining together to ask Secretary Ross to do the right thing. The battle over menhaden has been raging on for decades, but through it all, the law has at least been respected. That's no longer true, nor was it accidental - Omega openly announced their intention to catch beyond their cap.
Note that this comes even after their quota was increased in November of 2017. Never satisfied, back then Omega managed to convince the Virginia legislature to appeal for yet more additional quota. Northam stepped in at that time, and managed to convince the legislature to pull the appeal. Omega's response? To ignore the cap altogether.
Secretary Ross, the ball is in your court. We sincerely hope that you accept the request of these governors and bring Omega's law-breaking nonsense to a halt.