The 2017 Maryland Saltwater Sportfishing Association (MSSA) Championship on the Chesapeake striped bass tournament started off with a bang - and by "bang," we mean the sound of breaking tree branches, crashing waves, and snapping mooring lines. The wind and weather were so ferocious on Friday, the first scheduled day of fishing, that the MSSA postponed the start of the tournament until Saturday, a decision that we here at FishTalk heartily applaud. With gusts topping 30 knots and sustained winds in the 20's, the seas were nothing short of dangerous on Friday. And while conditions certainly weren't what you'd call comfortable today (Saturday), they were at least significantly safer. So we ran down to Sandy Point State Park to see some fish come in, and to shoot this short video of the first striper weighed in at Sandy Point during the 2017 Championship on the Chesapeake. 
This fish was briefly in fourth place, but quickly got overshadowed by results flowing in from southern ports. The top spot (in the amateur division) currently belongs to Edward Bellafiore, for a 32.15 pound striper weighed in at Calvert Marina. David McAfee is in second with a 30.95 pounder, and third place is held by John Weber with a 29.75 pounder. Interestingly, this puts the amateurs well ahead of the pros - the top spot for professionals sits at 25.95 pounds (K. Hawk) with second place at 24.6 pounds (Josh Suchter) and Willie Zimmerman nipping at his heels with a 24.4 pound striper. So the fish we saw weighed in at Sandy Point was larger than many of the pro's - nice job, fellas!
All of these marks, of course, may well be surpassed on Sunday. And thanks to decreasing winds, we expect the fishing to be a bit better - or at least a bit more comfortable. While there's still a small craft advisory in effect, NOAA says that the top gusts aren't expected to top 20 knots. And since this is the largest striped bass tournament in the world, we expect there will be an awful lot of boats out there competing tomorrow.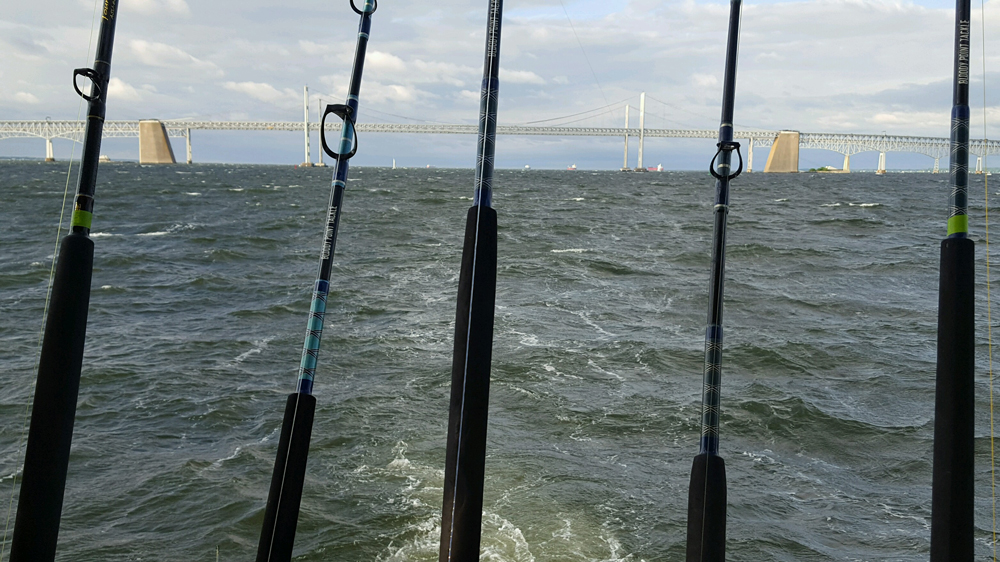 We also saw what was surely the largest catch in the tournament, although it surely doesn't count - Jim Bremer, who failed to disclose his actual weight but showed us the result of an early morning hook-up with his left hand. Ouch.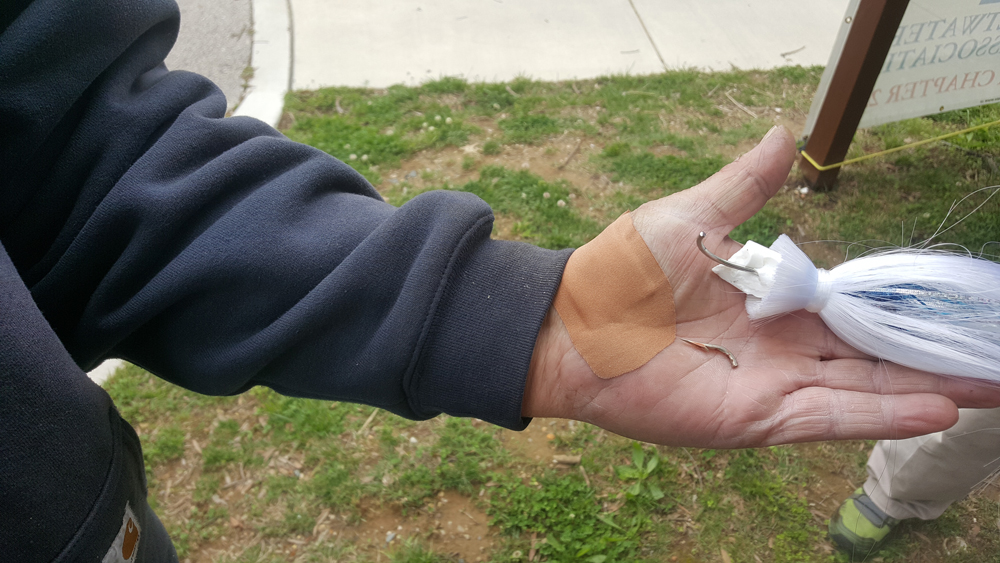 Stay tuned - we'll be back to you tomorrow with the latest on the Championship of the Chesapeake striper tournament results, as soon as they come in.