Ready to do some Chesapeake Bay fishing, tournament style? There are two upcoming events, both of which benefit fantastic organizations. First, CCA-MD has the Red Trout tournament, taking place September 12 to 14, to be held this year out of Buzz's Marina in beautiful Ridge, MD. This will be a catch-photo-release tournament held on the iAngler app, with powerboat, kayak, fly, and youth divisions. As usual there will be some very cool prizes awarded to the winners, so visit CCA-MD and make your plans today.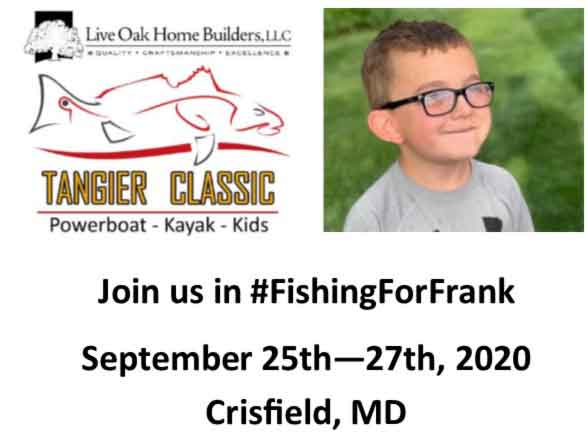 September 25 to 27 in Crisfield, MD, the Crisfield American Legion will serve as the hub for the Tangier Classic. Don't feel bad if you're not familiar with this tournament – 2020 marks just its second year of competition. But this is an event you anglers need to know about, first and foremost because it's not about making piles of money or proving what a great fisherman anyone is. The Tangier Classic is all about raising funds for children in need, and last year, the inaugural event raised enough to change the life of local six-year-old Lane Dodson. Diagnosed with Leukemia and diabetes, oncologists and physicians felt a diabetic alert service dog could greatly help Lane. But the cost of such a highly trained service dog was around $15,000. The Tangier Classic made it happen. Oh, and guess what Lane enjoys doing? Going fishing, of course!
This year's Tangier Classic is set to benefit Franklin Kirwan, a six-year-old diagnosed with Neurofibromatosis. He needs weekly chemo to prevent Glioma tumors from affecting his optic nerves, in order to prevent losing his eyesight. To say this the situation puts a financial stress on his single-parent family of four would be the understatement of the year, and if you can't go fishing for a few days — aw, shoot — to join in the Tangier Classic and help raise funds for Franklin, we just don't even know what to say. Oh, and guess what Franklin enjoys doing? Going fishing, of course!
About the tournament: there are powerboat, kayak, and kid's divisions, and the entire Chesapeake is open to competition (powerboats must launch from Wicomico, Somerset, or Accomack counties; kayaks can launch anywhere). Winners are judged by two-day stringer length of their top five fish, and fish that must be released (like over-slot reds) are submitted via photograph. Fish that anglers choose to release may also be submitted via photographs. Despite how new the tournament is, last year over 200 anglers participated and over $16,000 in prize money was paid out (50-percent goes to the beneficiary and the other half to tournament contenders). Visit the Tangier Classic to get the complete scoop.