Soft launches are like little gems in the life of a DelMarVa angler, especially those who enjoy kayak fishing. They can be as obscure as a path from a barely visible roadside pull-off to the edge of a lake, yet provide the key to an epic angling adventure that makes you feel as though you're 100 miles from civilization. And every soft launch has its own unique character. Some provide close access to the hotspots that trailer-boaters go to, others provide shoreline or wade-fishing opportunity, and a few may even have luxury amenities like a port-o-john or lined parking spaces. Whether you haul a kayak on top of a Camry or a jon boat in the back of a pick-up truck, if you're into fishing, all 10 of these prime locations will hold some special appeal.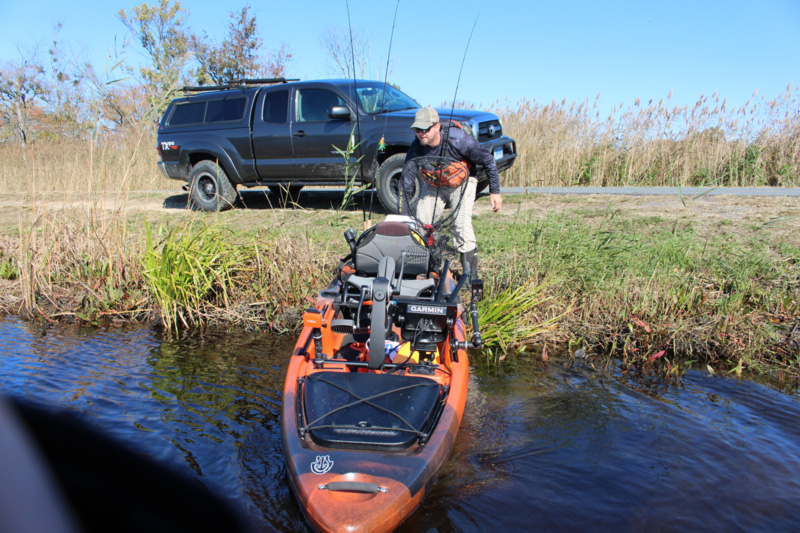 Delaware
1. Horsey Pond – Located just off route 13 in Laurel this is the deepest of the Delaware millponds, with a depth of nine feet near the spillway. This 46-acre body of water holds a healthy population of crappie, bluegill, bass, as well as the state's longstanding record for chain pickerel. A grassy bank in the parking area is ideal for launching, or there's a boat launch you can use if you find that more convenient.
2. Concord Pond – If you're looking for tons of toothy tugging, this pond is simply loaded with pickerel, pickerel, and more pickerel. There are plenty of launch options as you can put in near the spillway at the corner of Rt. 516 and German Road, use the pond boat ramp, or head for the gravel parking area below the spillway that will allow to access Deep Creek — which feeds into the Nanticoke, where you will have a good shot at hooking into some snakeheads.
See the Delaware Pond Locations Map for more access points and details.
Maryland
3. Riley's Mill – Located at the end of Riley's Mill Road just off Rt. 213north of Chestertown, MD, Riley's Mill is little more than an undeveloped mini-peninsula jutting out in between two small feeder branches of the Chester. There's plenty of room to park and launch, and this is one of those spots shoreline anglers also have plenty of room to set up shop. Although this is officially a tidal area, you'll encounter mostly freshwater species.
4. Stoney Point Landing – Tuckahoe Creek is an awesome waterway, but it can get crowded if you launch near Hillsboro, MD, especially on a weekend. Head for Stoney Point, which has plenty of parking, multiple launch areas, and some shoreline access as well, and you'll get out onto the creek in a more secluded zone. This is a hotspot during the perch runs and pretty much always can be counted on to produce just as many catfish as you can stand.
5. Idylwild Wildlife Management Area – If you're up for a physically demanding workout that takes you to a pond you'll almost certainly have all to yourself, head for Idylwild, just north of Federalsburg, MD, and next to the Delaware line. There's a parking area off Noble Road, and if you have a cart or wheels for your watercraft and can haul it down the fire road for about three quarters of a mile, you'll come to the largest pond in the Management Area — which is chock-full of pickerel, bass, and crappie. Map out the trek on Google Earth first, to make sure you don't get lost in the woods.
6. Rt. 335 Bridge – This rather well-known entry into the Blackwater River complex south of Cambridge, MD, is ground zero for snakehead hunters. There's plenty of parking and a spot you can slide in a kayak or very small boat on the north side of the bridge; from there many anglers like to make their way up Buttons Creek and toss frogs, mice, and other topwater.
7. Schumaker Pond – The Eastern Shore millponds offer excellent fishing, but they can get a bit crowded at times. That's almost never a problem at Schumaker (in Salisbury, MD), however, which has utterly fantastic pickerel and crappie action but no boat ramp. There's a very small parking area for just a few vehicles with a 20- to 30-foot stone trail leading to the water on the northwest corners of the lake, off North Schumaker Drive. Or if your watercraft is light enough to carry 60 or 80 yards, you can park at Schumaker Pond Park and carry it in from there.
8. Stinky Beach – The Homer Gudelsky Park, commonly known as Stinky Beach, in West Ocean City, MD, at the end of Old Bridge Road (just south of Route 50), gives you easy access to the bay behind Ocean City with salty species like flounder, blues, stripers, tautog, and more, literally yards from where you slide in your kayak. Head to the left after reaching the sand to get to an easy launch beyond the riprap wall, but remember that this area is subject to strong currents and during the summer, very heavy boat traffic.
-See the Maryland Online Water Access Guide for more access points and details.
Virginia
9. Marsh Market – Follow Marsh Market Road to its end at Messongo Creek (West of Chincoteague, VA), bordering the marshes of the Saxis Wildlife Management Area, for a salty ESVA adventure. The road dead-ends at the water and there are zero amenities, which is exactly how many of us anglers like it. Hit the marsh creek mouths with four- to six-inch paddletails and Gulp!s for a very real shot at flounder, specks, and pups.
10. Oyster, VA – Right next to the Oyster boat ramps at the end of Crumb Hill Road there's plenty of shoreline access to launch and enter the myriad of creeks, marsh islands, and uber-fishy waters of this coastal bay complex. Turn left at the mouth of the creek to remain in protected waters (Brockenberry Bay) or venture forth into Mockhorn or Cobb. In both cases be prepared for strong tidal currents, big waters, and big fish: flounder, specks, reds, blues, black drum — all bets are off in this area, where even the mythical Virginia tarpon has been said to exist. If you're looking for a launch that puts you within range of salty exotics, this is the place to be.
See the Virginia Where to Fish page for more access points and details.