When it came to picking 10 top center console fishing boats under $20,000, even though we've only had Fishboat Reviews in FishTalk since last April, we felt we could nail it down without a problem. Our Angler in Chief Lenny Rudow has been doing center console fishing boat reviews for multiple publications for over 25 years. He's poked, prodded, and sea trialed literally hundreds of models. So we asked him to ID some of the best buys he's run across in recent years, and pick some real winners in this category. If you're looking at lots of boats for sale, a center console fishing boat is what you desire, and you want to buy new, check out these picks. (Editor's Note: we're constantly updating pricing info but please remember that these prices can change at any time and the numbers you see here may differ a bit from those on the current market.)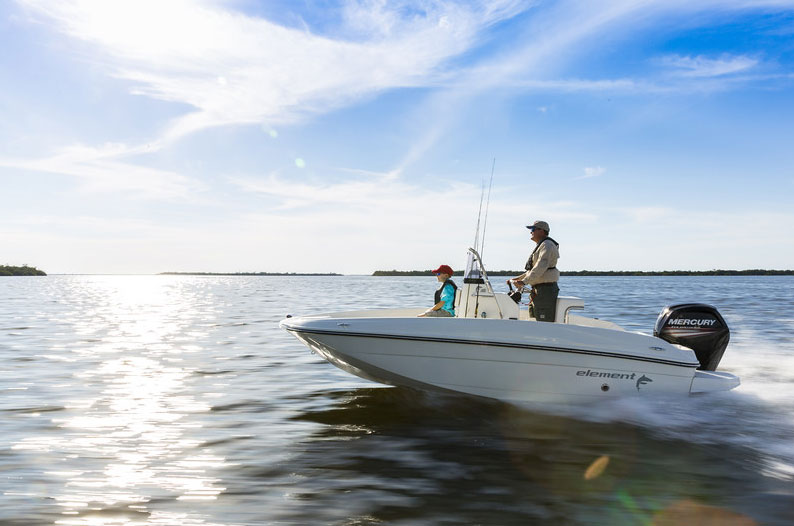 Bayliner Element F16
The Bayliner Element F16 MSRPs at a hair over $15,000 with a 60-horse Mercury four-stroke outboard and a trailer, and comes ready to fish out of the box. We like the Element M-hull design, which is extremely stable if a bit bumpy in rough water (what 16-footer isn't?) and we love the fact that this is a wood-free, self-bailing boat. To get the complete story on this center console fishing boat, read our full Bayliner Element F16 Boat Review. To get the company line, visit Bayliner. Editor's Update: Since the publication of this article Bayliner stopped offering the fishing version of this model; the Element 16 can still be purchased in family trim (starting at $15,299) and the T18 Bay is a new fishing model built on the M-hull, starting at $21,999.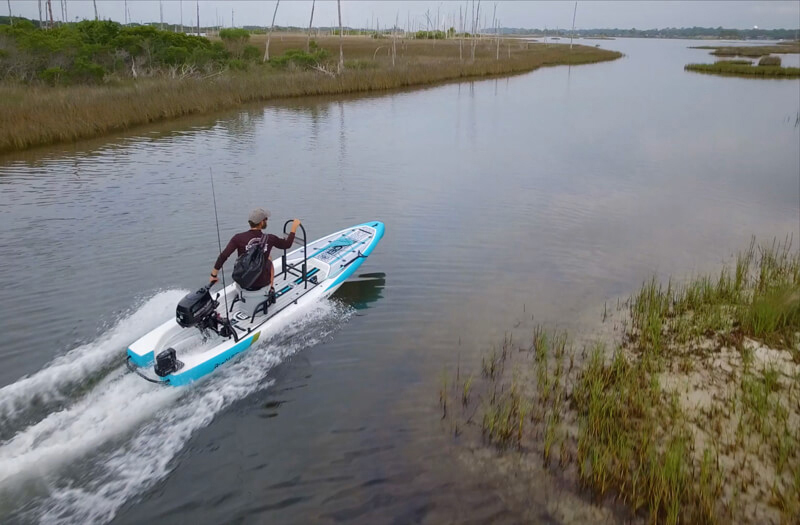 BOTE Rover
In the interest of full disclosure we need to point out that this is the one boat in this article which no one at FishTalk has personally sea trialed. And we admit that we're stretching the definition of "center console" a bit here, as in this case the console consists of a glorified grab rail. But we did inspect it closely at the ICAST fishing tackle show, and we were so impressed we decided to include it in this round-up anyway because so many people will want to know about it - especially considering that this micro-fishing-machine starts for under $5K (without an outboard). This is a one-of-a-kind single-handed fishing boat, which can break a plane with just six horsepower on the transom and should be utterly awesome for probing cuts and creeks in areas like the Tangier Sound or Mobjack Bay. See our BOTE Rover Stand Up Paddleboard Boat Video Preview, or get the manufacturer's take at BOTE.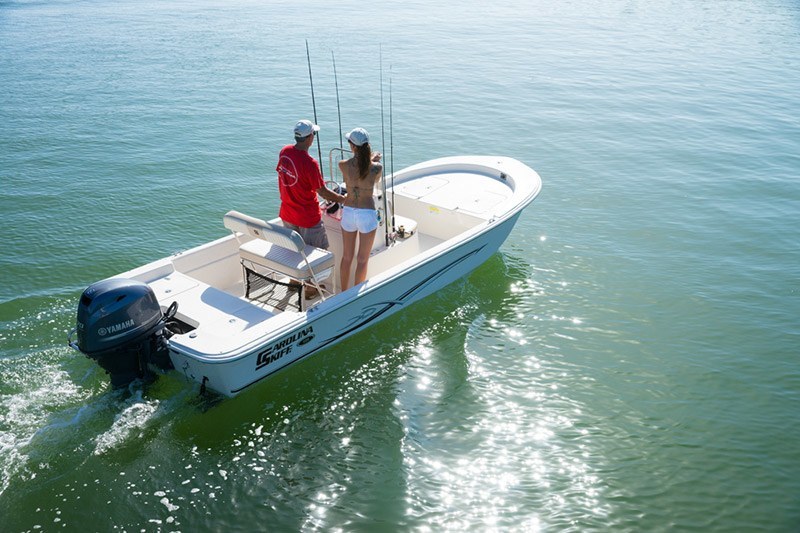 Carolina Skiff JVX 18 CC
Carolina Skiff doesn't publish pricing so it's difficult to nail down an exact number for the JVX 18 CC, but as long as its outfitted with a small powerplant (they sell this model with outboards as small as the Yamaha F25), you can keep the bottom line under the $20,000 mark. The beauty in this boat is its simplicity; there's a small foredeck with stowage compartments, a small aft deck with stowage compartments, a console, and a helm seat (available in the form of a flip-back cooler seat or a leaning post). That's all she wrote – but that simple, Spartan layout is well-finished, rugged, and maintains its value well so you don't get financially slaughtered when it comes time to sell the boat. For more information check out Carolina Skiff. Editor's Note: Since this article published Carolina Skiff ceased publishing MSRP pricing.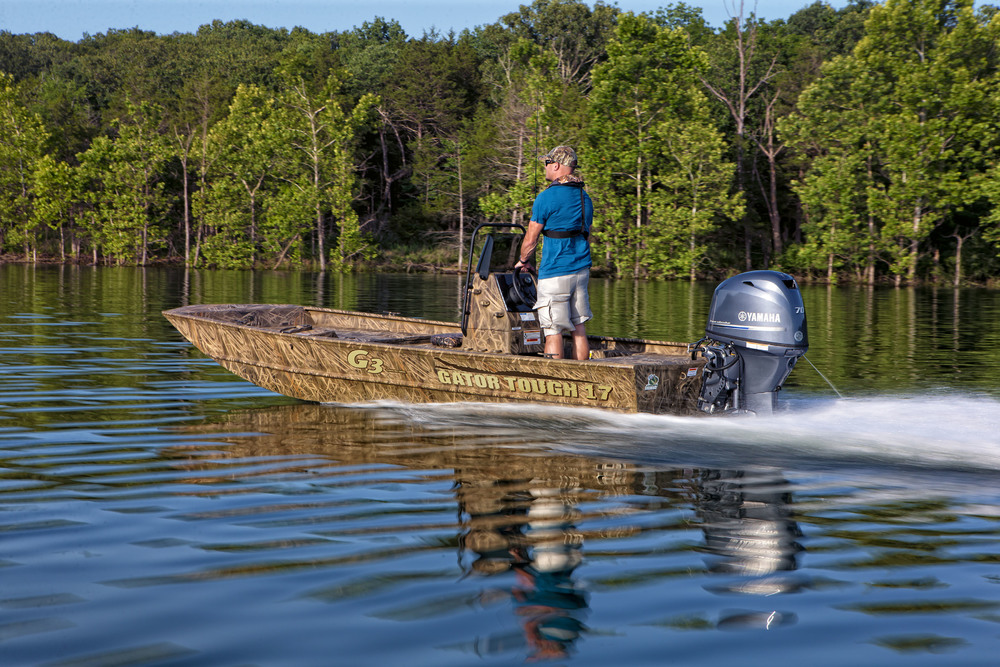 G3 Gator Tough 17 CC
This aluminum boat is ideal for the fisher-hunter who wants to be able to fish light-tackle for stripers in the shallows one day, and go gunning for ducks the next. That aluminum hull might get bounced around more easily than a fiberglass boat of the same size, but it also weighs less, so it doesn't require nearly as much power, is easier to trailer, and easier to handle around the dock. Plus, if it bangs into anything the aluminum is a lot less likely to be damaged than fiberglass. Pricing can be kept below the $20K barrier with engines up to 50 horses, which is plenty of power for this size rig. Check out our complete review, G3 Gator Tough 17 CC: Pull the Trigger. Or, visit G3 Boats. Editor's Note: since this article published pricing has gone up by about $2,700 and now slightly exceeds the $20,000 mark.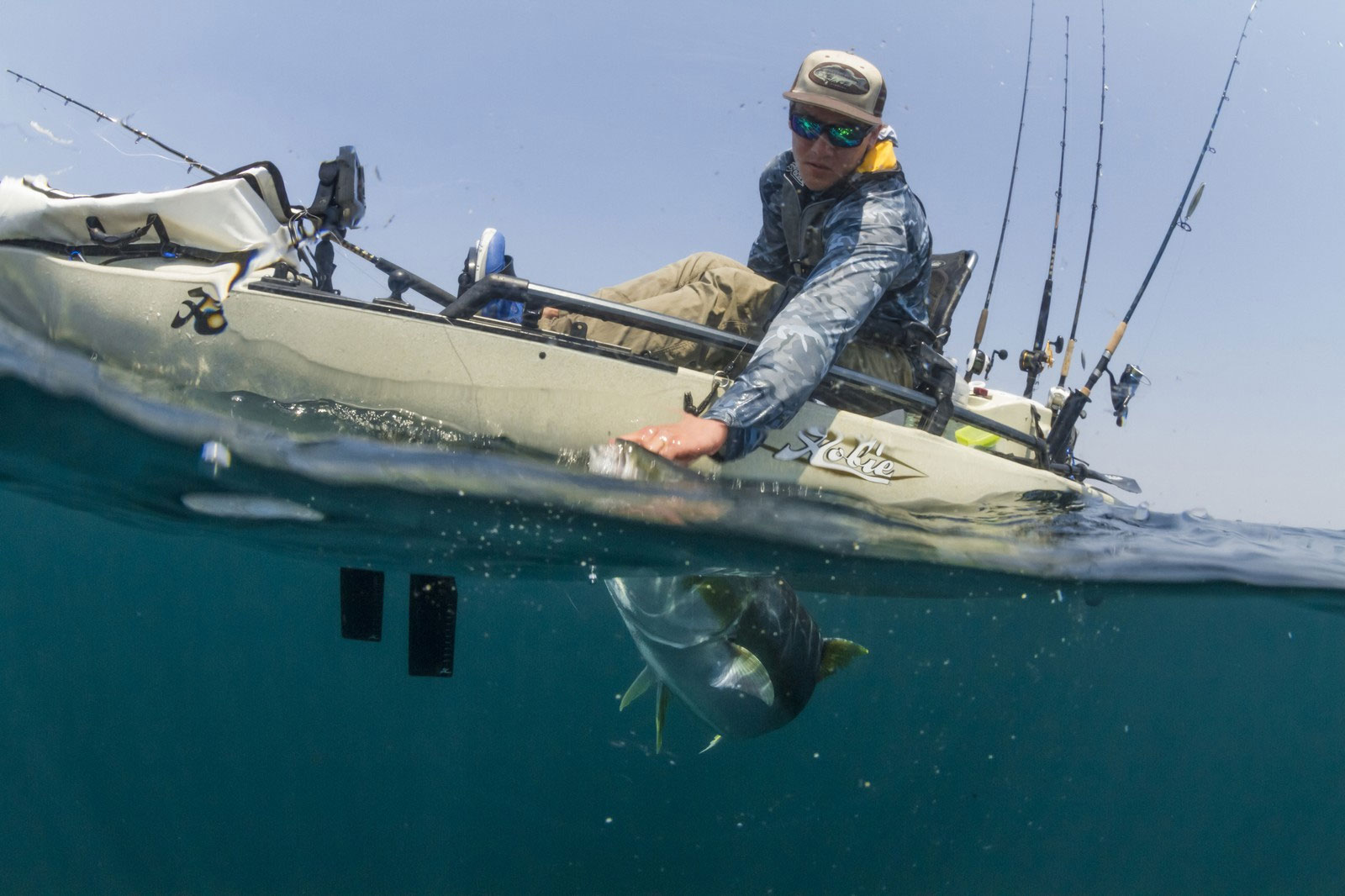 Hobie Mirage Pro Angler
Since the Mirage Angler is available in several sizes and different anglers will be best served by one or another, we'll focus on this self-propelled fishing machine as a line, as opposed to as a single model. That said, all of the Mirage Pro Anglers can be had for well under this price-point. In fact, most can be thoroughly decked-out and you could buy three or four for $20K. Despite the fact that the only console in sight is an optional H-bar, this boat still belongs in this mix because it's a serious fish-hunting machine – and we know that's what you care about the most. When propelled by the Mirage Drive (which we examined in more detail in our June 2017 Hot New Fishing Gear) your hands are free for casting and reeling, and we've found that fishing from these kayaks is an absolute ball. Added bonus: we also discovered that the seats Hobie puts in these boats eliminates the aching back syndrome that used to be common with kayak fishing. For more information, visit Hobie.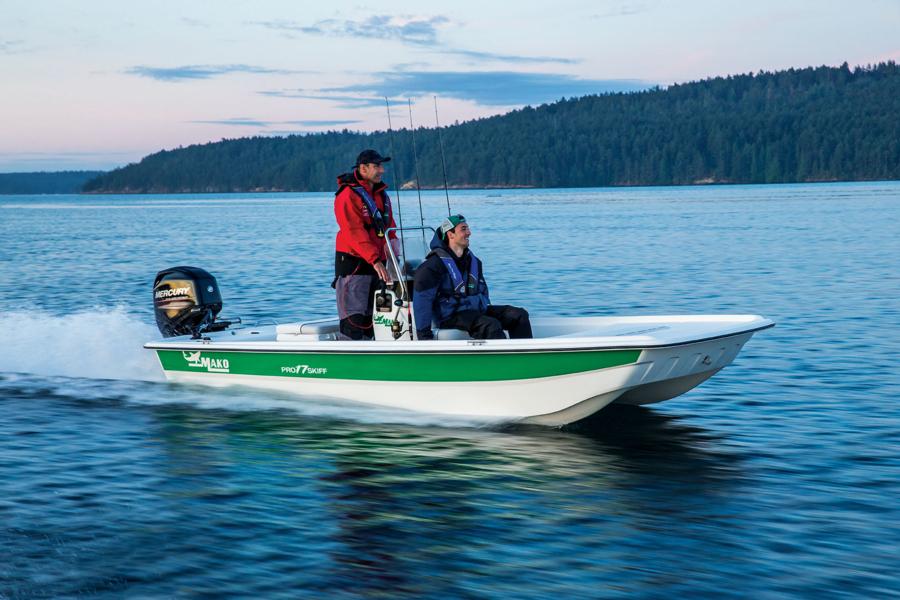 Mako Pro Skiff 17
The Mako Pro Skiff 17 is a small powercat, which eats up a chop better than any monohull we can think to compare it to. Though we tested this model on a lake in Missouri, a breeze provided plenty of chop, boat traffic created some larger waves in the mix, and we were rather shocked at how well the Pro Skiff handled it all. Listing at $16,395 with a 60-horse four-stroke outboard and a trailer, pricing is more than reasonable and the only visible presence of cost-cutting is the use of a roto-molded center console instead of a fiberglass console. The boat also comes with more standards than one would expect in this price range, including a 65-quart swing-back cooler seat, five vertical rodholders, a 10-gallon livewell with a 500 GPH pump and adjustable spray-head, and a helm switch panel with lighted rockers and a 12-V outlet. For more information, visit Mako Boats. Editor's Update: Since this article was published the price of the Pro Skiff 17 has increased to over our price ceiling, at an MSRP of $23,395.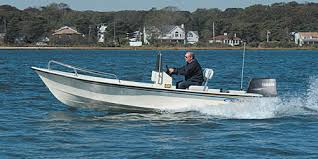 May-Craft 1700 Skiff
Like the Carolina Skiff this one's a bit difficult to nail down on pricing, but do your homework and you'll find new hulls in the $18,000 range. This is a traditional-minded skiff, which will be ideal for fishing in tributary rivers, can hit the open Bay on calm days, and makes for a killer crabbing platform. It's another pleasingly simple boat, if also rather bare, and it comes with two rodholders, stowage compartments in the bow and under a swiveling helm seat, and a forward casting deck. The bilge pump is an option. (Really?!) Visit May-Craft Boats, to learn more.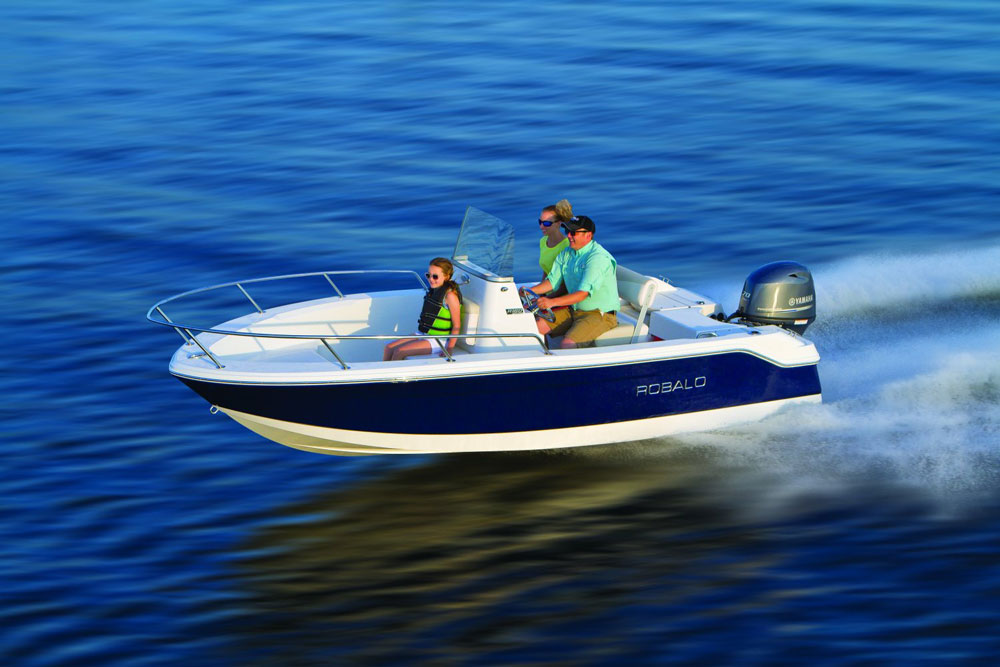 Robalo R160
The Robalo R160 MSRPs just a few hundred dollars under $20,000 (or at $20,695 with a trailer), comes with a 50-horsepower Yamaha outboard, and may be the best-looking boat in this mix. Yes, that's a matter of personal preference, but the fit and finish on the R160 is just as good as you'll find on much larger, more expensive boats. Plus, it comes with far more features than you expect at this price-point. It has fold-down aft jump seats, a 70-quart swing-back cooler seat, six vertical console rodholders and two gunwale holders, a fold-down windshield and grab rail for garage storage, a battery switch, a 12-V port at the helm, toggle switches with breakers, tinned-copper wiring with waterproof connectors, cockpit courtesy lighting, four stainless-steel grabrails, and stainless-steel bowrails. It's also built with Kevlar reinforcement in the hull (which carries a lifetime limited warranty) and a poured composite transom core. This may be the priciest option on this list, but you can see why – and for $20,000 this center console fishing boat is a steal of a deal. For more information, visit Robalo Boats. Editor's Update: Since this article was published Robalo has stopped building the R160, so it's only available on the used boat market.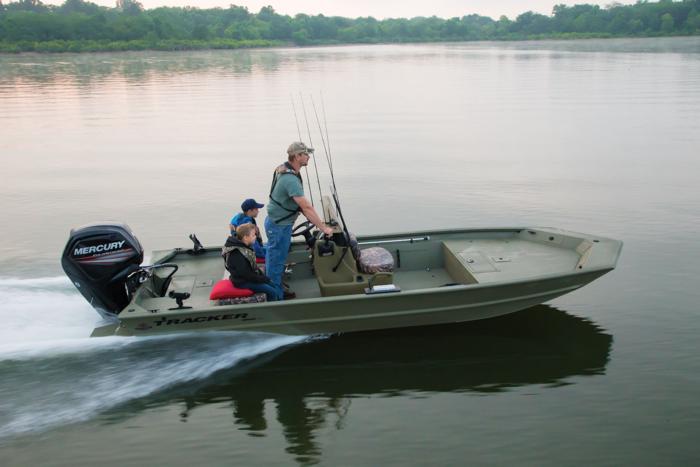 Tracker Grizzly 1860 CC
We talked earlier about the advantages and disadvantages of an aluminum hull while discussing the G3, and those same attributes apply to the Tracker Grizzly 1860 CC. Here's one more bonus this boat provides: at the $15,995 MSRP (with a 40 horse outboard and a trailer), it delivers more room at lower cost than just about anything else. It has larger fore and aft casting decks than the others in this mix. It has a sizable cockpit, a relatively wide seven foot beam, is rated for up to seven people, and hauls 19 gallons of fuel. Size-wise, it'll be tough to beat under the $20,000 mark. True, the relatively low seven-degree deadrise will be best suited to relatively calm waters, but it will also deliver excellent stability and very low draft. Visit Tracker Boats for more info, or to get an in-depth look at a similar model in a side-console version, read our Tracker Grizzly 1754 MVX SC review. Editor's Update: Since the publication of this article pricing for the 1860 CC has increased by approximately $2,500, but the standard powerplant has been upgraded to 60 horsepower.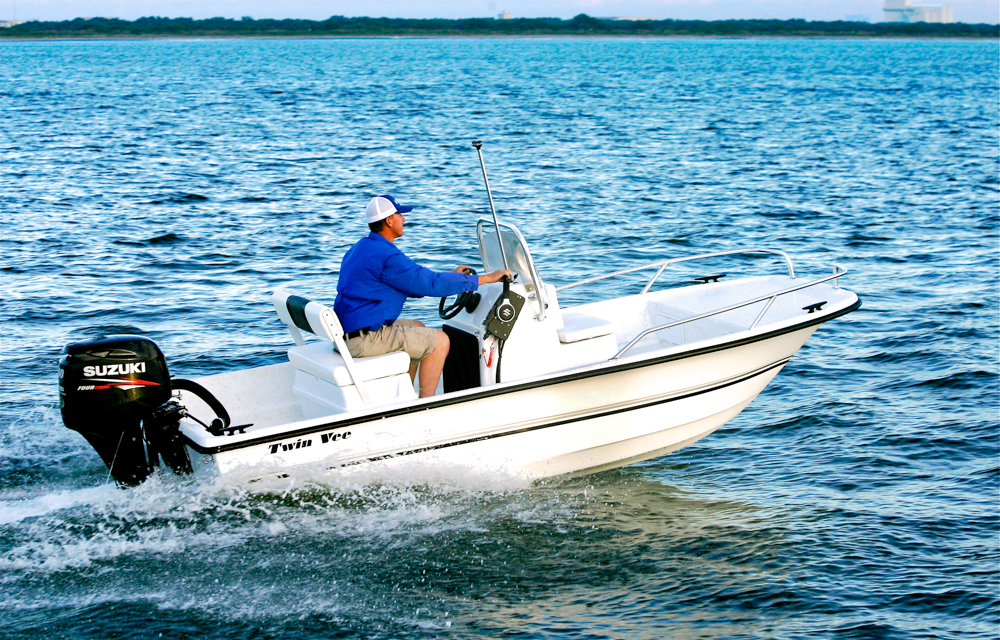 Twin Vee 170 GF
Twin Vees aren't the fanciest boats around, nor are they the most well-equipped, but their powercat hull rides far better than the norm. Plus, their pricing leaves plenty of wiggle-room for add-ons and extras (Twin Vee doesn't publish MSRPs, but with a 50 horse outboard and a trailer pricing is in the $16,000 to $17,000 range). The boat comes with No-Feedback steering, has a flip-back cooler seat at the helm, and the foredeck is capped to serve as a casting platform. For anglers who enjoy shallow water fishing but also want to be able to handle larger seas on occasion, this one's a winner. Check out Twin Vee Boats, to learn more. Editor's Update: Since the publication of this article, Twin Vee has stopped producing this model so it's only available on the used boat market.
Also be sure to check out: