CLICK HERE for our list of 2019 Mid-Atlantic Winter Fishing Shows
If the wind is down and the temperatures are up, to heck with those winter fishing shows – take advantage of the opportunity, and go fishing for some big blue catfish, or head out into the ocean and enjoy a day of tautog fishing! That said, the winter tackle shows are a great way to break cabin fever, check out the wares of tackle vendors making cut-rate deals, see what gear other anglers are unloading, and speak one-on-one with people who make tackle and/or run charters. In fact, if you're going to shows in Maryland there's a good chance you'll run into our own Angler in Chief, Lenny Rudow. And trust us, he's always willing (sometimes a little too willing) to jawbone about fishing.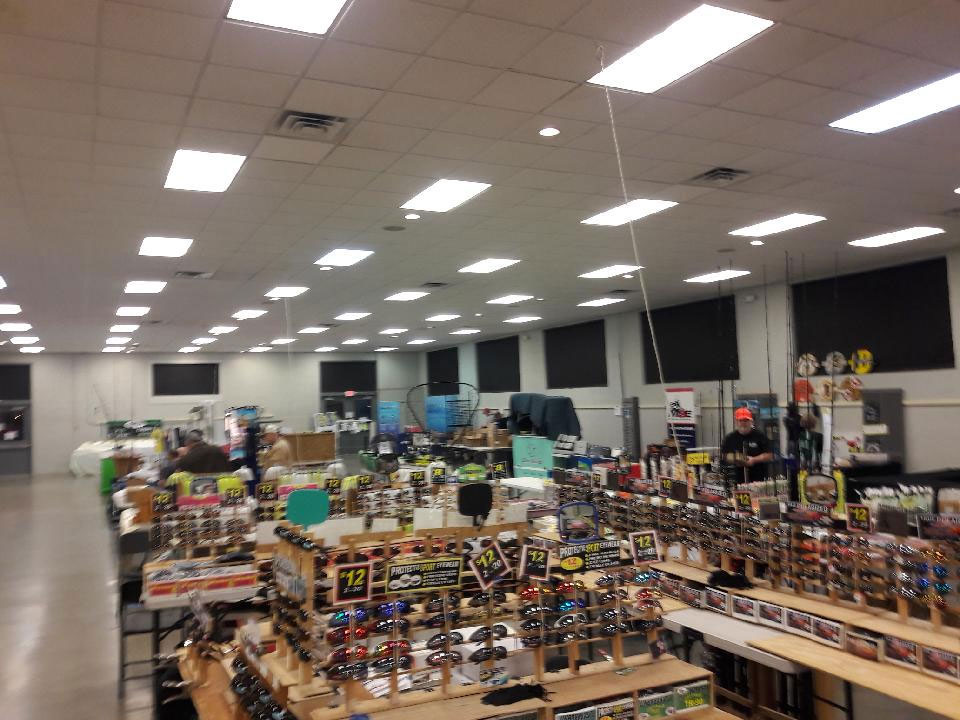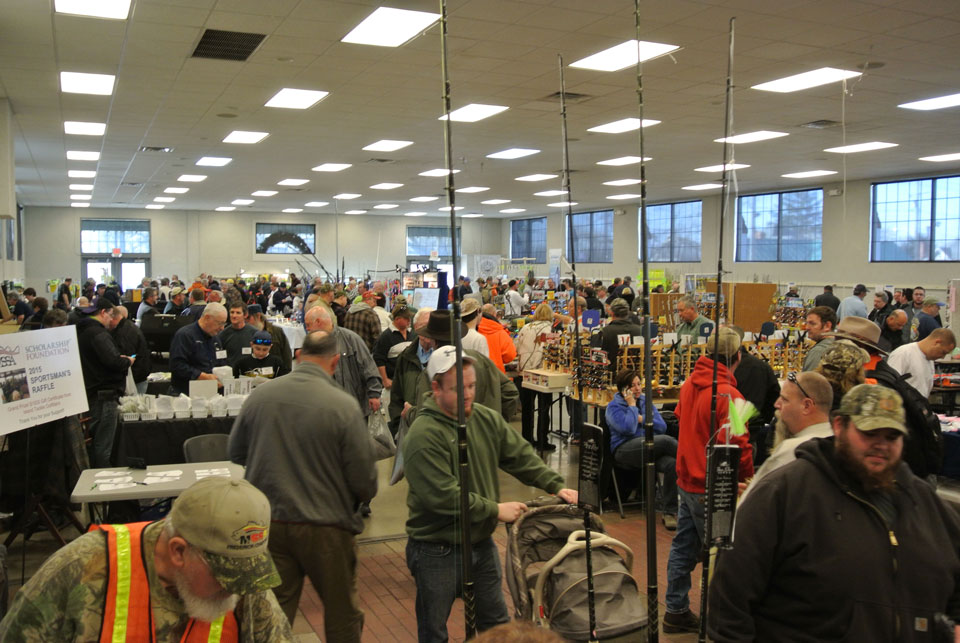 Which show or shows should you go to this winter? Believe it or not, to some degree each has its own flavor and personality. The different vendors and venues make for unique experiences, and we'd dare say you could go to three different shows and have three completely different experiences. Here's what we've seen through the years, attending each.
44th East Coast Commercial Fishermen's & Aquaculture Trade Expo
January 12 -14, 2018, Roland E. Powell Convention Center, Ocean City, MD
Join Maryland Watermen's Association for the ONLY commercial fishing show produced in the Mid-Atlantic region. There will be boats, gear, industry products, valuable educational seminars, indstry updates and more. On Sunday afternoon, there will be raffle for a 2017 Ford XLT pick-up truck. For more information, visit marylandwatermen.com
---
Frederick MSSA Annual Saltwater Fishing Expo
January 13, 2018, 8:00 a.m. – 4:00 p.m., at the Frederick Fairgrounds, 797 E. Patrick Street, Frederick, MD
Despite being located well west of the Chesapeake (or perhaps because of this) the Frederick MSSA chapter is a dedicated crew, and they put on a surprisingly good saltwater tackle show. Free how-to seminars run throughout the day in a curtained-off area of the building (Captain Charlie Sisson of Backdraft Charters is on to go over Bay rock-fishing at 9:00 a.m.; Lenny Rudow will be giving a seminar on cobia and red drum fishing this year at 10:15 a.m.; Bill O'Brien of Shore Tackle Rods is up at 12:45, and at 2:00 Captain Walleye Pete with be talking about light tackle fishing.) Meanwhile, tackle vendors for inshore and offshore tackle, crabbing supplies, and charter captains fill up the room. The building is medium-sized as far as winter tackle shows go, and if you take your time it'll be a full morning or afternoon of gazing at the goodies. You can learn more at mssafrederick.com.
---
Richmond Fishing Expo
January 19 – 21, 2018, Meadow Event Park, Fairgrounds, Doswell, VA
The Richmond Expo it tilted towards the freshwater anglers among us, but includes a fair amount of salty attitude, too. There's a long list of seminar speakers, so check the web site to be sure you're on the scene at the right time to catch the topic of your interest. Boats are on display as well as over 60 tackle manufacturers, outfitters, and accessories. To learn more visit richmondfishingexpo.com.
---
7th Annual Fishing Flea Market to Benefit MD HOW
January 20, 2018, 7:00 a.m. - 5:00 p.m., Odenton Volunteer Fire Company, 1425 Annapolis Rd, Odenton, MD
From fresh to saltwater, inshore to offshore, there is something for everyone. All of your favorite lure makers from the area will be there. Proceeds from the event will benefit the Maryland Chapter of Heroes on the Water, an organization that takes wounded service personnel and first responders kayak fishing.  For information regarding vendors please contact: Tom Brown at (443) 306-7306. For more info visit the Facebook page.
---
Kent Island Fisherman's Fishing Flea Market
January 27 – 28, 2018, 8:00 a.m. – 3:00 p.m., Kent Island American Legion Post #278, 800 Romancoke Rd, Stevensville MD
The Kent Island crew is an exceedingly fun group, and they put on a fun flea market. You'll see plenty of vendors here, as well as locals who are emptying the garage – which means this is one of those shows you go to never knowing exactly what you'll find. Now in its seventh year, the Kent Island event draws a good crowd and is a great way to spend a morning or an afternoon. Visit the Kent Island Fishermen on Facebook.
---
Harrisburg Great American Outdoor Show
February 3 – 11, 2018, Pennsylvania Farm Show Complex, 2300 N. Cameron Street, Harrisburg, PA
With 650,000 square feet of exhibit space this is by far the biggest show on our list, but only a fraction of it is dedicated to fishing. Hunting, camping, archery, and many other outdoor activities play a bigger role. Still, it's well worth a visit. You'll see all kinds of cool stuff here, from 4x4 golf carts to the latest fly rods, but the main draw could be considered the outfitters. Whether you've dreamed of taking a fishing trip to Alaska, Hell's Canyon, or New Zealand, you'll be able to meet and connect with guides from all across the globe at this show. Its massive size and big crowds means you won't get the feeling of fishing comradery that the other shows provide and you can't expect to load up on inexpensive tackle here, but the Harrisburg show is an experience unlike all other winter shows. Visit greatamericanoutdoorshow.org to learn more.
---
Tri-State Marine Fisherman's Flea Market
February 10, 2018, 7:00 a.m. – 1:00 p.m., 5861 Deale Churchton Rd, Deale, MD
The Tri-State show is low-key compared to many of the others, and draws a bigger crowd of garage-emptiers as opposed to dealers of new and unused tackle. It's also a fun place to find the unexpected. Things we've seen here include 1980's vintage outboards, dozens of anchors of all sizes and shapes, and boxes of tackle that looked like it hadn't been used since 1969. There are, of course, also lots of boats on display outside the show courtesy of Tri-State Marine. This one is the place to go for a good fishing tackle and who-knows-what scavenger hunt. Visit tristatemarine.com to learn more.
---
Pasadena Sportfishing Group Annual Expo
February 17 – 18, 2018, 8:00 a.m. – 2:00 p.m., Earleigh Heights Volunteer Fire Department, 161 Ritchie Highway, Severna Park, MD
Now in its 26th year, the Pasadena expo is a perennial favorite. With both indoor and outdoor displays the venue is literally packed with tackle vendors, and although there aren't any seminars here, there is pit-beef, oysters on the half-shell, and a whole lot of fish-talking going on. This is usually one of the best shows for discovering tackle deals, but plan to come early because the place is often picked clean by noon or so. Visit pasadenasportfishing.com to learn more.
---
Annapolis MSSA Offshore Expo
February 24, 2018, 8:00 a.m. – 3:00 p.m., Annapolis Elks Lodge, 2517 Solomons Island Road, Edgewater, MD
This event features a focus on offshore gear as well as Chesapeake Bay saltwater tackle, with a good number of vendors and a seminar schedule running through the day. With a separate seminar room and a group seminar with a panel of angling experts, this is one to attend if you want to expand your angling knowledge as well as your arsenal. FishTalk angler in chief Lenny Rudow will be on hand, and will be a part of the panel discussion. For more info, check out mssaannapolis.com.
---
Lefty Kreh's Tie Fest
February 24 – 25, 2018, Loews Annapolis Hotel, 126 West Street, Annapolis MD
Now in its 18th year, the Lefty Kreh Tie-Fest brings fly anglers together with guides, fly-tiers, gear-sellers, and fly fishing legends ranging from Lefty himself (depending on availability due to health, at the time of this printing) to Bob Popovics, Bob Clouser, and more.Demonstrations, seminars, and even one-on-one instruction are available. FishTalk Magazine is a sponsor this year and we'll have fishing sharpies on-hand throughout the event. If you enjoy fly fishing, this is the winter event for you. Stay up to date on what's coming by visiting the Tie Fest page on Facebook.
---
Lancaster Fly Fishing Show
March 3 – 4, 2018, 9:00 a.m. – 5:30 p.m. (4:30 Sunday), Lancaster Convention Center, 3 East Vine St, Lancaster, PA
Fly guys who live in the northern areas of the Mid-Atlantic region, here's the one just for you. The Fly Fishing Show is actually a multi-location show that "tours" in places as far off as Denver, CO and Pleasanton, CA, and also makes a stop at Lancaster. The Lancaster show has a number of fly fishing celebrities and tiers, seminars, casting demonstrations, and tying classes. Visit flyfishingshow.com, to learn more.
---
Essex-Middle River MSSA Fishing Flea Market
March 17 – 18, 2018, 9:00 a.m. – 2:00 p.m., 1909 Old Eastern Avenue, Essex, MD
The Essex flea market is another one of those shows where you just never know what you'll find. There's an eclectic mix of vendors and tackle collectors, both inside and outside of the hall, along with a boat or two on display. There's plenty of fresh tackle to be found here but if you're looking to find inexpensive used gear, this is an excellent place to start. Look to find additional info at mssa.net.
Maryland Fly Fishing Show
Also on March 17, 2018, from 9 am to 4 pm, the second annual Maryland Fly Fishing Show will take place at Towson University's Potomac Lounge, Union Building. There wil be all kinds of gear for sale, door prizes, and raffle prizes all day. marylandflyfishingshow.com has the details.
---
Solomons Fishing Fair
April 7 – 8, 2018, 8:00 a.m. – 3:00 p.m., Solomon's Firehouse, Route 4, Solomons, MD
The Solomons event closes out the winter show season. As we go to press they haven't announced yet if there will be seminars this year (it's been back and forth through the years) but this show usually has a good number of new tackle vendors in the (relatively small) firehouse room and under a large tent outside. It's mostly Chesapeake-oriented gear, and mostly new. Sponsored by the Southern Maryland MSSA, interested anglers should look for more info at mssa.net.
CLICK HERE for our list of 2019 Mid-Atlantic Winter Fishing Shows