Before we delve into the traits of the AlumaCraft MV2072 AW Bay, one question must be addressed: why might an angler interested in Chesapeake Bay fishing opt for an aluminum rig over fiberglass? Let us count the ways: they're more affordable to both purchase and operate (since they generally require smaller powerplants to attain performance equal to a similarly-sized glass boat); they require less maintenance (no waxing!); their lighter weight makes for an easier tow, launch, and retrieve; and if you ever run in areas like the upper tributaries or the Susquehanna, you'll appreciate the fact that aluminum dents instead of shattering and is much less costly to repair.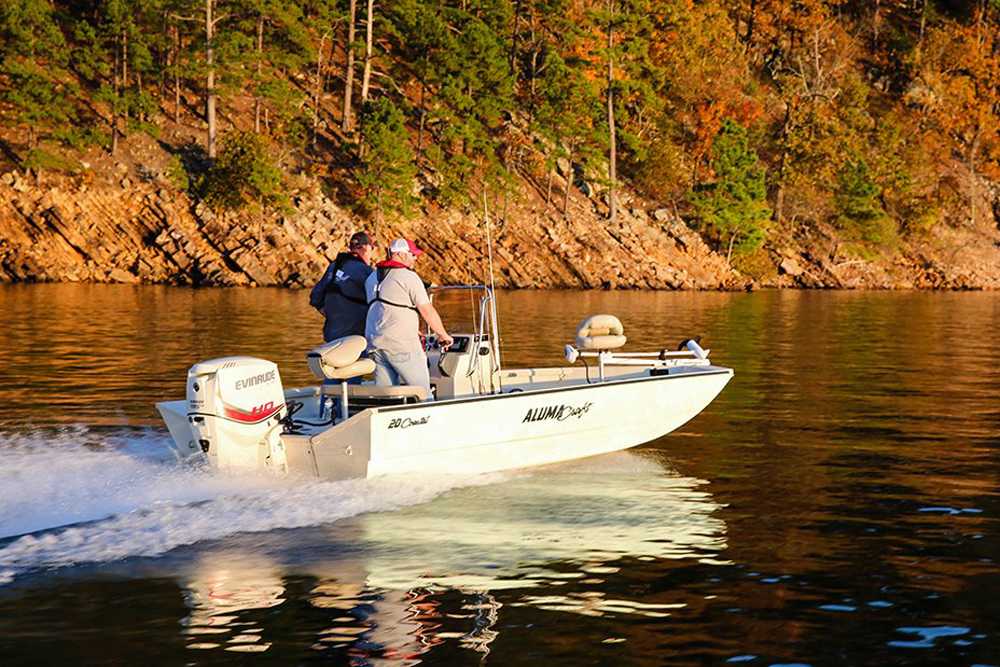 Okay, now let's consider the AlumaCraft in specific. MSRP ranges from $25,500 to $31,590 depending on how it's rigged, and you can pick one up with a trailer and a Suzuki DF115 for around $27,000. That comes with a spray-in liner which is an important perk to help dampen noise in the boat (aluminum rigs with no lining are often loud fish-spookers). It also reduces washdowns to a quick spritze with the hose. And the rig weighs 1,756 with a full fuel tank, which means that even small pick-ups and SUVs can usually handle the hauling.
In other words, with this rig you can check all the aluminum advantage boxes before you even start talking about what fishing features it has. There's a 38-gallon livewell in the foredeck (though we'd add an insert to round off the squared corners), an aft casting deck with fold-down jump seats, a forward casting deck with rodboxes and additional stowage, six vertical console rodracks, bow-mount electric trolling motor pre-wiring, and room to flush-mount a seven-inch MFD at the helm.
That's quite a list of perks for a boat that costs less than a stripped-down Tacoma. So, what are the down-sides? The lighter weight of an aluminum rig, while a big plus in some ways, also means you get tossed around in waves a bit more than in a fiberglass boat. And the AlumaCraft sports an 11-degree deadrise, which is great for maximizing stability and minimizing draft but may also have a tough time splitting open waves in rough conditions. In relatively protected tributary waters a tight chop won't be a problem, but this probably isn't the best boat of choice if you plan to head out into the open Bay in a 20-knot breeze.
Wait a sec – isn't the price being low-balled, by putting a mere 115 horses on the transom? Heck no. On this type of rig that'll get you a cruise in the 30-mph range, and a top-end pushing 40. Remember, less weight equals more speed with equal power. Added bonus: rigs like this also get better than five mpg through most of the rpm range, and can peak out as high as seven to eight mpg at most efficient cruise. That's pretty darn sweet economy for any fishing boat. In fact, you might even call it aluminamazing.
Specifications:
LOA – 20'0"
Beam – 7'10"
Displacement – 1175 lbs.
Draft (hull) – 11"
Transom Deadrise – 11 degrees
Fuel Capacity – 30 gal.
Max. Power – 150 hp
Area Dealers – Danny's Marine, Cambridge MD, (410) 228-0234.