The U.S. Powerboat Show in Annapolis, MD, is just days away, and you can be sure it'll be packed with the latest boats and boating tech. New tech can be awesome — and it can be terrible. Tech can make our lives easier, our days more productive, and our knowledge base larger. Or, it can confuse the bejesus out of us, bringing all progress to a halt. This is particularly true when it comes to boats. And in some ways, a tech-free boat is a carefree boat. Few pleasures in life are as great as coasting along with nothing but a simple hull and an outboard pushing you where you want to cast next. On the other hand, just how many fish would you coast past without ever taking that cast?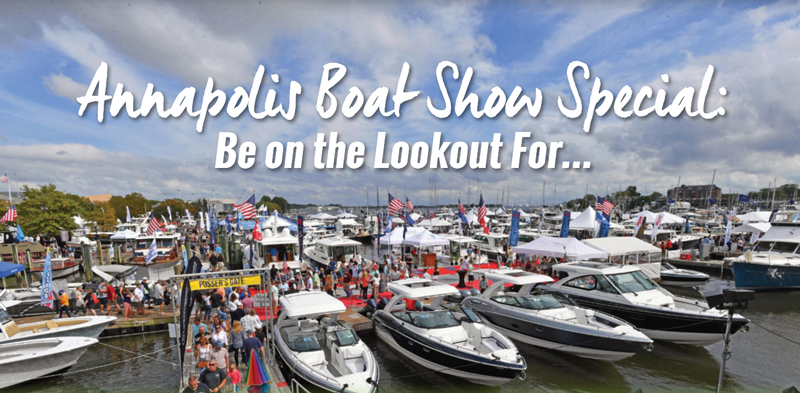 There's some new tech in the boating world which you'll want to be aware of as you walk the docks at the U. S. Powerboat Show in Annapolis, MD, looking for a new ride. And when it comes to larger boats which are bound to be complex, tech is generally a good thing. So as you shop for a new fishing machine, in each of these categories be on the lookout for:
The Latest in Electronics
In the recent past Furuno fans have come to enjoy the addition of Fish It and Drift It, functions added to the NavNet TZtouch3 system which give you the ability to create a waypoint at a hotspot and then automatically calculates where to position your boat to drift across it in a given timeframe. Simrad introduced a new platform in their NSX series. Raymarine rolled out their Cyclone radar and announced compatibility with SiriusXM Fish Mapping service. And Garmin updated its ECHOMAPS and rolled out a new autopilot control head. But none of these developments are what we'd call earth-shattering.
There has, however, been a continual march in the direction of digital switching. Brunswick, the largest boatbuilder in the country, acquired Power Products back in 2018, including the Mastervolt brand. Then last year they acquired Navico. Now they own both the CZone digital switching system and the MFDs to interface with it, and digital switching has already popped up on everything from pontoon boats to bowriders. Look for this expansion to continue and reach boats of all shapes, sizes, and types in the near future.
The Latest in Tech
Seakeeper rocked the boating world — un-rocked it, actually — with their gyroscopic stabilization, and their latest product is going to un-rock it a whole lot more. The new Ride is a vessel attitude control system (VACS) combining rotary blades at the transom with sensory tech that takes up to 1000 measurements per second. As the boat runs across the water's surface the VACS constantly adjusts the blades to mitigate pitch, roll, and yaw.
Seakeeper says the Ride reduces a boat's overall motion while underway by up to 70 percent while simultaneously eliminating listing and automizing trim on vessels from 19 to 35 feet. Added bonus: hole-shot is improved, and heeling in turns is adjusted. Considering how accurate Seakeeper has been with their claims about gyro performance (heck, in some ways they've been downright modest) we don't doubt this for a minute, and we're looking forward to seeing the Ride with our own eyes asap. We bet you are, too, and lucky for us it will be at the Annapolis Boat Show, installed on a Sportsman 212 and a 231 at the Riverside Marine display. Demos will be available the weekend after the show (call Riverside at (410) 686-1500 for reservations).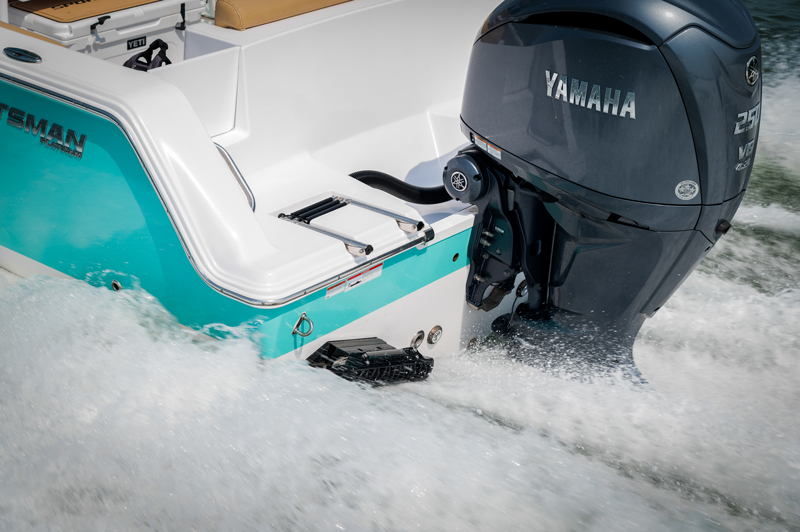 One other note, this one related to propeller tech: most boaters have heard of the Sharrow prop at this point, a propeller introduced a couple of years ago which utilizes loops rather than traditional blades to generate thrust. It provides a nine- to 15-percent jump in efficiency, increased top-end and cruising speeds, reduced sounds and vibration, and improved handling. Up to now, however, these props were milled one by one, which is very expensive and time-consuming. This summer, Sharrow reached an agreement with Yamaha to mass-produce their props via casting at their Greenfield, IN facility. Look for these props to become less expensive and more available in the near future.
The Latest in Comfort Aboard
Comfort aboard during long days of fishing is always a consideration, and there are some new perks one should be aware of in the marketplace. A few years back we saw more and more large center consoles in the 30-foot-plus range extending the forward console seat to turn it into a big comfy lounger with a coffin box beneath it. Now, that trend has made its way into far smaller boats. In fact, some rigs as small as the Sportsman 247 OE and the Scout 215 XSF now sport this feature. Note also that the better builders are upholstering these loungers (and other seats aboard) in vinyls treated with anti-microbial and anti-fungal treatments. Make sure the boat you're looking at has got it, or you'll see those little black mildew stains appear years sooner.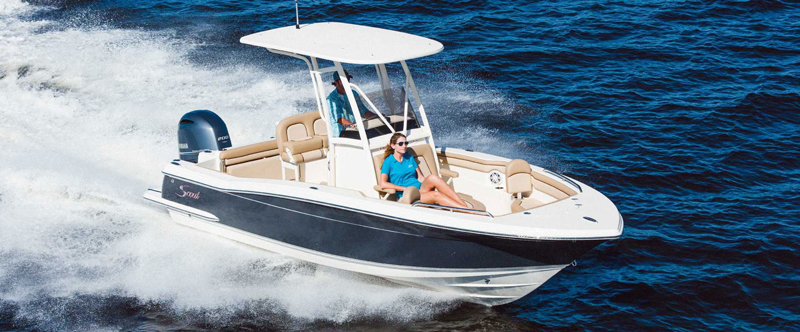 Another comfort item we saw for the first time this year which is sure to be copied on other boats: an integrated rain shower in the hard top, on a Sea Pro 32 DLX Offshore. You want a head-to-toe freshwater rinse? Boom!
The Latest in Boat Construction
This is another department in which manufacturers have been focused on meeting demand lately, trying to catch up to existing orders as opposed to introducing new and improved ways of doing things. Still, a refresher may be in order for many boaters who haven't been shopping in the past few years. Keep a sharp eye peeled for:
Vacuum-assisted fiberglass layup and two-part molding. These techniques give fiberglass parts a better resin-to-glass ratio, making them as light and strong as possible, and the undersides of hatches and the backs of doors are fully finished with gleaming gel coat.
High-density foam decking. This stuff isn't perfect, but it's well worth having onboard thanks to absorbing vibrations and making a long day of fishing much easier on your back, feet, and knees. Plus it cleans up easily, isn't hot underfoot on sunny days, and is non-slip even when wet.
Lithium iron phosphate (LiFePO4) batteries. They weigh half as much and last twice as long as old-school lead-acid, and as an added bonus, don't blow up the way older lithium ions did. They also cost a heck of a lot more, and we're just starting to see them aboard boats built by forward-thinking early adopters.
Magnetically-secured cushions. When the builder laminates the magnets into a seatbase and adds them to the cushion, you can ditch those annoying straps and snaps. The cushions are plenty secure, but when you want to ditch 'em you merely grab and yank. We saw the first application a few years back, and now some additional manufacturers are adopting them.
So: are you ready to head for the U.S. Powerboat Show, and pick out a new ride? Show dates are October 6 through 9 at the City Docks in downtown Annapolis (10 a.m. through 6:30 p.m. every day except Sunday, when the gates close at 5 p.m.) Remember that box office ticket sales will be limited, and the best way to make sure you get into the show is to pre-purchase digitally. Most importantly, enjoy the show!