When you get a 25-foot center console boat with twin engines it seems reasonable to expect to be able to haul down to the beach and fish the ocean when the weather allows. And sure, you can do so on most boats of this size and nature — but many are woefully under-gunned for offshore fishing. You want a boat that can handle both bay action and bluewater battle? Check out the Aquasport 2500. And before we dig into the details, check out this quick video we shot on the boat last winter.
We shot this video when we ran across this model at the Chesapeake Bay Boat Show, and were startled at what we found. Take tackle stowage, for example. Most 25-footers have some form of onboard stowage usually incorporating two to four Plano boxes and maybe a single larger stowage compartment. That's barely sufficient for what you need to fish the bay, much less offshore. The Aquasport has two swing-out compartments in the inwales, one on either side, each holding two large tackle boxes. Then there's another tackle station built into the leaning post, this one with five more Planos, a bulk stowage tray, and a knife/pliers rack. Dittos for the livewells. There's a 32 gallon well in the transom, and a second 32 gallon well built into the back of the leaning post. Sixty-four gallons of livewell capacity in a 25-footer? Youbetcha. That leaning post well has been improved as compared to last year's model, too, and is now pressurized and has a clear lid. Then consider the fact that there's an insulated compartment in the transom for pre-rigged baits, which has the space for a dozen skirted ballyhoo. There are both raw and freshwater washdowns. And the fishboxes under the bowdeck have plenty of room for your future vacuum-packed tuna steaks.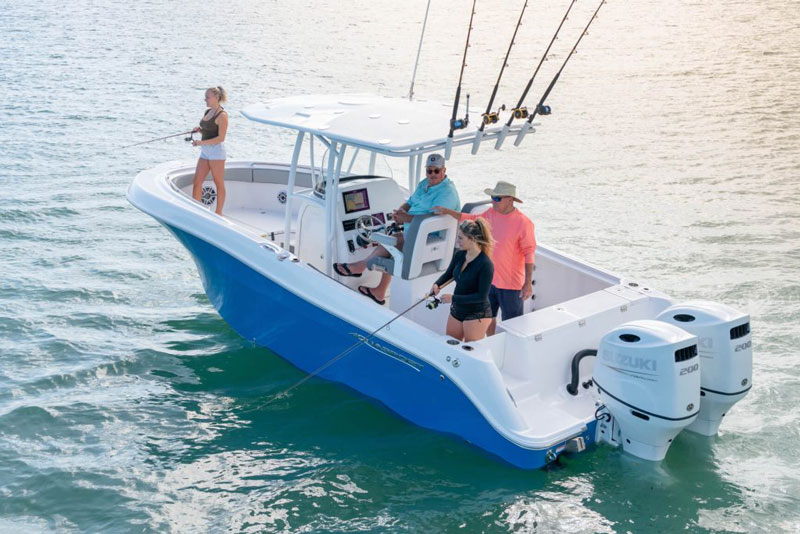 Speaking of the bowdeck: It's slightly elevated and cushioned, with swing-out backrests on the inwale for use as forward-facing seating. Thank you, Aquasport, for mounting those backrests rather than opting for the removable (and difficult to stow) drop-in backrests. The big standout here, however, will be the gunwale depth up forward. While a higher deck elevation might be ideal for gaining casting distance and visibility, the way Aquasport has it set up you could send a trio of ankle-biters up to the bow and they'll be safely contained. Family anglers are likely to appreciate the arrangement. And on serious fishing trips the cushions can be left at home and the deck used for casting.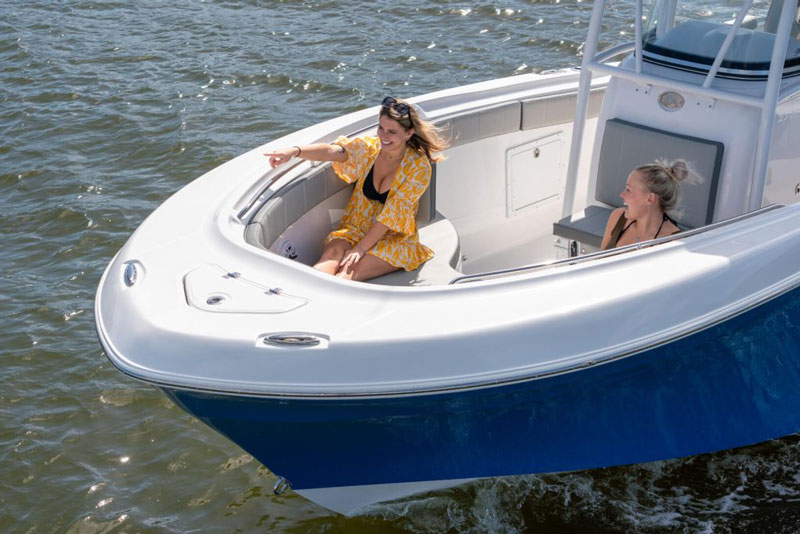 Other family touches? Helm chairs are uber-comfy flip-up bolsters with arm rests, there's a folding bench seat at the transom, a head compartment inside the console, and a removable cooler with seat in front of the console. Some may argue that integrated seating would be more comfortable, but having the removable cooler makes it easier to load and unload drinks and food for those long days offshore, or those days on the bay. And in this boat, you'll be able to enjoy both sorts of fishing trips — with a full complement of armaments.
Aquasport 2500 Center Console Specifications
LOA – 24'10"
Beam – 8'10"
Displacement – 5474 lbs.
Draft (hull) – 1'9"
Transom Deadrise – 23 degrees
Fuel Capacity – 168 gal.
Water Capacity – 9 gal.
Max. HP – 500
Dealer We Love – Tradewinds Marina, Middle River, MD, (410) 335-7000.