The Bay Bridge Boat Show is our region's premier spring show for checking out hot new fishing machines. Acres and acres of gleaming new fiberglass will be on display and this is your one best opportunity to look at boats side by side and make apples-to-apples comparisons. Whether you're planning to just get the lay of the new boat land or pull the trigger at a spring show, as you look at all those sweet new fishing boats keep these key points in mind.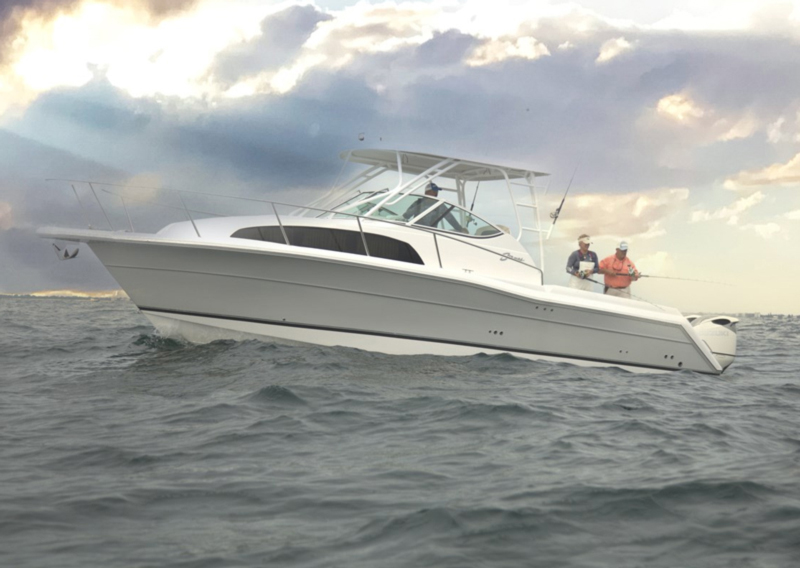 Fishing Style
Do you enjoy light tackle casting? Trolling? Live-lining? All of the above? Some boats are better for specific tasks than others, and those that are designed to do all of the above generally aren't "best" for any one style of fishing. As a rule, center consoles tend to be the most versatile. But if you're a dyed-in-the-wool troller you won't mind having the bow taken up by a cabin and you'll gain all the advantages that go along with it. Boats like the Stamas Aegean we reviewed a few months back (see the full review at Stamas Aegean 370: Heavyweight Contender), a North Coast, a Judge, or a Parker with a helm station protected by a full cabin are all worth checking out. Or, if you like an open boat but also plan to use it for watersports and family cruising, dual consoles like the Pursuit DC 246, the Scout Dorados, or the Century Resorter come into play. You'll get back a casting position in the bow, though the consoles and associated pipework of a hard top will pose a light tackle limitation on the number of anglers who can cast.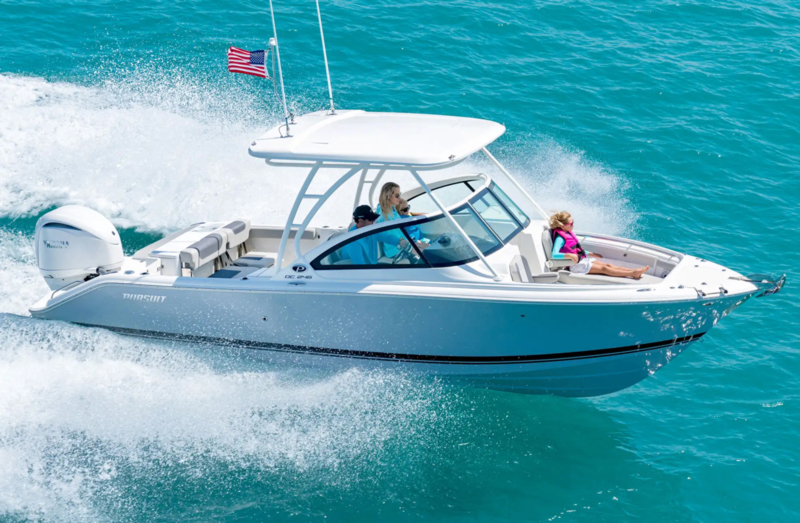 All Sea Attitude
If you plan to fish come heck or high water, you'll want to get boat that can handle some seriously choppy seas. One with a deep-V hull of 21 or more degrees of deadrise is the likely choice, but you should also sea trial a powercat like the Twin Vee, World Cat, or Tideline; few monohulls can match a cat for running fast and smooth through the rough stuff.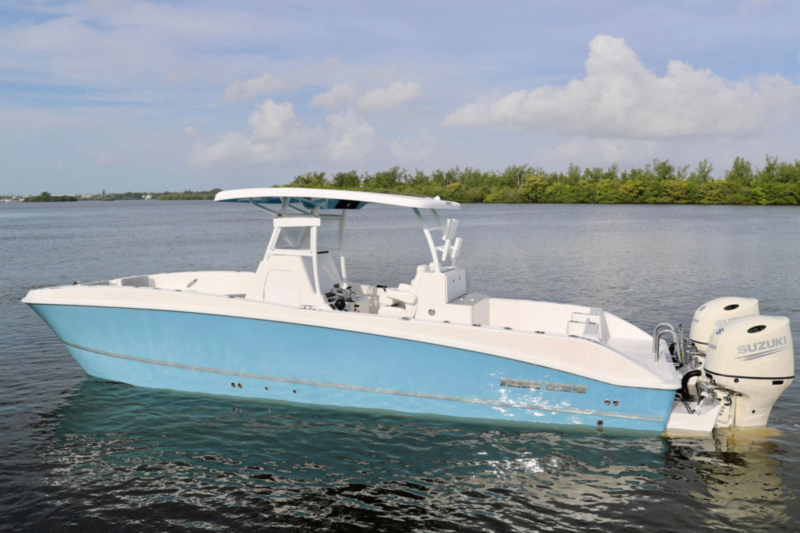 Shallow Water Fishability
Those who live to cast topwater at daybreak and toss jigs in the shallows will have to decide between a traditional center console and a bay boat. New boaters should note that the term "bay boat" doesn't refer to a boat designed for the Chesapeake, but a style that evolved specifically for light tackle fishing along the Gulf coast, with elevated fore and aft casting decks, relatively low gunwales, fast cruising speeds, shallow draft, excellent stability, and large livewells. The low draft/high stability traits generally mean utilizing relatively low-deadrise hull designs and there was a time when many bay boats had a rather bumpy ride. But that's not necessarily true in this day and age, as many "hybrid" or "crossover" model lines like the Caymas HB series, the Sportsman Masters, the Robalo Cayman, and the Crevalle bay boats employ the latest construction techniques and/or tricked-out hullforms that ride shockingly well in a nasty chop. If this type of boat appeals to you but you're worried about rough conditions start scheduling sea trials now, because you'll likely be quite surprised at how well many of today's modern bay boats ride.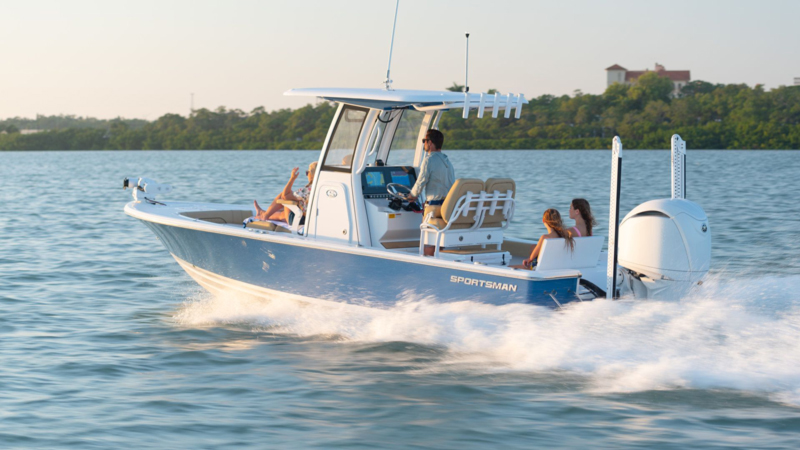 Towing Concerns
Anglers who want to hit the Bay Bridge one day and the CBBT the next will have to take towing and tow vehicle limitations into their calculations. In this case an aluminum rig may well be a good choice because they generally weigh significantly less than their fiberglass brethren. And many manufacturers, like G3 and Xpress, make bay-worthy models designed specifically for saltwater use.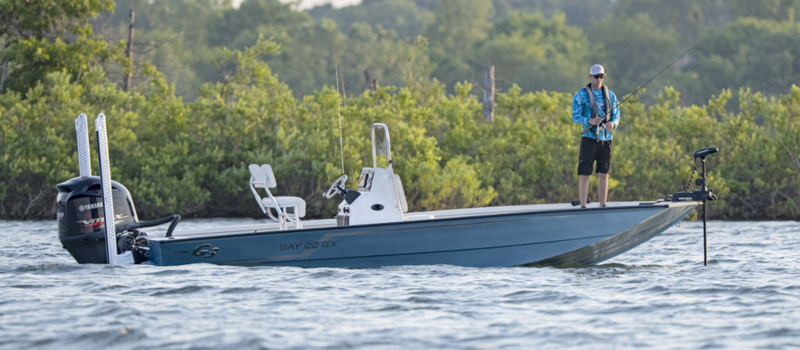 Simple Skiffs
There's beauty — and thrift — to be found in simplicity. Some people choose extremely simple boats because there's not much to maintain and little to break or go wrong, and others because they simply cost less. Whichever category you fall into if these are important traits, builds like Carolina Skiff and Savannah, or some of the smaller Bayliner, Key West, or Bulls Bay models might fit the bill.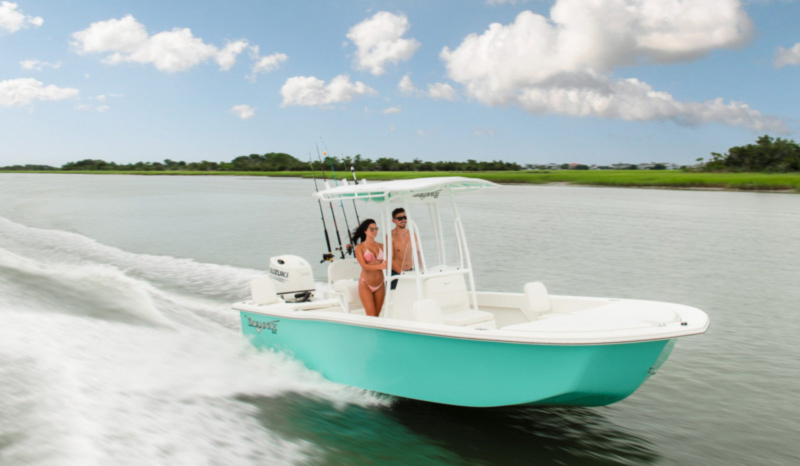 Deluxe Luxe Fishing Boats
Some people want to be comfortable all the time, period, and that includes while fishing. Luxurious seating, air-conditioning at the helm, and convertible loungers and sunpads sound good to you? Then it's time to check out some of the larger offerings from those top-tier builds like Grady-White, Edgewater, and Solace.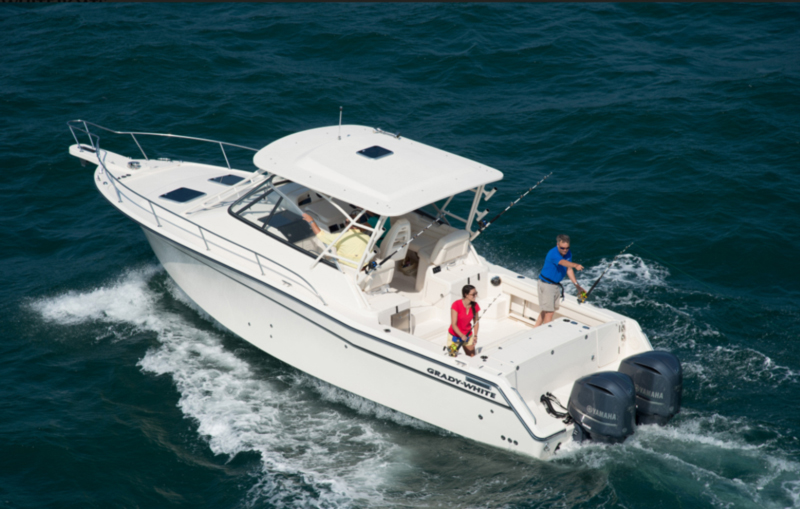 Fast Fishboats
You say you want to blast offshore at highway speeds, fish in all conditions, and become a true apex predator of the Ocean? They won't come cheap, but take a look at large multi-engine models like those from Invincible, Fountain, and Contender. And hold onto your hat.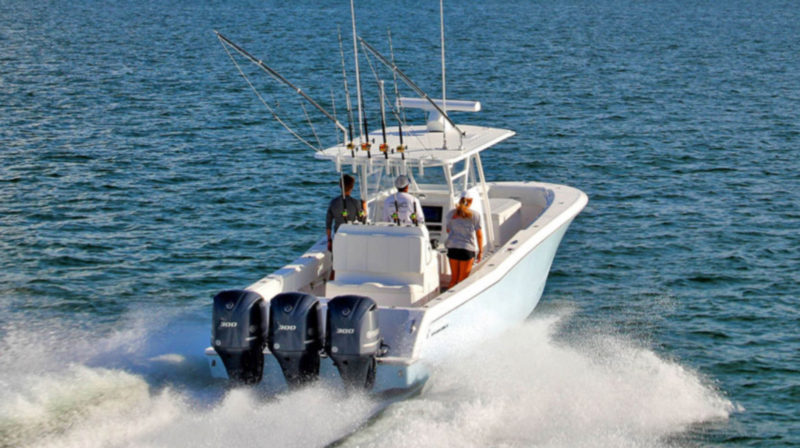 Happy boat-shopping, people!
Red Alert: Coming Soon to a Hotspot Near You

You say you want a top-end center console with awesome performance, a fit and finish that can't be topped, and oodles of luxury features? Too bad Formula Boats, which are known for all these traits, doesn't build a center console… right? Wrong! At least, soon that will be wrong. We got a sneak peek at Formula's big plans for 2022, which include entering the center console market with the 387 Fish and the 387 Sport models. These boats will be 38 feet, seven inches long with a 12-foot beam, ride on a 23-degree twin-stepped deep-V hull, and get their power from triple Mercury Verados, 450Rs, or twin 600 Verado outboards.
Details are thin since these boats haven't actually hit the water just yet, but we do know that the helm will be designed to house a pair of 16-inch MFDs, and perks will include touches like a full air-conditioned cabin with six feet, four inches of headroom; port and transom boarding doors; a forward console lounger; seven dual USB charging ports; and a Rockford Fosgate stereo with JL Audio speakers. Stand-out fishing features include twin 40-gallon pressurized livewells, 30 rod/cup holders, and fishboxes with available built-in freezer plates.