The Bayliner F16 is a boat brimming with surprises. The first is the best: you can get a complete rig - boat, motor, and trailer - for under $20,000. And that's a real-world price, after you pay the fees and taxes. In fact, MSRP with a 60 HP Mercury four-stroke outboard is listed at a mere $15,299.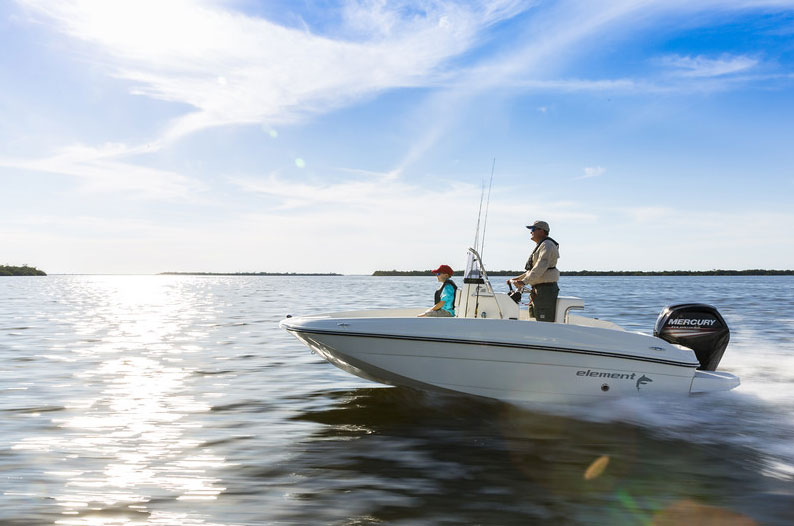 Just what do you get at this price-point? We're not going to pretend the F16 has goodies like a booming stereo system or a blender for your margaritas. But it does have standard forward and aft casting decks, vertical racks for six rods in the console, a leaning post, a swim ladder, a stainless-steel steering wheel, trolling motor pre-wiring, and a built-in 18 gallon fuel tank. No, that isn't an incredibly long list, but if you want all the bells and whistles you have to pay the price. A much, much higher price. And truth be told, the only thing we'd consider must-haves for a fishboat that aren't included are the optional livewell and a fishfinder/chartplotter. Add 'em both, and you're still well within that $20,000 mark.
Wait a sec - is a 60 horse outboard really sufficient for this boat? I say yes, and I've spent plenty of time on 16' Elements. It gets you up on plane without a problem, cruises in the low 20's, and tops out right around 31 MPH. That's not blazing fast, but in a 16-footer, just how fast do you plan on running? 
The boat's hull design also deserves an in-depth look. Bayliner calls it their "M-Hull" and it's really not like many others on the market today. It's almost like a tri-hull, but with more of a V in the middle and more prominent sponsons to either side. Bottom line: after running Elements through a variety of conditions, I have to say they're noticeably more stable than V-hulls, a bit bumpier in a chop though not nearly as bumpy as old tri-hull designs can be, they pop onto plane quickly and easily, and are relatively immune to engine trim. You won't want to charge forth at 30 MPH when there are three-footers rolling across the bay, but for a shallow water angler who wants to cast to the shoreline in relatively protected waters and venture out onto the open bay on nice days, it's a winner.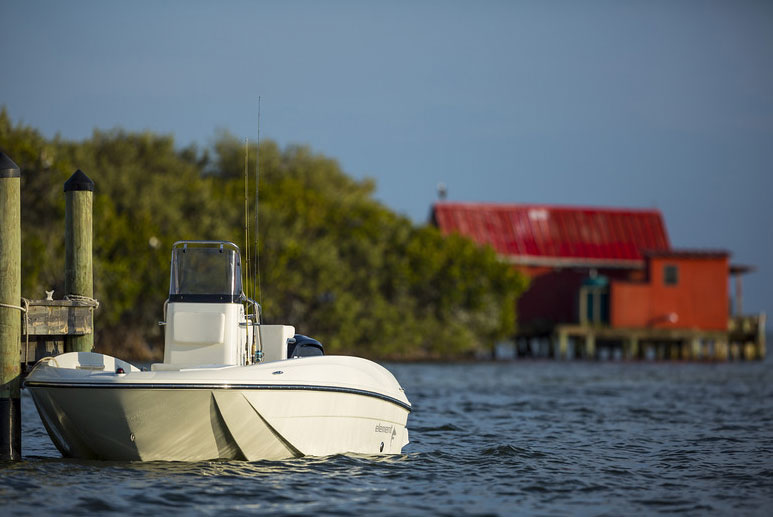 Other than a lack of creature comforts and glitz, where does Bayliner shave cost? You can see it in the hatches, which are finished on one side and rest open on straps instead of gas-assist struts. Also note that rodholders and hatch pull-rings are plastic, not stainless-steel. But none of these are deal-killers, and remember that many PWCs cost more than this fishboat. Besides, the important factors are all present and accounted for, the most important of which we haven't even addressed yet. At the risk of sounding trite: This is not your father's Bayliner. Yester-year's 16' Bayliners were not self-bailing boats, and if swamped, they were dead in the water. But the F16 is a self-bailing model. 
The bottom line? while this certainly isn't the fanciest boat in the world, nor the fastest, the Bayliner F16 is an excellent value for people who want to buy a brand-spanking-new fishing boat. And my guess is it'll turn a lot of used boat buyers into new boat owners.
Quick Facts:
LOA - 16'2"
Beam - 7'5"
Draft - 1'0"
Displacement - 1,750 lbs.
Transom Deadrise - NA
Fuel Capacity - 18 gal.
Max HP - 80
Area Dealers - Riverside Marine, 600 Riverside Drive, Baltimore, MD 21221, 410/686-1500. Short's Marine, 32415 Long Neck Rd, Millsboro, DE 19966, 302/945-1200. Lynnhaven Marine, 2150 West Great Neck Rd, Virginia Beach, VA, 23451, 757/481-0700. Prince William Marine, 12849 Gordon Blvd, Woodbridge, VA 22192, 703/494-6611. Or visit Bayliner.