Which center console bay boat is the king of them all? That's debatable, but we can all agree that it'll have to be safer than most, bigger than most, faster than most, more comfortable than most, and fish as well as any of them. And if you spend an afternoon on a Boston Whaler 280 Dauntless, you'll also agree that this unique angling machine is going to be a top contender. Come on and hop aboard for a quick sea trial!
Wait a sec — Boston Whalers have been around since the 50s, so how can we call the 280 Dauntless "unique"? First off, this model was just introduced last year as the largest boat ever built for the Dauntless line. Second, you can search high and low and you won't find any other boats built in the same exact way. Boston Whaler lays up a fiberglass hull, lays up a deck and liner, puts them together in a steel mold, bolts it shut, and blasts pressurized liquid foam between them. The foam undergoes a chemical reaction and expands then solidifies as it fills every belowdecks void, bonds to the fiberglass surfaces, and essentially turns the entire structure into one big glass-foam-glass sandwich. Net result? You could chop the boat into 100 pieces-parts (banish the thought!) and each and every one of them would still float. Added bonus: compartments like the fish box hold ice better than on virtually any other boat, because they're uber-insulated. Added double-bonus: water noise and vibrations get reduced because the foam helps absorb them when the boat impacts waves, a trait evidenced by rock-solid landings as we wake-hopped across Eastern Bay. Added triple bonus: can there possibly be a safer boat than one that can't sink?!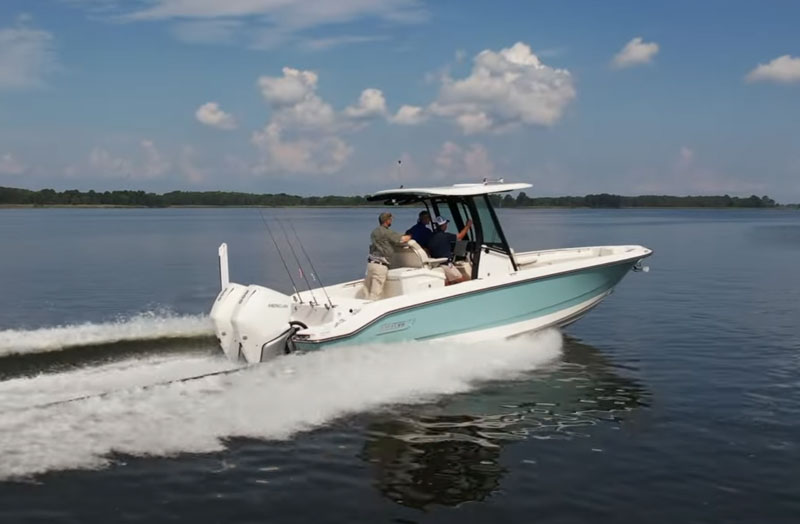 As for the size part of the equation, with 28' 8" of LOA and a nine-foot beam, this is one of the bigger bay boats around. What gives the 280 Dauntless an unusual edge, however, is the way that space gets used. Whaler has a knack for creating Transformer-like apparatus that allows one component to serve multiple purposes, and in this case, you'll find a prime example in one of the leaning post options. At first glance it seems like a straightforward post. There are flip-up bolster seats at the helm and reams of tackle stowage in the back. But when you pull a pin and press a button, the seats flip over and back to convert into an aft-facing seat. It's ideal for watching lines or, if you also flip up the doublewide seat integrated into the aft casting deck, turning the cockpit into a social area with facing seats. Additional options include a post with a sink and cooler rigging station plus two flush-mount rodholders, tackle stowage drawers and stowage pockets in the sides, plus a second livewell. Or you can even get an optional Seakeeper gyro-stabilizer underneath.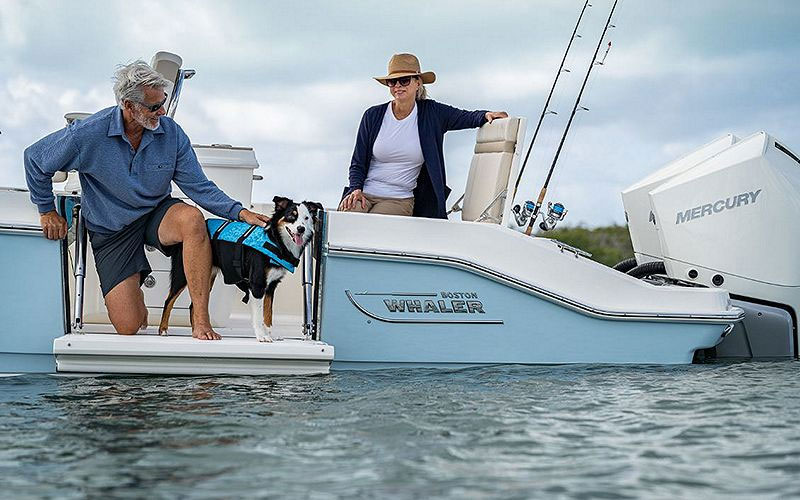 Another cool feature that comes with this much acreage is a doublewide lounger built into the front of the console. It boasts flip-down arm rests, beverage holders, and a huge stowage area underneath. Open it up, and you'll get another look at a smart way to utilize available space; on the underside of the hatch there's a mount that secures the cocktail table/forward casting deck insert and pedestal, while leaving most of the area open for additional gear.
Okay: what about performance? This is one of those bay boats large enough to handle twins, yet still small enough to run with a single engine. Anglers who opt for a single engine package will probably want the single Mercury Verado V-10 400, which cruises in the mid-30s and pushes close to 60-mph at top-end, yet still attains a 2.2- to 2.5-mpg efficiency through the cruising range. Most, however, will probably be interested in twin 300s, which produce a cruise in the low-mid 40s and a top-end also close to 60 mph. Our test boat had the twins, and one big plus of this power package is enhanced maneuverability. Whether you opt for the joystick or not, putting the 280 into a slip or alongside the pier is a piece of cake with the ability to oppose the powerplants and spin on a dime.
As for the comfort factor, we've already hit on several of the highlights. The flip-up aft seat, tricked-out leaning post, and forward lounger are big highlights. Also note that the flanking forward seats have pop-up backrests to turn into forward-facing loungers. Add to that the head in the console, an integrated wireless phone charger, multicolor RGB LED courtesy lighting, a freshwater shower, and a hardtop tow-hitch for pulling water toys and boarders, and it should be pretty dang clear that the entire family will want to spend as much time as possible aboard this boat. Then add in the Vessel View Mobile system (which can beam engine data and notifications to your phone and gets you troubleshooting assistance with dealer notification), to enjoy an added level of comfort knowing that everything's running properly.
Well. We're running out of space and we haven't even touched on fishing yet. We can't neglect mentioning that there's a 19-gallon livewell in the aft deck, three flush-mount rodholders on the transom along with the gunwale holders, four rocket launchers on the hard top, and a forward fishbox big enough to ice down a tuna.
Is the Boston Whaler 280 Dauntless the king of all bay boats? We leave that to you to decide. But one thing is for sure: if you want to cast from your castle, this is a boat you need to take for a sea trial.
Boston Whaler 280 Dauntless Specifications
LOA – 28'8"
Beam – 9'0"
Displacement – 5495 lbs.
Draft – 1'6"
Transom Deadrise – 18 degrees
Fuel Capacity – 160 gal.
Max. Power – 600 hp
Area Dealer – Chesapeake Whalertowne, Grasonville and Annapolis, MD, (410) 827-8080 (Grasonville) and (410) 267-9731 (Annapolis).