Tactics for catching yellow perch in February can be as complex or as simple as you make 'em. In the piece-of-cake category, we have fishing bull minnow on a bottom rig. But some anglers prefer to fish artificials-only, and some others may have a tough time procuring a bucket of bull minnow in the dead of winter. When you'll be fishing artificials for yellow neds during the chill, use these three tactics to boost your catch rate.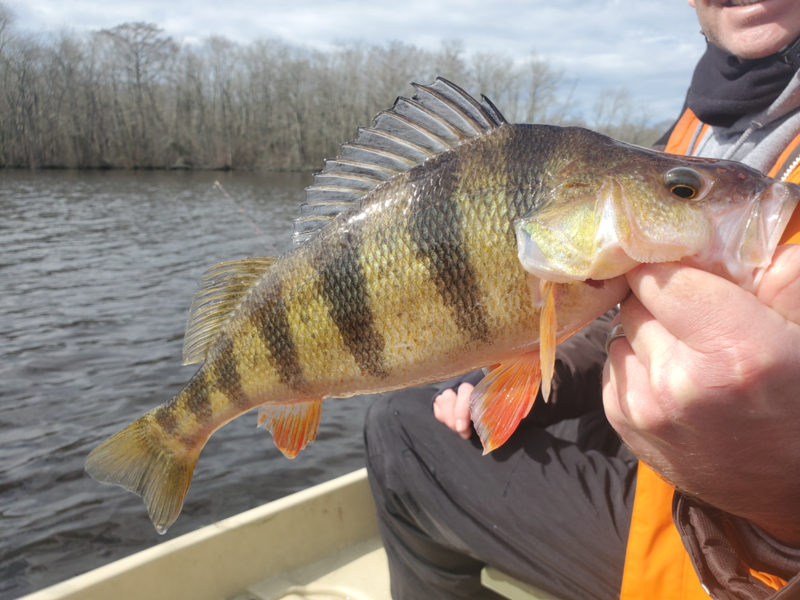 Downsize your rod, reel, and most importantly, line size. Most of the jigs which will prove effective at this time of year, like tubes, darts, and mini-twisters or mini-paddles, are quite small; one-sixteenth of an ounce is not out of line and an eighth of an ounce is on the large side. With eight- or 10-pound test these tiny jigs are tough to feel and tougher to cast. Use four-pound test on an ultralight rig, however, and you'll be able to cast a country mile and feel for bottom with no problem.
In tidal creeks with strong currents, consider using a drop-shot rig. This will allow you to continue using light, small offerings, but add just as much weight as you need to maintain contact with the bottom in a current.
Consider adding some scent to your lure. A dab of Pro-Cure, Dr. Juice, or Gulp! Alive spray won't necessarily get you more strikes. But when the perch do take a nip, they'll hold on longer. This gives you an added second or two to react to subtle, hard-to-detect strikes.