Hopefully you've already seen our review of the Caymas 26 HB and the 341 CC. If so, you know that this builder utilizes the twin-step SVVT hull design to get hat-stripping speeds and phenomenal efficiency out of their boats - and you may have realized that if you want the ultimate bay boat, one ideally suited for hunting everything from croaker to cobia, a Caymas might just be what you're looking for. The 28 HB has the same hull design as its siblings, and with a single Yamaha F425 XTO outboard, cruises at over 40 mph and hits a top-end right around 60.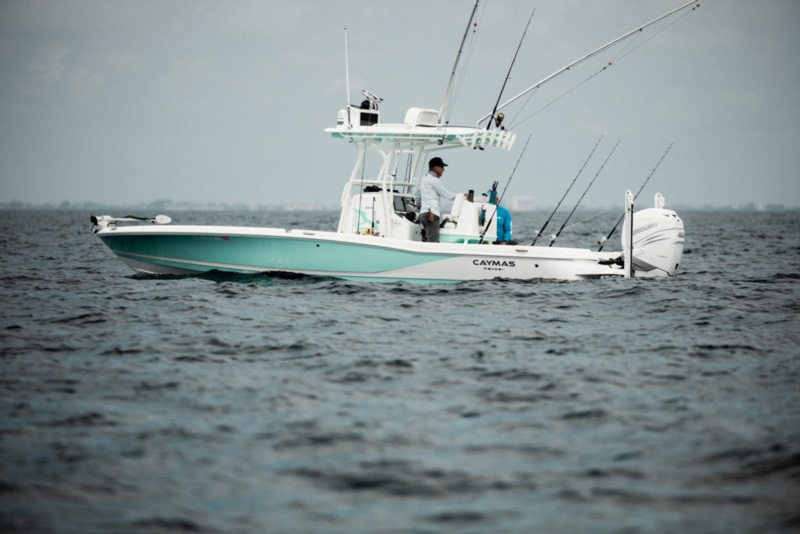 This performance is awesome, but what we've found we like even more about the Caymas brand is the unforgiving and complete dedication to angling prowess. The 28 HB can be had with a half-tower and upper controls that will have you sight-fishing for the big man in the brown suit, and eyeballing stump fields and weedbeds when you hit the Tangier or Pocomoke for specks and reds. Raised fore and aft casting decks allow for elevated slinging of the lures, and the foredeck is seriously huge; two anglers will have no problem casting at the same time.
The Caymas has room for such bodacious casting decks simply because of sheer size — 28 feet is huge for a bay boat — but that big footprint allows for a whole lot more, too. There are twin 35-gallon livewells in the aft deck, an insulated 40-gallon stowage box in the foredeck (with an inset fitted for a five-gallon bucket), and a rod box running under the port side seat and foredeck for rigs up to eight feet long. The starboard side box can also hold rods or can be left open for bulk stowage, and fish go into the 45-gallon macerated box centered under the forward U-shaped seating area.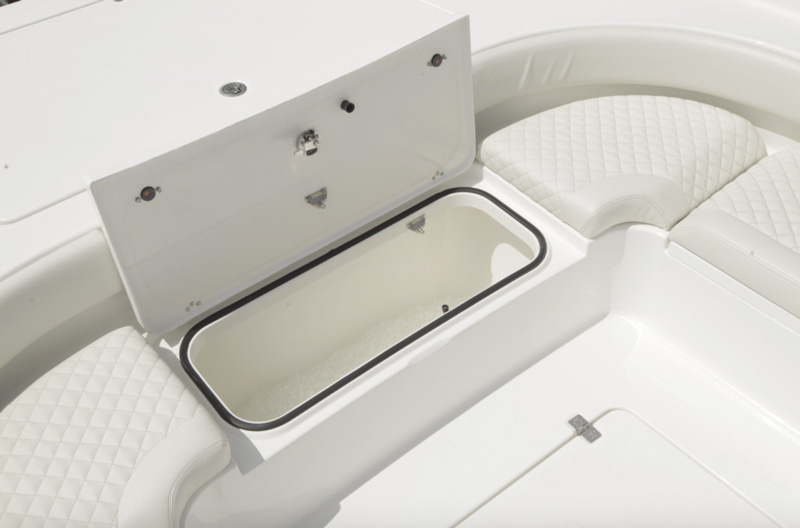 That seating area is also quite unusual. On most bay boats you'll have forward seating integrated into the casting deck or flanking the step up. That's great, but on serious fishing trips you'll probably want to leave the cushions at home in the garage to take full advantage of all the elevated casting space you can. And that, of course, means you can't take advantage of the additional seating. On the 28 HB, however, the U-shaped seating isn't where you'll want to stand. The boat's large enough to have a dedicated seating space and dedicated casting space that don't interfere with each other, so you can take full advantage of both on each and every trip.
We could run through the list of standard features (eight vertical rodracks! A leaning post with four rocket launchers and flip-up bolster seats! Room for two 12-inch MFDs at the helm!) and we could blather on about the construction (Tri-core composite transom! Central manifold system with shut-off valves!). But it should be pretty clear by this point that if you're looking for a top-shelf fully dedicated fishing machine that comes with very sharp teeth, the Caymas fits the bill. So instead, we're going to suggest that if you find this boat of interest you should stop reading about it and instead, set up a sea trial. Because once you nail the throttle and feel this boat run… BOOM, baby!
Caymas 28 HB Specifications
LOA – 27'7"
Beam – 9'4"
Displacement – 4300 lbs.
Draft – 1'4"
Fuel Capacity – 120 gal.
Max. Power – 450 hp
Transom Deadrise – 18.5 degrees
Area Dealers – North Point Yacht Sales, Annapolis, MD (410) 280-2038 and Gloucester Point, VA, (804) 885-4090.