"That reef's not fishable" said the late Charter Captain Eddie O'Brien, who was dedicated to trolling for rockfish. "Why did they build it that way?" His complaint: the rubble was indiscriminately dumped into a pile of jagged protrusions which are extraordinarily effective at snagging hooks. Having become one of the 'they' by association with the reef program, I thanked him for his candid observation, and ate humble pie. So went my introduction to the Cedarhurst Fish Haven, around the corner from Parish Creek, due east of Horseshoe Point off the Western Shore of Chesapeake Bay. The captain's characterization served notice of the challenges that would accompany rebuilding support for the reef program, and especially for using materials of opportunity.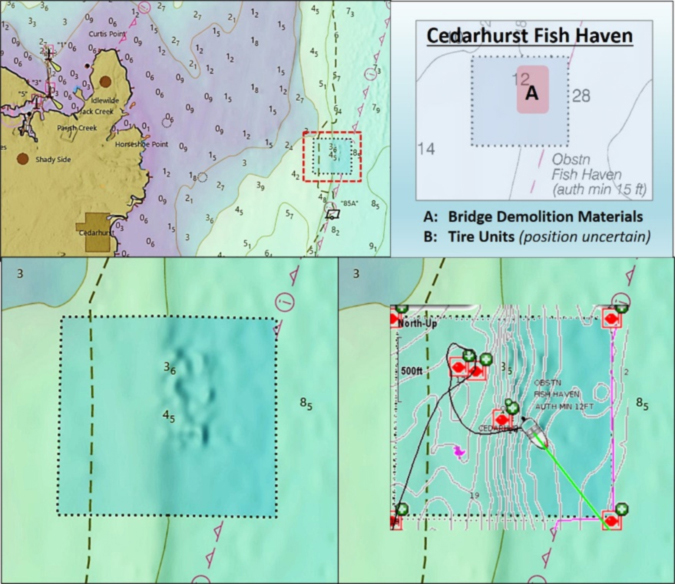 Several years later, I learned that the Cedarhurst jumble of rubble-trouble could be fished successfully, albeit indirectly. Maryland Environmental Service and the Chesapeake Bay Foundation sponsored their first joint reef ball pour at Shady Side in 2004. A local waterman was working in a nearby shed. After wrapping up the work I walked over, introduced myself, and discussed the reef ball pour. He was interested in our plan to improve reef habitat by putting the modules at Hollicutts Noose Fish Haven. I asked about the Cedarhurst reef. The waterman confirmed that it was a jumbled mess, but it also attracts stripers. "We fish around the outside," he observed. He also said that sometimes stripers cruise the reef edges and other times they can be drawn out with chum lines. Great advice, and adaptable to most other rubble pile reefs depending on their layout and location, as was done for the material of opportunity reefs at the Tilghman Island Fish Haven. They were placed across the dominant current flow, a configuration that allows more boats to set up parallel to the reef and put out chum lines.
Cedarhurst Fish Haven was permitted in late 1965. It is one of the earliest artificial fishing reefs in the Bay. A detailed description of the structures in the site is available on the web from the National Oceanic and Atmospheric Administration's Automated Wreck and Obstruction Information System (AWOIS). The first reef was constructed in 1966. It consisted of two- to four-foot diameter pneumatic tires and was probably the earliest use of constructed tire units in Maryland waters. AWOIS data reports they were weighted with concrete and cabled together with wire rope into 10-tire units. A similar technique was used for constructed tire units that were placed in other permitted fish havens.
A more substantial reef was constructed at Cedarhurst in 1983. An estimated 3000 cubic yards of concrete rubble was obtained from the demolition of the old South River Route 2 Bridge. This is the jumbled rubble pile. It is very rugged, as seen in a CHIRP sonar down-looking scan I took with a Raymarine Dragonfly in September 2018. There is likely some steel attached to or protruding out from some of the rubble. A 1998 NOAA echo sounder survey reported a 12-foot obstruction in vicinity of the northern edge. However, the rubble reef is just southeast of the reef's center point. The approximate location of both reefs is 38'50.38N x 76'27.66W.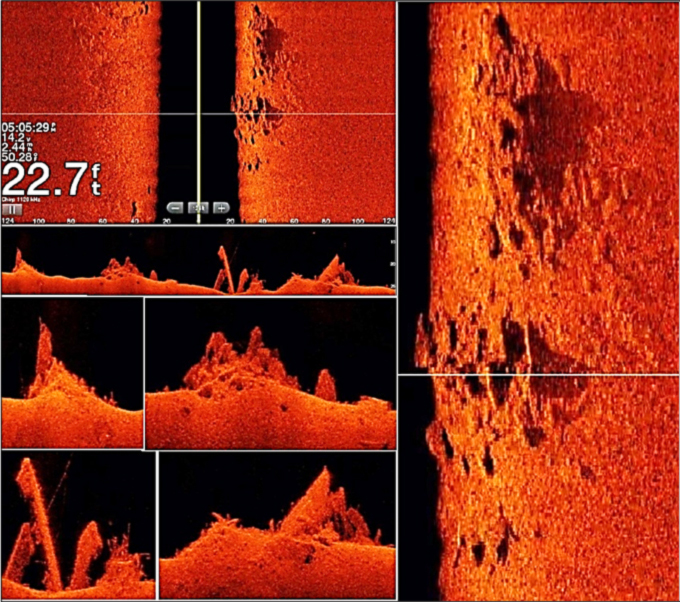 Using a bit of electronic wizardry, I superimposed a see-through image of my GPS plot over a see-through Electronic Navigation Chart (ENC) image over a Digital Elevation Models (DEM) image using the NOAA Bathymetric Data Viewer. If you were able to make you way through all that jargon and acronyms, you can see that the southwestern extent of the DEM dimples, representing where NOAA soundings found highpoints, correspond with where I marked rubble with my Dragonfly.
Although Cedarhurst's performance isn't among the growing body of environmental monitoring and fishing reports, my sonar images from 2018 included seeing baitfish on the reef with large fish in proximity. I tried fishing around the edge and snagged (and lost) end tackle on something out away from the pile.
More recently, David Gill took and shared some nice high-definition screenshots with his side-scan and down-looking sonar. The montage of his screenshots shows the rugged and highly irregular character of the reef deposits in more detail. It was obviously a dump-and-go deployment rather than a more deliberate placement. With decks or beams projecting upward into the water column, trolling over these piles is a sure bet for losing tackle for anything but surface lures.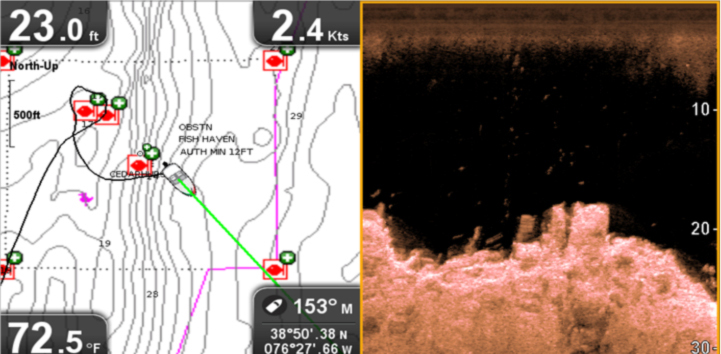 David's images and those taken by Nick Garrott and Walleye Pete Dahlberg of other structure with high-definition units were featured in "Chesapeake Bay Fishing Reefs: Voyages of Rediscovery." They motivated my purchase of a Humminbird MEGA unit, and now a MEGA+. The detail of the latest generation recreational sonars is remarkable, and they certainly aid in finding sportfish in shallow and deep water. When I began fishing as a youth, we were still dipping oars in the water to measure depth. So, you can teach this old dog some new tricks.
Cedarhurst offers some shelter during westerlies. It's in my notebook as a backup fishing hole when it's too rough out in the middle or on the east side of the main stem for small boats, or the bite is off at other hotspots. After losing a jig to scattered material along the reef edge, my plan will be to relocate the rubble pile edges with my updated boat electronics and jig or troll the perimeter. Or, if the current is right, anchor up-current and put out a chum line to pull fish out to cut bait or live-lined spot.
See our Chesapeake Bay Fishing Reefs Guide to get the lowdown on other mad-made wreck and reef hotspots in the Bay, plus a few in the ocean off the DelMarVa coast.
Wayne Young is the author of "Bridges Under Troubled Waters: Upper Chesapeake and Tidal Potomac Fishing Reefs," "Chesapeake Bay Fishing Reefs, Voyage of Discovery," "Phantoms of the Lower Bay," and "Hook, Line, and Slinker." All are available at Amazon.com, and you can find his Facebook page at Chesapeake Bay Fishing Reefs.
Editor's Note: Cedarhurst is a spot I've fished many times — and lost plenty of hardware to. Even for a jigger, Captain O'Brien's point is well taken. However, when we had decent flounder runs up into the Middle Bay in the 2000 to 2010 timeframe, Cedarhurst was a prime location to catch flatfish. The trick was to drift alongside the reef materials and bounce five-inch Gulp! Jerk Shad along the bottom, while eyeballing the fishfinder. When the jagged rubble-trouble Wayne talks about appeared on the fishfinder screen, we'd quickly reel our jigs up and hold them out of the water until the danger had passed. Remember this spot if and when we get a decent run of flounder up the Bay again, because fishing it was always well worth the risk.
Sign up here to get the weekly FishTalk Chesapeake Bay and Mid-Atlantic fishing reports in your email inbox, every Friday by noon.