I've got a beef with many modern boatbuilders: they've stopped making small, simple, straightforward, inexpensive, skiff-style boats in favor of larger, more complex, more expensive boats. This is in large part because more expensive boats have a bigger profit margin. I understand the trend from an economic point of view, but in a world where 21-foot boat-motor-trailer packages can push $60K out the door and fully outfitted, a huge number of would-be boat anglers are left sitting on the shoreline. So, I was stoked to run across the Coastal Skiff 212.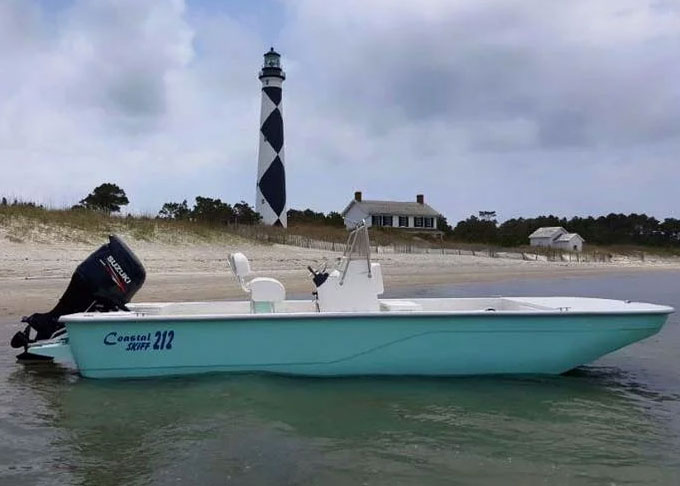 Coastal Skiff is built by Four Son's Marine, a family owned and operated outfit that's been building since 1999. They build their skiffs (as well as a line of flats boats) by hand, one at a time, in Fair Bluff, NC, with all composite materials. The range includes 17-, 18-, 21-, and 27-footers, and these are no-nonsense skiffs which are ideal for everything from casting in the shallows to running a trot line until Jimmies are scrambling over the top of the bushel basket. In good weather any of them could head out into the open Bay but the 212 strikes us as the model with enough beef to get you out to the big fish with confidence, in most conditions.
The basic package includes a flip-back helm seat/leaning post cooler, elevated bow casting deck with stowage underneath, a 90- or 115-hp outboard, and a trailer — and it comes in under the $30,000 mark. Note: this is a rigged and ready-to-roll price, not a "oh, you want a steering wheel and a propeller, too?" price. Rear decking with stowage, a livewell, and hull colors are available options. These are short lists, and that's by design. One of the beautiful things about a simple skiff is that there's very little to go wrong. With few switches or pumps, little wiring, and no additional systems, maintenance is minimized. And the pre-trip prep and the post-trip wrap-up is reduced to turning the key in the ignition.
Added bonus: with all the wide-open deck space there's plenty of room for gear and passengers, and the Coastal Skiffs 212 has a rather surprising 12-person max capacity. Double added bonus: since they build with composites and don't add on tons of extra junk, weight is kept to a minimum. The 1600-pound displacement is svelte enough that this rig can be hauled to the ramp with a modest tow vehicle.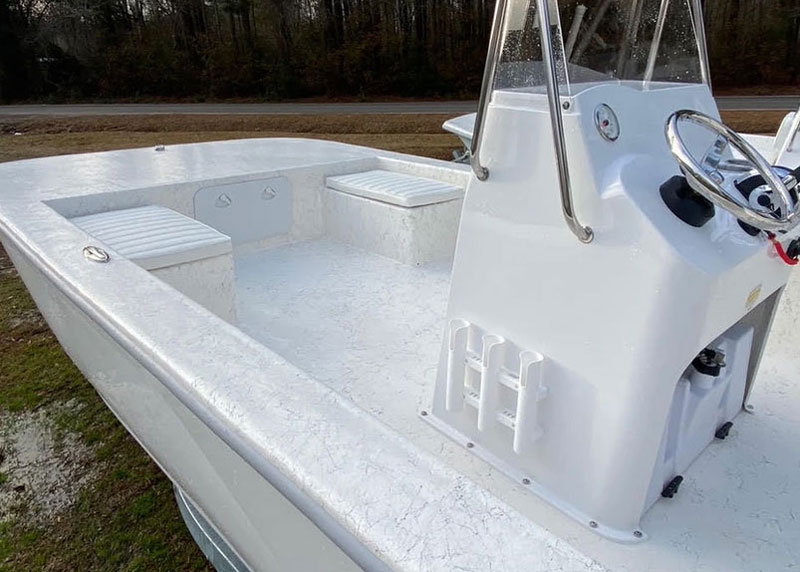 As far as construction and design go, again, the simpler-is-better mantra applies. The 212 has a bit of V in the bow to help mitigate a chop but is essentially a flat-bottom boat, which gives it excellent stability and a field-beating six-inch minimum draft. Stringers are foam cored and the transom is composite cored, so these are wood-free boats, and the deck is self-bailing.
You're a millennial looking to move from a fishing kayak into a boat appropriate for taking out the kids? You want a simple, straightforward boat that's easy to maintain and easy to run? Or, maybe you just want a fishing and crabbing machine that doesn't cost an arm and a leg? Many of the boatbuilders out there have left you in their wake, but the Coastal Skiff 212 might be just what you've been looking for.
Coastal Skiff 212 Specifications
LOA: 21'2"
Beam: 8'2"
Draft (min.): 6"
Displacement: 1600 lbs.
Max HP: 115
Fuel Capacity: 22 gal.
Max Capacity: 12 persons/2405 lbs.
Area Dealers – Scott's Cove Marina, Chance, MD, (410) 784-7624.