Through the years I've tested the bulk of Cobia's line-up and months ago we ran a boat review of the Cobia 217CC, but it's their smallest offering, the 201CC, that's impressed me the most. Why? Because this is a 20-footer with the attitude of a much larger boat.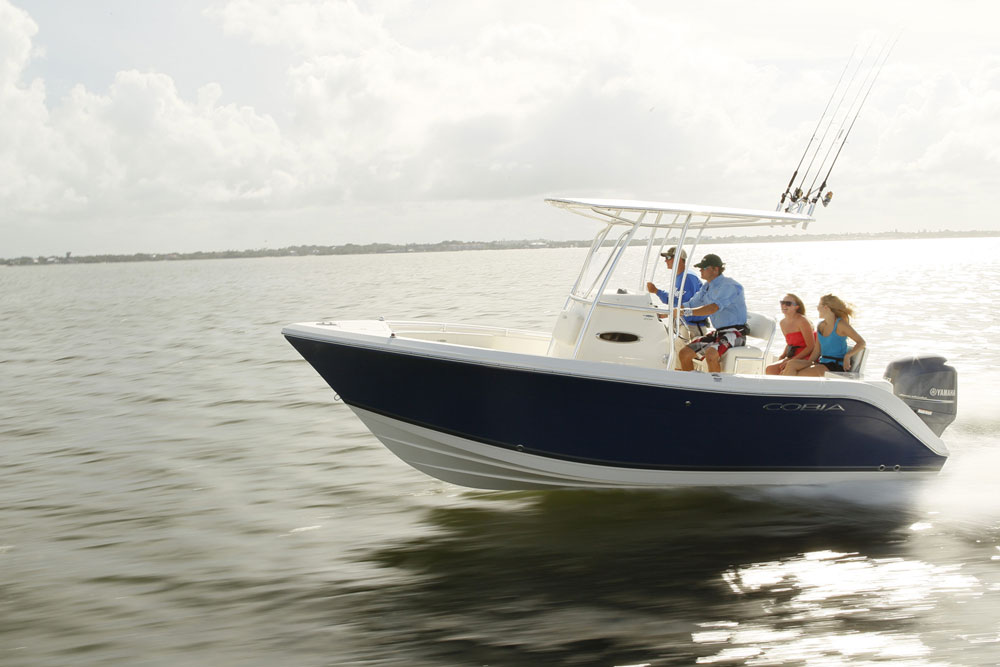 You may get this impression at first glance, when you notice how deep the cockpit is, how tall the bow stands, and how high the gunwales are for a 20 footer. That's the sort of stuff angling parents love. But it's when you start digging deeper that the boat's out-sized attitude becomes clear. The transom provides some insight; the top swings back to create a seat built into the transom itself, rather than folding down and eating into cockpit space. Then, flip the seat bottom out and down and peek at the bilge access. You'll see that the bottom of the transom livewell is foamed for insulation, then gel coated so that foam is sealed away from bilge moisture. Batteries are mounted on an elevated shelf so they won't get wet, and their weight is centered and aft. Hoses are double clamped. And hose to through-hull connections aren't just clamped, they're also gooped with 3M 5200 to ensure a solid connection. Backing plates are phenolic, wiring is tinned-copper, and through-hulls below the waterline have seacock valves. These are touches you'd expect to see on larger, more expensive boats.
Truth be told, on Cobias built decades ago you wouldn't have found this sort of construction. But MBG (Maverick Boat Group, the same folks who build Maverick, Pathfinder, and Hewes) acquired Cobia Boats back in 2005, and ever since then the difference in the brand has been evident.
This goes beyond construction, and into the design of the boats. On the 201CC, for example, you'll note that the insulated fishbox has a whopping 50-gallon capacity. The livewell holds 26 gallons. Four stainless-steel gunwale holders come standard, and even though this boat is a mere 20'1" long, the top is designed to take optional outriggers. The people at MBG fish, they know how to design a boat for fishing, and that shows. On the 201CC, I only spotted two fishability sacrifices made for the whole family/comfort thing. First off, those tall gunwales and deep cockpit do give the boat a high profile, which means you'll be a sail when drift-fishing in heavy winds. And secondly, the console is over-sized to accommodate a head (the need for which is simply a marketing reality in today's world) and as a result, there's minimal deck space in front of and around it.
Performance-wise, the 201CC maintains that bigger-than-expected attitude. With a Yamaha F150 four-stroke on the transom it cruises at about 30 mph (while turning 4500 rpm). And fuel burn at that speed is a mere 6.2 gph. Slam down the throttle and you'll exceed 43 mph, while burning up to about 15.5 gph.
The bottom line: the Cobia 201CC is a very, very big 20-footer. And while it's true that there's some cost associated with building a boat that's larger than its foot-print, it also delivers serious versatility and fishability.
Cobia 201CC Specifications
LOA – 20'1"
Beam – 8'6"
Displacement – 2,745 lbs.
Draft (hull) – 1'6"
Transom deadrise – 20 degrees
Fuel Capacity – 60 gal
Max HP – 150
Area Dealers – Rt 113 Boat Sales, Selbyville, DE, (302) 436-1737; Norton Yachts, Deltaville, VA (804) 776-9211.