There's a new queen of the Cobia Boats fleet, and she's a serious fish-killing machine. The biggest eyebrow-raising feature of this biggest Cobia yet? Performance. With a pair of Yamaha F425 XTO outboards the boat cruises in the mid-40s and breaks 62 mph. Yowza. Credit goes to a twin-stepped hull design, which not only provides a speed and efficiency boost (at the 33-mph most efficient cruise the boat gets 1.5 mpg, which is significantly better than many competitors in this class), but also helps smooth out the bumps when hitting waves.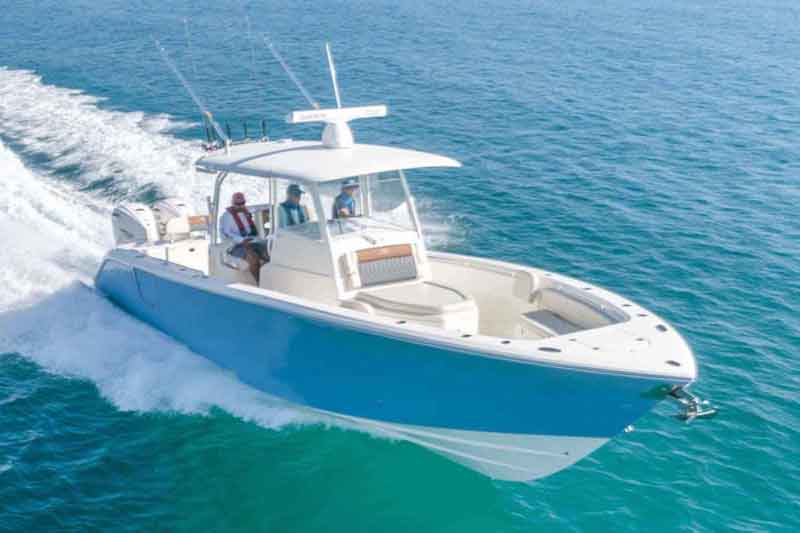 Set the heading, enjoy the run, and then survey your surroundings: the cockpit houses a pair of 42-gallon pressurized livewells, eight flush-mount rodholders dwell in the gunwales, the hard top supports sport 10 rocket launchers plus a pair of kingfish holders, there are racks on the inwales, and there's a pair of 62-gallon macerated fishboxes in the deck. That's all good stuff, but the real stand-out fishing feature on this boat is the tackle station built into the back of the leaning post. It's as big as you'll find, with a brace of four big tackle trays, knife/pliers holders, a regular-sized slide-out drawer, and a pair of huge drawers. This is one of the few tackle stations that will prove capable of holding your bay gear, your inshore rigs, and your offshore armaments, all at the same time. And that's before you flip up the top of the station, and discover another tool rack, a sink, and a rigging station. Again, we say it: yowza.
As is true of most center consoles in this size range, the Cobia is also equipped with some of those comfort features that sometimes compete with fishier accouterments. The cabin has a berth large enough for a couple of crusty anglers to crash out between bites on an overnighter (or for a couple who wants to weekend) plus a head; the forward lounger has room for two people to kick back on as you run from one hotspot to the next (or for the kids to stretch out and sunbathe); and the electrically actuated bow cockpit table can be raised to half-height to fill the gap between the flanking seats and turn the bow into a casting deck (or use it as a cocktail table, if you must).
One more thing about the bow: we need to call out the backrests for the forward seats, which swing flush with the inwales when not in use. It's a much better system than pull-out backrests, which always seem to turn into difficult-to-stow clutter when not in use. Another smart move up front is giving the seat's stowage compartment hatches a turned-down edge, where the latch pull-rings are located. That means you can manipulate the latches without having to dig under the cushions and feel around for them, another small but common design flaw found on many boats in this class. But we also see one place where there's room for improvement in the bow: swing up the lounger (it's on a pair of gas-assist struts) and you'll discover a pair of divided coolers. We'll admit that this makes it a lot easier to keep the food separated from drinks buried in ice. But we plan on plugging all 124 gallons of fish-stowage capacity in the cockpit, and call us over the top, but we'd happily sacrifice keeping the food dry in order to have a single, larger compartment that could hold more, bigger fish.
One thing that's not so easy to see but which we've always found deserves a thumbs-up since MBG (Maverick Boat Group, Cobia's parent company) acquired the brand is how the Cobias are put together. Poke your head behind the helm or under the gunwales, and you'll start spotting things like waterproof Deutsch wiring connectors, aluminum and phenolic backing plates, epoxy-coated aluminum fuel tanks, and plumbing that's not only double-clamped but also capped off with sealant. Stringers are fiberglass over closed-cell foam, and hatches are cored for maximum stiffness and minimum weight.
There are lots of big center consoles out there these days, and if you're looking at 'em, the Cobia belongs in the mix. Because like we said, this is one that will make you exclaim: YOWZA.
Cobia 350 Center Console Specifications:
LOA – 34'4"
Beam – 11'2"
Displacement – 10,560 lbs.
Draft (max) – 2'0"
Fuel Capacity – 320 gal.
Max. Power – 900 hp
Area Dealers – Off The Hook Yacht Sales, Grasonville, MD (410) 609-9893.