A big advantage that we kayak anglers have over our motor-boating brethren is that we don't have to winterize. We can splash our boats whenever and wherever we want. Yes, it might be freezing out, but fish are cold-blooded and although their metabolism slows down significantly at this time of year, plenty of winter fishing opportunities await. It's a great time to fish for yellow perch, pickerel, crappie, and catfish, which can be found in the upper reaches of many tributary rivers as well as in Eastern Shore ponds and Western Shore lakes. (Read "Fishing the Mid-Atlantic Year-Round," if you need some ideas on where to go and how to target some Cold Water Kayak Fishing of these species). The Potomac River below the Woodrow Wilson bridge offers many deep holes inhabited by blue catfish (check out our "Tidal Blue Catfish Behemoths" how-to article), and farther up north you can find walleye and smallmouth bass. Wintertime rockfish can be challenging to locate, but catch and release anglers can jig up stripers from the depths all year long and it may be worth your time to venture to one of the region's warm water discharges like Calvert Cliffs, Brandon Shores, or Dutch Gap.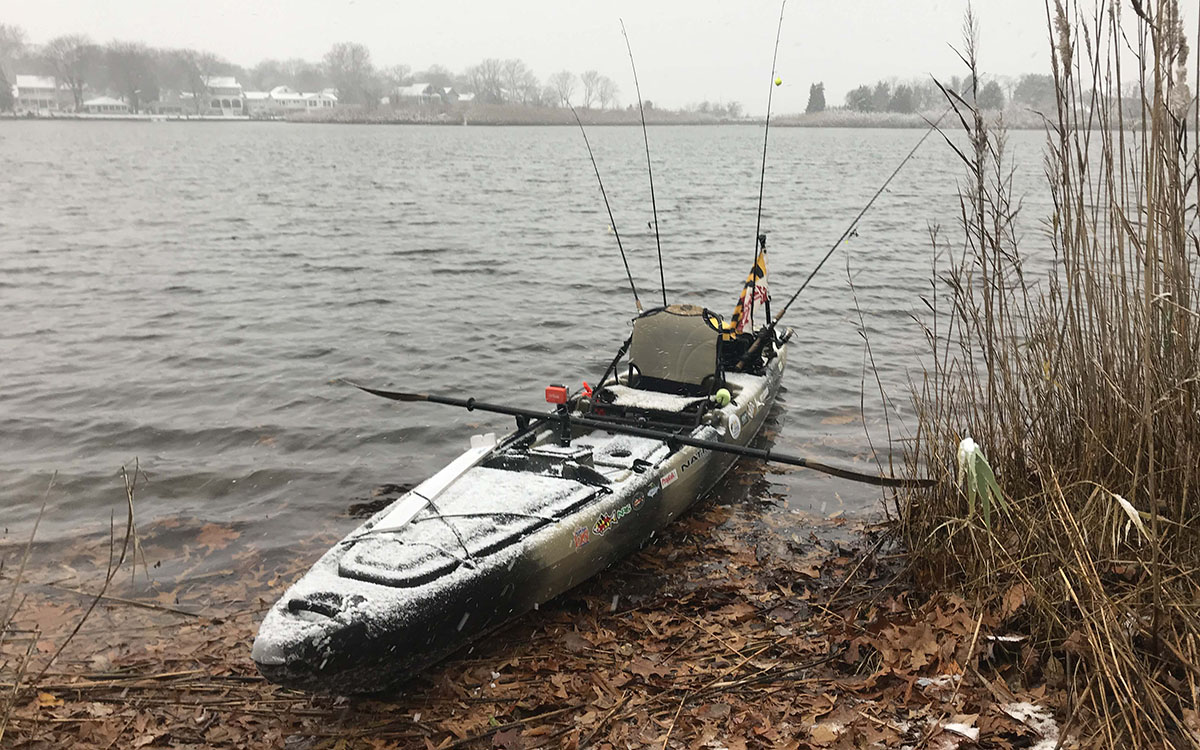 So before you hunker down by your wood stove with a hot cup of cocoa just think about all those fish that are still out there waiting to be caught. This is a special time of year for kayak fishermen. After all, it's freezing and few others are crazy enough to hit the water. Long gone are the days of buzzing boats and dodging wakes. You'll have the water (and fish) all to yourself. Flat, serene winter days on the Chesapeake are something you truly have to experience for yourself. But before you go, you should be well prepared for fishing in these cold-water conditions.
Safety Gear
The biggest threat while winter kayak fishing is the risk of cold water immersion. You might think that you will never flip your boat, but Murphy's Law is very real. A sudden splash into near-freezing water can instantly shock your body and paralyze your muscles. You may be temporarily unable to swim climb back onto your kayak. In a worst case scenario you could go into cardiac arrest, or possibly breathe in water and drown instantly. In any situation, it's not worth risking your life.
The safest precaution you can make is by purchasing a quality full drysuit that has latex gaskets for your neck and wrists. Drysuits have waterproof zippers and are air tight. The bubble of air inside provides you with warmth and also additional buoyancy, should you end up in the water. Despite the drysuit's ability to float you also must always wear your PFD. When selecting a dry suit, a "relief zipper" is an important feature to look for so you don't have to remove the suit to do your business. Waders or bibs combined with a dry-top can also provide adequate cold water protection, but will eventually start to leak if you cannot exit the cold water quickly enough.
It's a good idea to test your drysuit annually by wading out from your launch spot. Make sure you fully submerge to verify that there are no leaks. It's also wise to at least once intentionally "turtle" your kayak in warmer waters, to practice righting your boat and climbing back aboard.
Some other key safety items you should possess before you leave shore are: an emergency whistle, a 360-degree white light, a portable handheld VHF radio, and a sharp, accessible knife mounted to the exterior of your PFD.
Float plan
Whenever possible, you should avoid fishing alone in colder conditions. But if you must go solo, you should absolutely leave a float plan with a loved one, friend, or family member. This should detail your launch point, as well as your estimated time of departure and return. It can be as simple as a note on the counter, a text message, or a Facebook status. Just let someone know you're out there.
Weather
Most kayak anglers know their comfort zone when it comes to weather, but you should be more cautious in the colder months. If 15 to 20 knots of wind is usually your limit, maybe you should think about scaling it back to five to 10 knots when the temperature is below 50. You might be wondering at what point in the season should you begin to don the drysuit. While it is not an exact science, a good guideline is the 120 degree rule. This means that if the air and water temperature combined is less than 120 degrees Fahrenheit, then you should wear your suit. There are certainly exceptions to the rule, like on a freak January day when it's 80 degrees out but the water is still in the 30s.
Stay Warm!
Layers are important, but don't bundle up so much that you lose mobility. After all, you still need to paddle and maneuver around your kayak. And don't wear cotton – the best materials are those that are hydrophobic and wicking, so make sure you're wearing clothing that is made of either polyester, polypropylene, or wool. Usually two or three layers will suffice depending on the day. You will also get additional warmth from your drysuit and PFD.
The only skin that's really exposed to the cold are your hands and face. It is essential that you have a good winter hat and a neck gaiter that can be pulled up to protect your face. Keeping your hands warm can be a challenge since you need the dexterity of your fingers to cast, tie on lures, and bait your hook. Fingerless wool gloves are great, but on extra cold days it's best to cover up those fingertips. Fold-over mittens are a good compromise. If your hands are constantly dipping into a minnow bucket or releasing fish, a neoprene glove might be the way to go. Neoprene is not warm on its own, but when wet it creates a water barrier next to your skin that is heated by your own body temperature. It's good to keep some handwarmers in your tackle bag for really cold days, or you can bring a big insulated travel mug filled with hot chocolate, coffee, or tea to have while you are out there. It works as a hand warmer as well as heating you up from the inside out.
I hope these cold water kayak fishing safety tips help you get out on the water this winter and catch some fish. Make sure you're aware of your state's fishing regulations as some species, namely striped bass, are not in season this time of year so catch and release is a must. And as always, be safe out there! 
---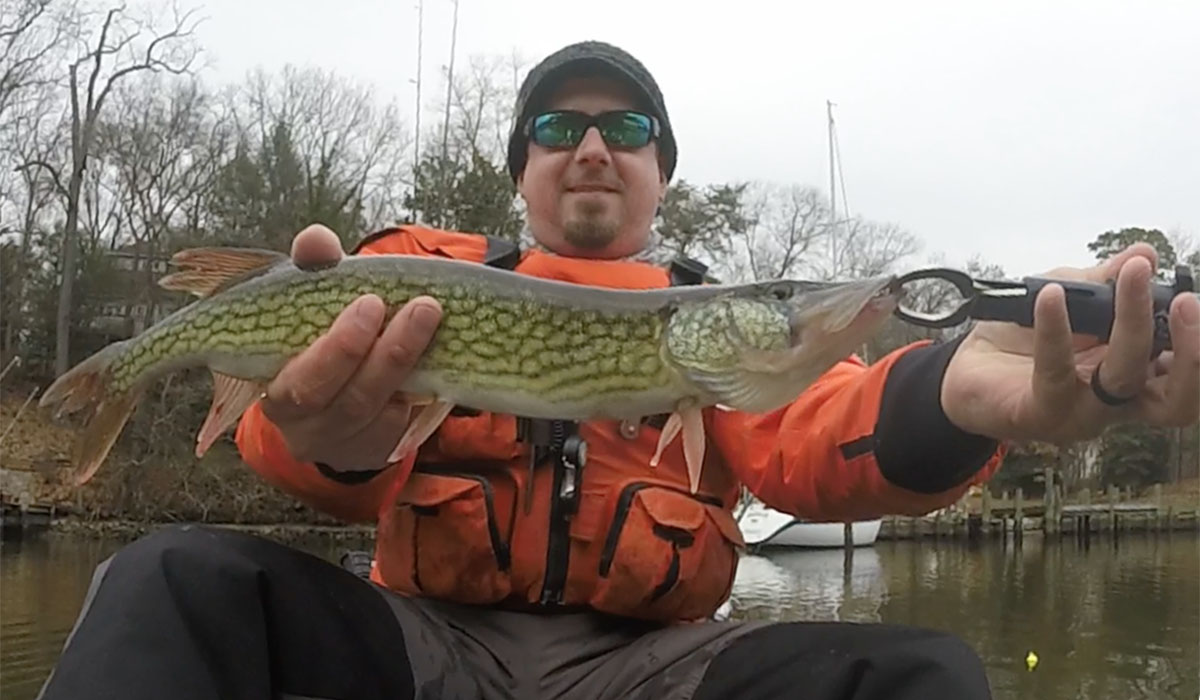 Winter Fishing Tips
Slow Down: Remember to be patient while fishing in the cold, and slow your retrieve. You'll want to keep your lure moving just barely fast enough to have action.
Live It Up: If artificials aren't producing, try some live bait. Some area tackle shops remain stocked with minnows year-round, and that may be your best shot at coaxing a pickerel or perch from their winter slumber.
Shhhhh: With not much else happening on the water, stealth is now more important than ever. Watch your paddle strokes and gently glide from spot to spot to avoid spooking the fish.
For more information about cold water paddling safety, visit the National Center for Cold Water Safety.
---
~ By Zach Ditmars