Opening day of rockfish season, I'm dusting off my old work boots and grabbing a pair of chore gloves. Not to catch that trophy fish, but to meet a group of dedicated volunteers who in rural southern Maryland to build reef balls. I arrive at nine in the morning, driving down a long and winding dirt drive and coming upon an eclectic group of people busily assembling the fiberglass molds. Yea, I was five minutes late.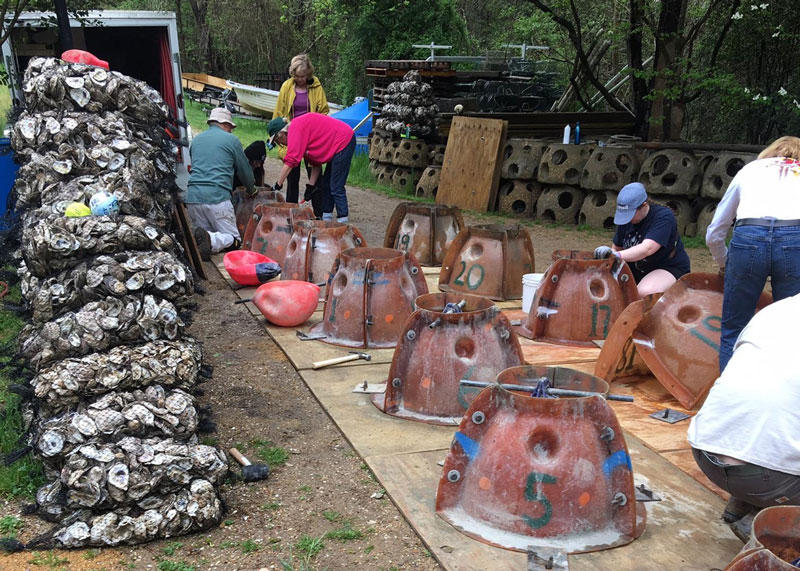 The reef ball build I attended is part of the Living Reef Action Campaign, the flagship habitat and education program of the Coastal Conservation Association of Maryland. It was in partnership with St Mary's River Watershed Association, Calvert County and St Mary's County Public Schools, and the Patuxent Environmental and Aquatic Research Laboratory.
The molds form what will become reef balls. Before the forms can be filled with concrete they need to have a thin layer of sand placed in the bottom, and inflatable bladders are installed to keep them hollow. The reef balls sit a day or two to allow the concrete to dry, and then the forms are removed. Once the reef balls are complete they will be set with oyster spat, and installed in tributaries of the Lower Potomac and Patuxent rivers to create living reefs which help restore the Bay by improving water quality and providing structure for fish habitat.
Let's all get involved – programs like this allow anglers to do our part to restore our Bay, so we can continue to enjoy the Chesapeake Bay fishery. For further information and volunteer opportunities visit CCA Maryland or the Chesapeake Oyster Alliance.
- By Eric Packard
Editor's note: Also see CCA MD Builds Reef Balls at Bass Pro Shops, for more info on building reef balls and to see a short video showing how it's done.