Crappie are a great panfish to target, they make for a great fried fish dinner, and they're a species that you can catch while fishing in the Mid-Atlantic year-round. Ready to go on a crappie hunt? We're going to take a quick look at three tactics that work wonders when paired with ultra-light tackle and line in the four- to six-pound test range. But first, check out this short crappie fishing how-to video, to get some quick crappie fishing tips:
Okay - now, ready for those three tactics?
Fish a bobber rig. Bobbers should be small enough that the fish can pull them under easily, and over-sized bobbers will lead to rejected baits. A bobber that can just barely support the weight of your rig and remain afloat is best. Tie a shad dart or marabou jig on the end of the line, and lip-hook a minnow on it (in through the bottom jaw, out through the top). Experiment with varying lengths under the bobber, but usually between two and four feet will be most effective.
Fish a tube jig. Crappie are suckers for two-inch tube jigs rigged on 1/8th to 1/64th of an ounce jig heads. Red/white color combinations, chartreuse, white, and blue/white are often most effective. Try retrieving them at varying depths, flick your rod tip gently to give the lure some action, and when fishing directly over structure try vertically jigging them.
Fish a twister-tail. Again, the two-inch version and the same size range jig head is perfect for crappie. The one main difference between a tube jig and a twister tail is that the action is built-in; jigging the rod tip is unnecessary. These are highly effective for casting and retrieving, especially around structure like beaver dams, fallen trees, and pier pilings. But they don't work well for vertical jigging, so if that's your game move on to other options.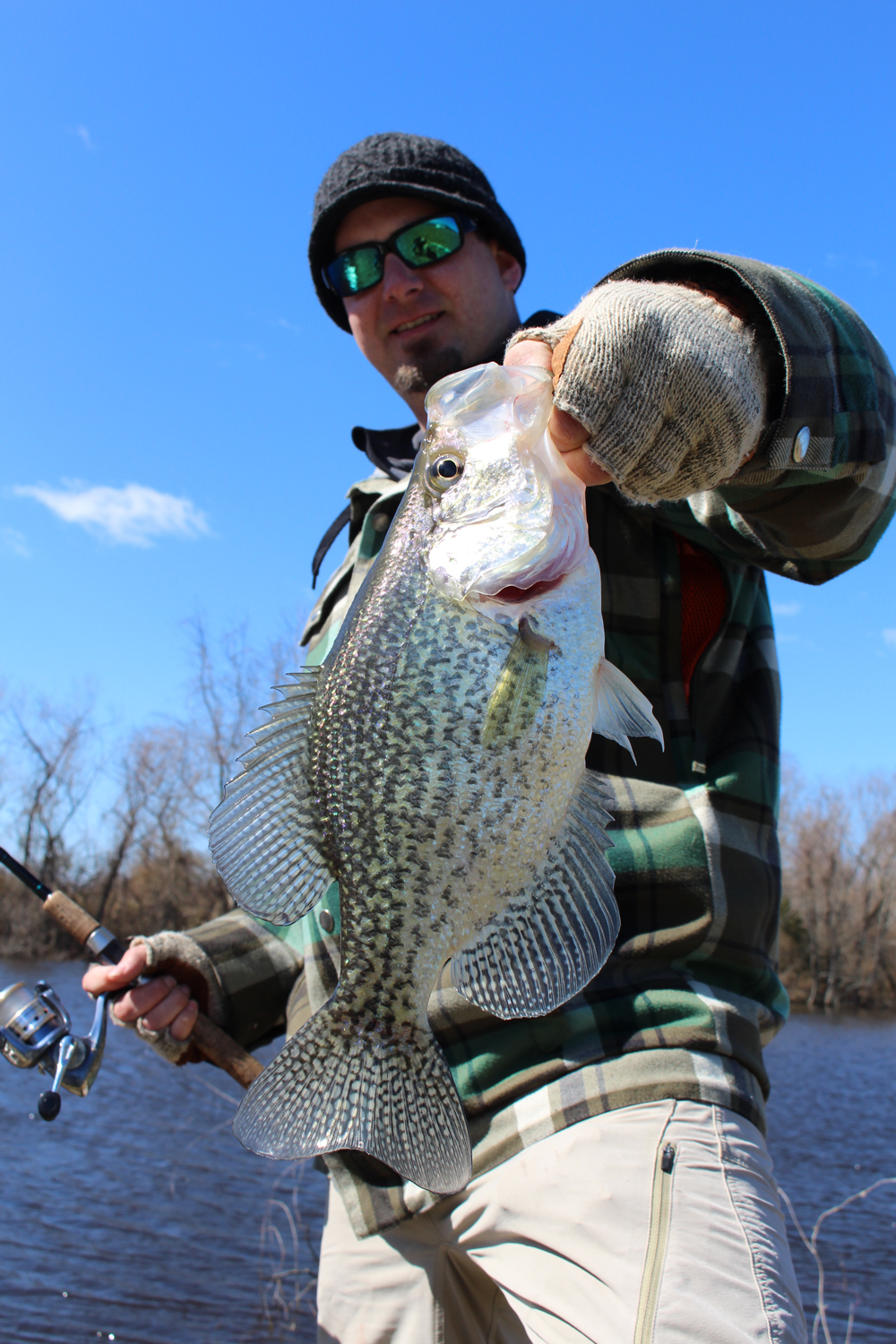 Here in the Mid-Atlantic region, you have a huge range of options when it comes to targeting crappie. Folks on or near the DelMarVa Peninsula can check out the Eastern Shore millponds. On the Western shore in our more northern areas, numerous lakes like Marburg in Pennsylvania, the Baltimore area reservoirs, and Piney Run are all prime crappie locations. And Virginia anglers heading for Lake Anna, Bugg's Island, and any of the upper tributary rivers can make a play for a stringer of crappie. No matter where you wet a line, however, these crappie tips and tactics are sure to help you take home dinner.