IT'S HERE – SPRING TROPHY SEASON! That means it's time to break out the heavy rods, umbrella rigs, and… wait a sec – what if you don't want to troll with the traditional heavy gear? Or, what if all your rods and reels are on the lighter side? One option to consider is the "The LTT," or light tackle trolling. (And hey—if you do want to go the traditional route, click on the Premier Issue digital edition and flip to page 28 to get some insight from professional charter captains).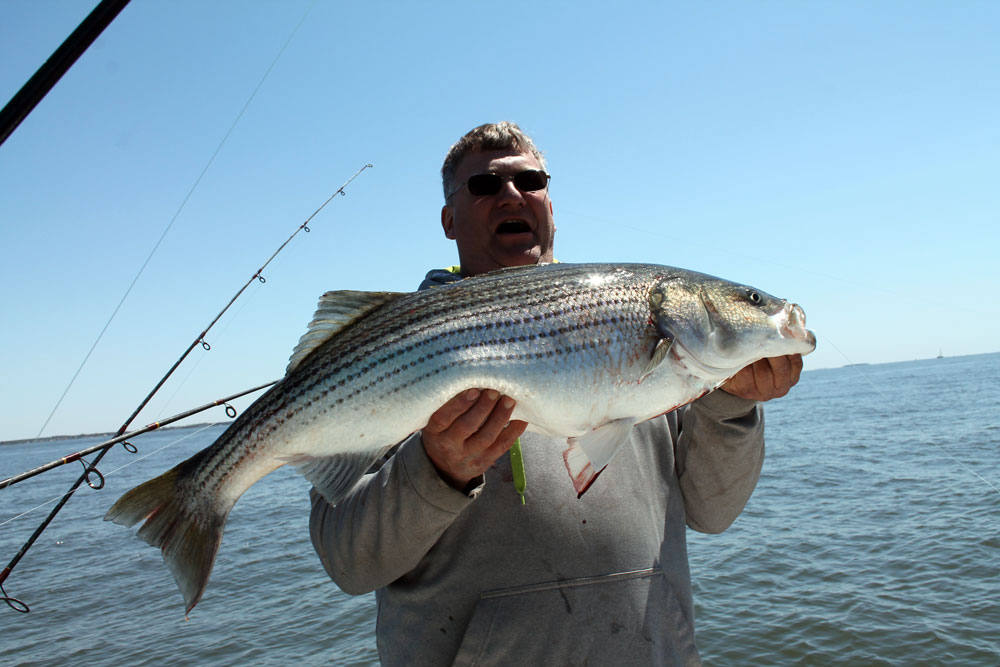 Before we dig into the LTT, let's give credit where credit is due: angler Francis Zell popularized the technique years ago, and said he didn't come up with the tactics on his own, either. "I really have to give Captain Buckner (of the Miss Susie, out of Solomon's Island) credit, because without his input we never would have ever been so successful. Especially when you just can't afford to go out and buy two dozen new rods and reels!"
The LTT Trolling Spread
Although on first glance it may seem impossible, with a little work you can run a full spread of light-tackle lines at all the different depths and distances of a traditional trolling spread. Working with 15 to 20 pound class spinning and/or conventional gear, the toughest challenge is running deep lines—try putting a pound of lead on a 20 pound class spinning rod, and something's going to break. Downrigger cannonballs crimped to 50' to 70' of line and run from your stern cleats are the answer. Use a single release clip on the ball at first, and run a regular-sized parachute with a nine-inch plastic shad. As you get accustomed to bringing in and lowering the cannonballs, you can try "stacking" lines by attaching additional ones to the cannonball line with rubber bands. Set them to run 30' to 40' behind the ball, and use your most capable rods and reels for the cannonball lines—although they catch fewer fish then lines set near the surface, they often save the day when the bite is off by attracting a whopper or two.
Single or double parachutes can be run directly from rod-tips, but keep them smaller than the norm (two to five ounces in total) since a 12 or 14 ounce lure trolled at three MPH will cause most light rods to bend over to a scary degree. Your most effective lines, however, will come from the planer boards, which are key to a LTT spread. And here's why: the boards themselves take a lot of stress off the fishing rod, so you can use the traditional (and most effective) larger tandem rigs and parachutes that weigh 10 to 14 ounces without a problem. Stick with nine-inch shad bodies on the parachutes, and always start off with chartreuse and white. In low light or muddy water conditions, purples and blacks are often effective. Two to five lines can be run from each planer board, with the lures staggered at distances from 50' to 100' back. Surprisingly shorter is often better, but start with a wide range and adjust according to what gets hit.
Setting out the planer board lines is no different than it is with heavy gear; start with the farthest position first, set the line back the desired distance, then clip a shower curtain clip or very light carabineer onto the planer board line, and attach it to your fishing line with a rubber band or release clip. Slack your line, and the clip will creep down the planer board line from the water pressure. Once the line's set, place the rod in the outermost rodholder. Then get another clip, put it on the line, and repeat the process. When a fish strikes it'll break the rubber band or pop the clip, freeing the line up for the fight.
Fish On!
With this light gear, you will have to treat the fight a bit differently. Often the captain will need to throttle back to clutch speed, to minimize the effect of drag through the water. If possible, heading the boat to go with the current, as opposed to against it, is helpful. It's also wise to clear lines running directly from the boat before bringing a trophy-sized fish close, since it's essentially impossible to control fish that big with the light amount of drag you can apply using this type of tackle.
Will you break off more fish than you would using heavy gear? Yes. Will you be able to run high-drag rigs like umbrellas? No. But using these tactics, you can troll an effective spread and take home trophy stripers on the LTT.