Many vessels disappeared without a trace during the days of sail, often as it turns out not far from shore, adding to their tragedy. The existence of one such "unknown" sailing vessel off Ocean City, MD, was verified during a June 2021 "wreck detective" hydrographic survey. The wreck site was found through hang logs and commercial fishing sources. This unidentified wreck is provisionally dubbed the Camel Schooner by Ben Roberts of Eastern Search and Survey (ESS), who verified the wreck's existence. It has been there a long time, as evidenced by wreckage distribution on the bottom. The name was derived from an obscure reference possibly related to its mounds of cargo. Two large mounds may have resembled the humps on a camel's back on the depth finder of the trawler whose net hung up on the wreckage. This wreck-site was scanned (Image 1) as part of the ESS 2021 Offshore Wrecks Survey project, which is funded by donations (sponsors contributing at a certain threshold receive confirmed coordinates). Many examples from this project are posted on the ESS Facebook page along with a link to the donor portal.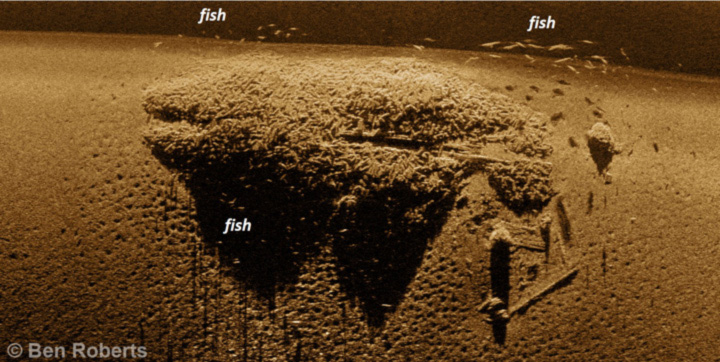 The central portion of the wreck-site consists of a pile of cargo measuring approximately 100 feet long by 35 feet wide and rising up to eight feet above the bottom in about 200 feet of water. This suggests the vessel was originally 35 to 40 feet wide and probably 130 to 170 feet long. Ben Roberts observed that the cargo is some of the most bizarre-looking material encountered across the 300-plus wrecks that ESS has imaged. It appears to consist of cylindrical objects a few inches in diameter and up to two feet long, possibly small ingots of a material like pig iron. Some very large fish made a cameo appearance in the scan as well.
Nautical charts are prepared for navigation. Dangers to navigation such a rocks, ruins, wrecks, shoals, and obstructions (including some wrecks) are charted. Subsurface features that don't pose a danger to navigation because of depth are generally not charted or may be charted in a general way, such as type of bottom. Thus, some wrecks are not charted even when known to the National Oceanic and Atmospheric Administration (NOAA). Certain historical wrecks have been also not charted by NOAA in order to minimize the potential for diver removal of artifacts with archeological value.
The Camel Schooner is one of those uncharted wrecks. Its approximate location was determined through "hang logs" that include communication from a vessel, usually a fishing vessel, that hung its gear up on an unknown obstruction. The vessel is unidentified, cargo undetermined, and the site hasn't at this writing been investigated by divers. So, the extent of its historical and marine archeological value is so far undetermined. ESS collaborator Rusty Cassway, who provided some of the hang log and other commercial fishing data that led to the wreck's location, is planning dives to investigate it further. Wreck coordinates are planned for sharing with survey sponsors in late summer 2021. Results of diver inspection will inform and help guide the release of additional details.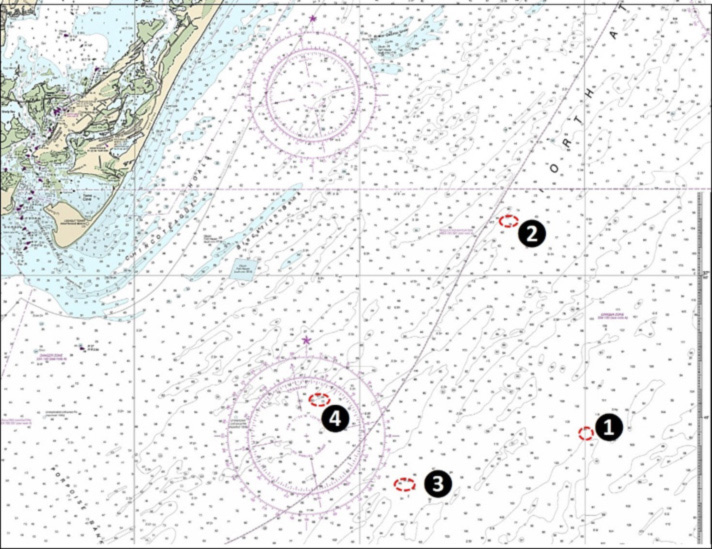 Another uncharted but known wreck frequented by divers and sportfishermen is the Ammo Ship, scattered around coordinates 37'44.20N x 74'59.4W (Site 1 on the chart above). Also known as the Barrel Wreck, this hotspot is outside of recent NOS hydrographic surveys, so color shaded bottom relief imaging isn't available. The wreck was imaged by ESS in May 2021, and as shown by the insert in the Site 1 image, is broken up. The wreck may be that of the Madrugada, a 229-foot four-masted wooden-hulled auxiliary motor schooner. It exploded, burned, and sank with a cargo of cement, lubricating oil, and resin on August 15, 1918, after being shelled by German submarine U-117. The story is told in Gary Gentile's Popular Dive Guide Series "Shipwrecks of Virginia." The vessel was attacked about nine miles north of the present location. It was later observed in several locations and was thought to be dragging along the bottom with the stern weighted down by the concrete cargo. Today, the debris field surrounding the wreck spans an area of approximately 260 feet long by 200 feet wide at a depth of 110 feet. Check for it around coordinates 37'44.415 x 74'59.940.
Several other unidentified wrecks near Winter Quarter Shoal that were imaged by ESS are fishing hotspots. One known as the Bottle Wreck at coordinates 37'52.066 x 74'03.431 (Site 2) is the remains of an iron-hulled steamship. Some in the dive community suspect it's the SS Saginaw, a 238-long passenger freighter that sank in 1903 after a nighttime collision in fog. New measurements of the site from the ESS imaging add compelling evidence that its identity is indeed the Saginaw, especially when combined with its location, type of construction, propulsion machinery, and artifacts found on site.
The wreck's location aligns well with that of the Saginaw, which was noted as a hazard in the path of coastal shipping traffic near the Winter Quarter Shoal Lightship. It is recorded in the Coast Survey's Automated Wreck and Obstruction Information System (AWOIS) as Record Number 2423. Artifacts found on the site include a 1902 Barber quarter, linotype printing plates, clay pipes, Virginia peanuts, and bottles, as detailed in Gary Gentile's book, "Shipwreck Potpourri." Her compound steam engine and twin Scotch boilers match those listed in Lloyd's Register. Although the site's wreckage is discontinuous, measurements from the ESS survey show that its dimensions are consistent with those of the Saginaw. The bow is separated from the rest of the wreck by a 10-foot-wide break, possibly due to striking the bottom as she sank. The propeller is located 25 feet away from the stern, possibly broken off in the collision.
Site 3 at coordinates 37'42.776N x 75'07.995W, is the 105-foot-deep Jug Wreck (AWOIS #334), so called after the stoneware jugs that were found here by divers in the 1980s. The site contains a 175-foot-long, three-masted schooner that sank on April 7, 1916 following collision. Michael Barnette researched the wreck and believes it is the Emma F. Angell which had been sailing in ballast (empty) from Providence, RI to Norfolk, VA. According to Michael, the historical location (under a quarter nautical mile from where reported), depth (102 feet), and type of wreck all lined up very closely. But, in his mind, Ben Roberts was able to clinch it by providing high-resolution side-scan sonar imagery of the site, which allows for fairly accurate measurement of the wreck's dimensions. While the wreck is broken down and sanded in, Ben calculated a length of roughly 169 feet and a beam of approximately 32 feet. When compared to the Angell's registered length of 174.9 feet and width of 37.3 feet, the dimensions are consistent. While it would be nice to have conclusive evidence like a bell or other artifact to seal the deal, given the available information, we think the case for the Jug Wreck being the Emma F. Angell is extremely strong.
Another unidentified steel shipwreck fishing hotspot off Chincoteague, AWOIS #2424 (Site 4), has long been known as the 70-foot-deep USS Bone, a fictitious identity, at 37'45.75 x 75'11.82. It appears to measure approximately 270 feet long with a 35-foot beam. A porthole was recovered here with the stamp "USNYW 1869," suggesting it was manufactured or installed by the Washington Navy Yard. While the Washington Navy Yard was no longer building complete ships by the late 1860s, it was still building and installing equipment, such as the porthole which was found here. So, this may be a government vessel, which brings us to rules and regulations that apply to shipwrecks and salvage.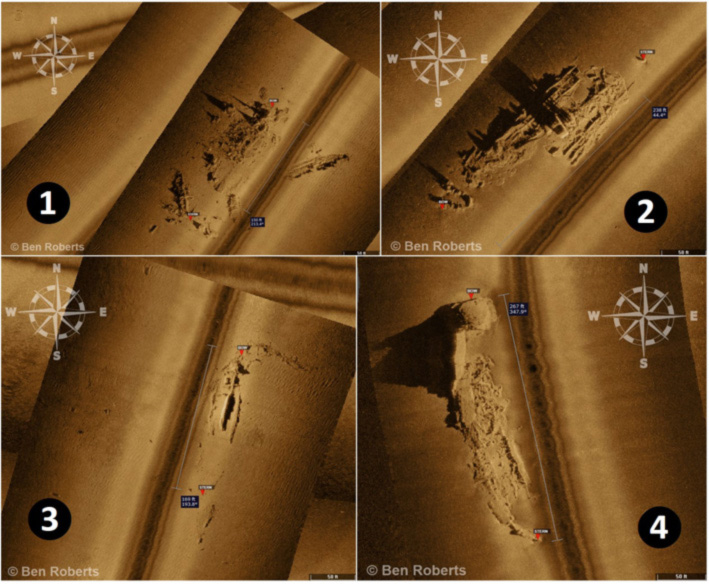 Admiralty law governs the salvage of vessels and their cargo, including shipwrecks. Wrecks also have archeological value to some extent, and wrecks and artifacts in federal waters are protected by federal, and if in state waters, state rules and regulation. The Sunken Military Craft Act of 2004 preserves the sovereign status and ownership of military wrecks. The well-publicized pilfering of artifacts from the cargo vessel New Jersey (the "Pitcher Wreck") that sank off Sharps Island in 1870 and was then raided for artifacts after rediscovery by NOAA in 1987 led to passage of the Abandoned Shipwreck Act of 1987. It provides legal protection for wrecks on submerged lands. Also, the State of Maryland enacted strong legal protections following the New Jersey fiasco.
Wooden wrecks from the colonial period through well after the Civil War and even into the early 1900s are part of the coastal structure providing marine habitat in their unintended afterlife. From a sportfishing perspective, all are in effect fishing reefs. The earliest wooden wrecks are typically highly deteriorated, with only fragments or main timbers, frames, bulwarks, and sometimes cargo remaining, as is the case with the wrecks presented here. They attract bait and predators. They are also among the sites, along with wrecks up through World War II, where divers report major damage from attempts to free fouled ground tackle and commercial fishing gear. Iron and steel steamer and barge wrecks deteriorate more slowly, and many still have substantial underwater structure that provides marine habitat and fishing opportunities.
- By Wayne Young, with contributions from Ben Roberts, Michael Barnette, and Rusty Cassway
Sign up here to get the weekly FishTalk Chesapeake Bay and Mid-Atlantic fishing reports in your email inbox, every Friday by noon.