Drifting behind the stern of American Mariner during a charter, we watched a school of bay anchovies chased by Spanish mackerel scatter along the surface. Off to our left below the surface were the bombed our remains of Old Hannibal, the first target ship at the site. American Mariner, her replacement, is a shell of her former self, full of holes left by hits from strafing runs by Navy warplanes. The Code of Federal Regulations says the target circle, officially the "Hannibal Target," is closed to navigation. Nevertheless, the wrecks provide structure that attract fish and are a longstanding fishing destination for striped bass, cobia, Spanish mackerel, and redfish.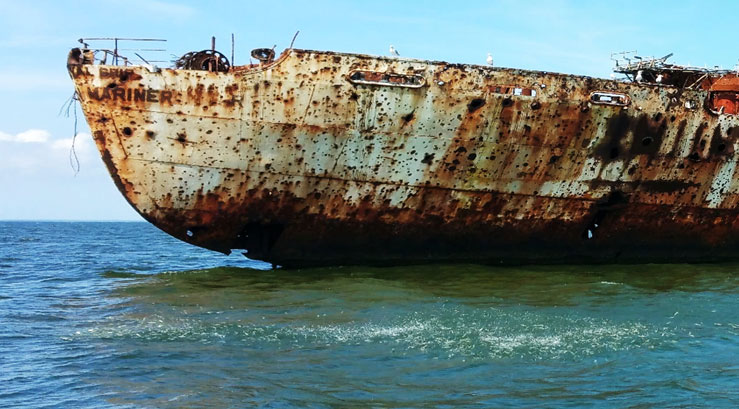 The Target Ships are at just one of the locations used by the military for testing and training with munitions throughout the Bay and tidal Potomac River. For example, there are prohibited and restricted areas off the Naval Research Laboratory at Chesapeake Beach, Maryland, due to a firing range. Before it washed away, the last six acres of Sharps Island were used as a bombardment and machine gun firing range by the Air Force, beginning in 1943 and continuing at least through 1956 when bombardment practice was observed.
The San Marcos (previously the battleship Texas) is southwest of Tangier Island in the southernmost of two restricted area target sites. Shown as location A in the chart excerpt, it is another well-known fishing destination that was a firing and bombing range. Charts show a 1,000-yard radius circle around her remains which now lie partially buried in a trench. The ship was the target for extensive naval gunfire and later aircraft bombing. She eventually sank on her own, and became a hazard to navigation. A number of vessels struck the hulk and were damaged or sank. The Navy used explosives to remove her as a hazard in 1958. When explosives were insufficient to demolish the remains they excavated a trench, and then used more explosives to propel the remains into it. Even so, parts of the wreck lie six to seven feet above the bottom.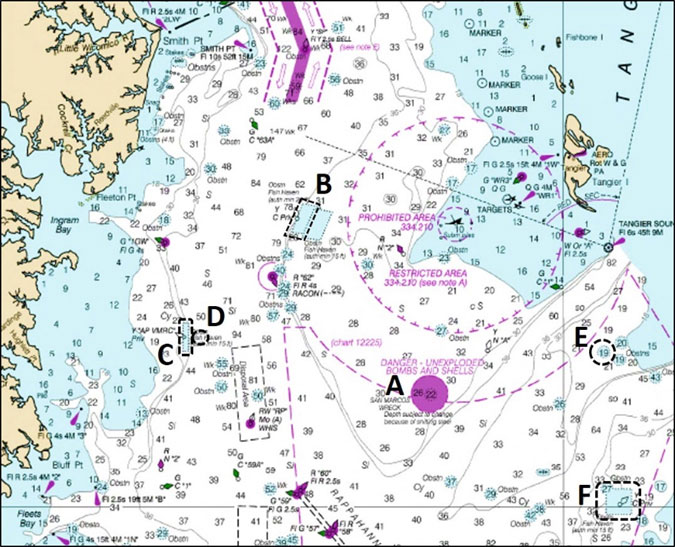 There are plenty of other spots to fish nearby. These include the Northern Neck Fish Haven (location B), the Asphalt Pile Fish Haven (location C), a natural outcropping old oyster reef east of the Asphalt Pile (location D), a rock pile obstruction (location E), and the Nandua-Pungoteague Fish Haven (location F). To the northeast off the chart is the Angler's Artificial Reef. The Virginia Marine Resources Commission (VMRC) artificial reefs in this region are well developed with a variety of materials of opportunity and designed reef units such as reef balls. The VMRC artificial reef website has pages for each reef including a latitude and longitude grid map showing the type and position of reef materials, and for some reefs, sides-scan sonar images. Additionally, the NOAA Bathymetry Data Viewer contains side-scan images covering many of the VMRC reefs.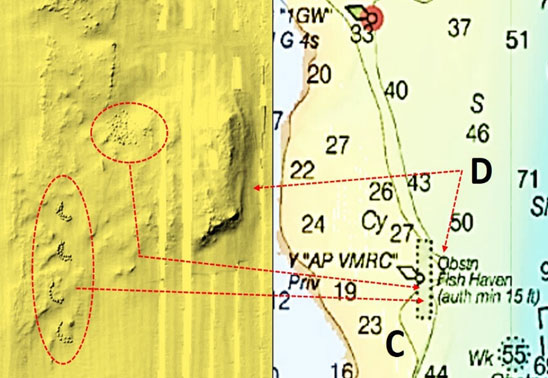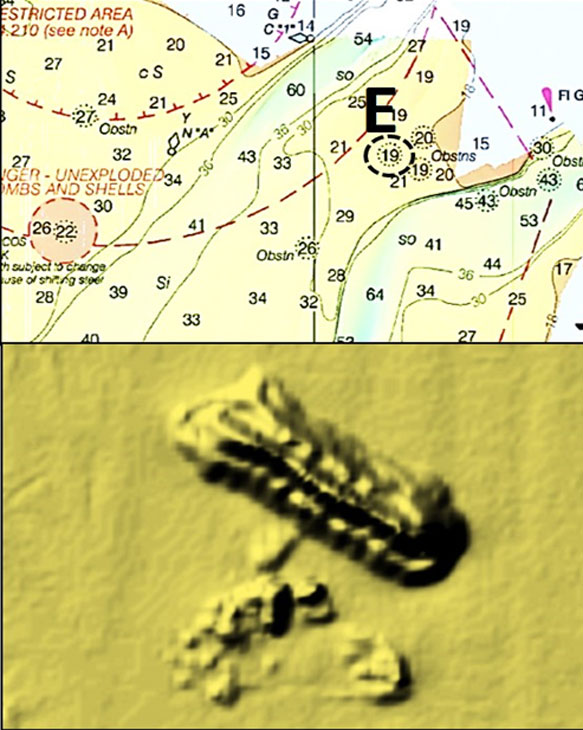 The obstruction at location E is interesting. The National Oceanic and Atmospheric Administration (NOAA) Automated Wreck and Obstruction Information System (AWOIS) only lists rocks for this obstruction. However, the NOAA Bathymetry Data Viewer side-scan sonar image shows a formed object resembling a precast structure of some type. As a side note, AWOIS is still available, but NOAA has not been updating it since 2016.
Down the Bay and in the tidal Potomac River, there are a number of firing ranges that include water areas with prohibited access, restricted zones, and good fishing. In the Potomac, these include areas off the Naval Surface Warfare Centers (NSWC) at Dahlgren, Virginia, and Indian Head, Maryland; in vicinity of the Quantico Marine Base; and, off Fort Belvoir in Pohick and Accotink Bays and Accotink Creek. Restrictions vary by site, and may only be in effect when range operations are in progress.
Should you hook into something with your tackle or anchor and pull up something that looks suspicious or like a shell casing, projectile, bomb, or rocket, it might be unexploded ordinance and should be treated as such. Don't bring it aboard, and don't bang it on the side of the boat. Cut the gear and let it go. Anchors and fishing tackle are a whole lot cheaper than medical bills or worse. Finally, never drive an anchor pole down in an area where there is a known presence of unexploded ordinance. Aside from that, have a dynamite day fishing!
See our Chesapeake Bay Fishing Reefs Guide to get the lowdown on other mad-made wreck and reef hotspots in the Bay, plus a few in the ocean off the DelMarVa coast.
Author Wayne Young is a former manager of the Maryland artificial reef program for Bay waters and the author of "Bridges Under Troubled Waters: Upper Chesapeake and Tidal Potomac Fishing Reefs." You can also visit his Facebook page, Chesapeake Bay Fishing Reefs.