We all love Chesapeake Bay fishing, and most of us reading this will have grown up on its shores, taken our children or grandchildren fishing in its waters. We know that the first chirps of osprey mark the return of spring, and spring also means Earth Day is here. This Earth Day we're coming to you with some tips and tricks on how you can help save our waterways — both from your boat and on shore.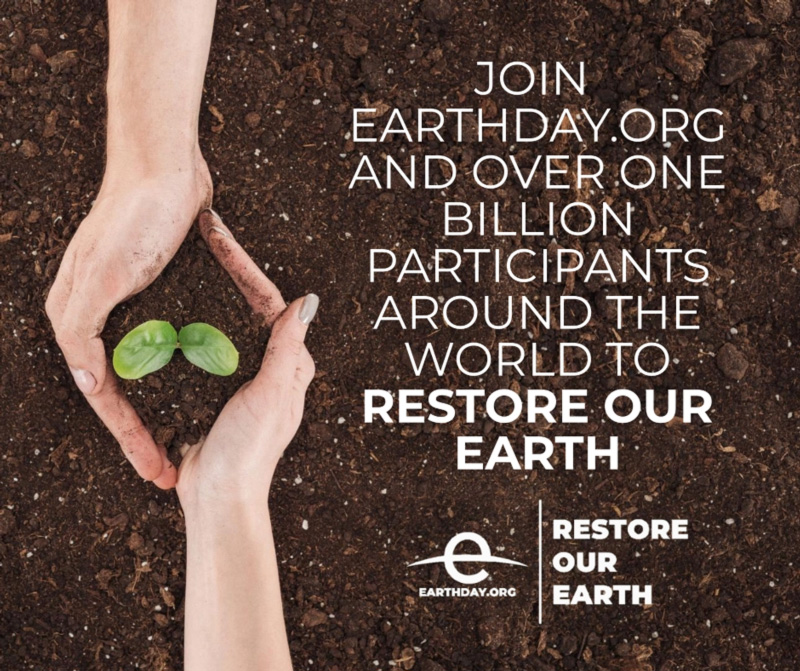 FishTalk is a huge fan of organizations like the Coastal Conservation Association, Chesapeake Bay Foundation, and Ocean City Reef Foundation. They do incredible work to ensure that our waterways are healthy for generations of anglers to come. Onshore, you can support their efforts by attending stream cleanups, volunteering for OCRF reef-building events, participating in CBF buffer planting, and participating in CBF's oyster gardening campaign. If you'd like your involvement to be a little fishier, the CCA holds tournaments throughout the year. The proceeds from these tournaments benefit the CCA, and thus the Chesapeake. They're also an excellent way to get your kids into fishing and conservation — many of the tournaments include a kid's division. Right now, the CCA is holding its Great Chesapeake Invasives Count tournament, which is free to enter but has a bunch of great prizes you can win just by snapping off a photo of the invasives (blue catfish, flathead catfish, and snakeheads) that you catch.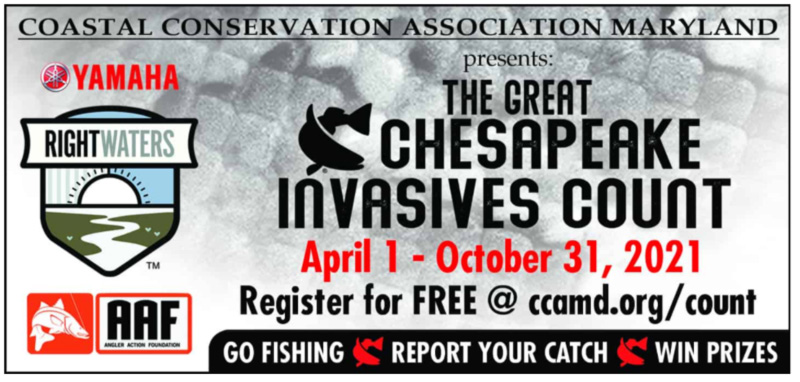 One of our favorite ways to protect the Bay while out on the water is targeting one of these particular species that are invasive to the Chesapeake — you know who we're talking about! Snakeheads popped up in the Chesapeake first in 2002, and since then their population has exploded. Unfortunately, a recent study in the Blackwater by the U.S. Fish and Wildlife Service and Maryland Department of Natural Resources found that since the introduction of snakehead, freshwater fish communities there have changed dramatically. The study found that out of 21 fish species identified, 17 had undergone population decline ranging from 30 to 97 percent — the top species that snakehead fed on were gizzard shad, bluegill, and American eel. These species are a food source to our most beloved fish, including striped bass. In some places these fish seem to coexist peacefully with the usual residents but overall, in certain other waterways snakeheads serve as a great danger to the stability of Chesapeake ecology. Targeting them is a great way to help combat this risk. You can find snakeheads in almost every trib and creek throughout Maryland and Virginia. They're wicked fun to catch and we can't overlook that these fish are gosh-darn tasty. If you haven't targeted snakeheads before and are interested in learning how to catch these invasive species, check out Fishing for Snakeheads for Beginners.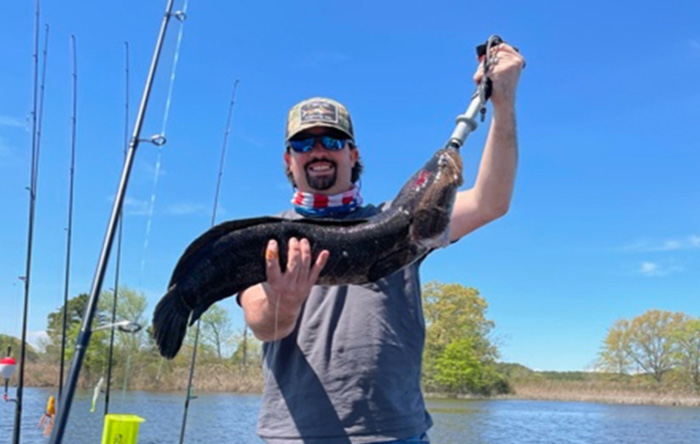 The CCA also has an excellent fish tagging program. Fish tagging efforts are used to better understand migratory patterns, growth rates, mortality, and more. You can become an official fish-tagger by joining the CCA, attending a webinar on fish tagging, and then ordering your supplies. When a fish you've tagged has been caught, you even get a notice in the mail that will tell you how large your fish was when it was caught again and where it was caught. The CCA also has a fish logging service that helps DNR and other stock management agencies understand what current fish stocks are like in our waters.
Alrighty. So, spring brings warming weather and hopefully we all know best practices for how to catch and release fish on the hot, summer days coming soon. We try not to remove fish from the water when air temperatures are high. It increases the likelihood that fish will die when they're returned to the water, and places extra stress on them after a fight. But sometimes, it's just unavoidable. When fish are hooked deep, there's no chance for some of them to be unhooked in the water. I'm remembering a few summer days when we got into a school of undersized fish and had to bring 'em onboard to get those hooks out of their mouths. It never feels good to know you might be killing a fish you can't even eat. One great way to combat this risk is using barbless or circle hooks. Barbless hooks can be removed from a fish's mouth easier and faster than your traditional hook. In hot temps, a quick release could make the difference for a fish being able to swim another day. Likewise, circle hooks reduce the chances of gut hooking a fish, meaning that it's less likely that you'll A) have to bring them out of the water and B) cause serious internal damage to the fish. And hey — where the regs don't dictate it we're not saying you've got to use them all the time, but if you're into a school of any species fish on a hot day when a fair amount are undersized, it's probably a good idea.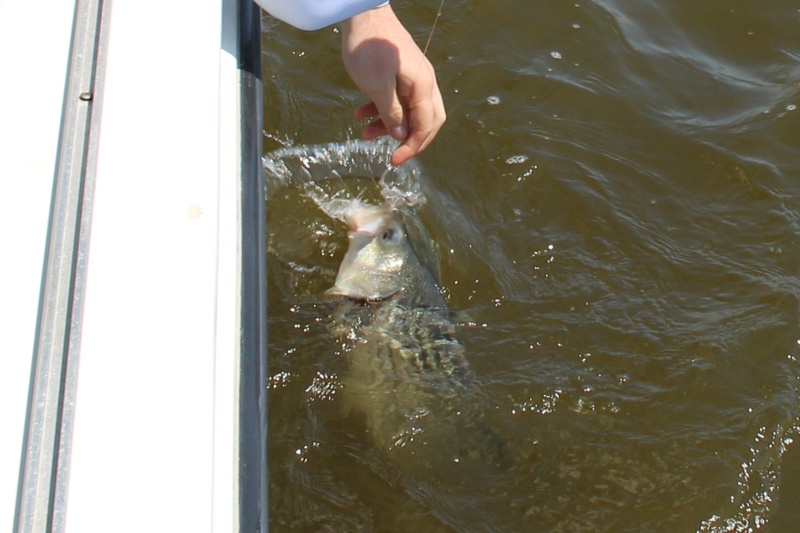 On the boat, it's also a great idea to have a dedicated place to store excess fishing line before you hit up your local tackle shop or marina's monofilament recycling bin. Many anglers use just a regular old Tupperware container to store line, and these are easy to stow aboard boats of any size. A lockdown lid prevents the line from flying around your boat like it would if you used the grocery bag method. Fishing line has the potential to snag fish, entrap them, and break down into microplastics. Not to mention, it doesn't make for a good look on the shores of our beautiful Chesapeake. On that note, it's also a great idea to save your used soft plastics lures. Those babies can be melted down and made into new lures for you to use again. While the start-up cost for gathering the materials to begin the reuse process may be steep, you can DIY it with a Pyrex container, a dedicated melting microwave, stirrer, and molds. In the long run, you'll have the ability to create your own color-combos and ultimately, save money while reducing the number of plastics in the landfill and water. Finally, we know how important it is to have a spill cleanup kit aboard for the gas docks. Make sure you're fueling up properly and reducing gasoline drippage into the water.
This Earth Day, we're celebrating all that's great about the Bay and everything in it. As residents of the Chesapeake, we couldn't imagine what our lives would look like without blue crabs, striped bass, and the osprey. It's pretty cool that we can have such a positive impact on the Bay while we're on the water. Let's make sure anglers are helping lead the way to a cleaner, healthier Chesapeake.
-By Mollie Rudow