How long has it been since you upgraded your phone? Or your computer? Now add the length of time for both together, and compare it to the age of your boat's electronics system. Chances are, your marine electronics have been around for at least that long—yet they become obsolete just as quickly as a phone or computer. For some reason people often hang on to marine electronics until they die completely. Truth be told, that little box of electronic magic only belongs in your boat's helm station for a couple-few years. Today's fish finders, chart plotters, and radar evolve at just as blinding a pace as your pocket communicator or your desktop, and by fishing with that ancient five-year-old machine on your boat, you're at a serious disadvantage. You want to make the biggest, most cost-effective upgrade possible to your fishboat? Rip that 2010-vintage MFD out of the helm and get current tech on your side.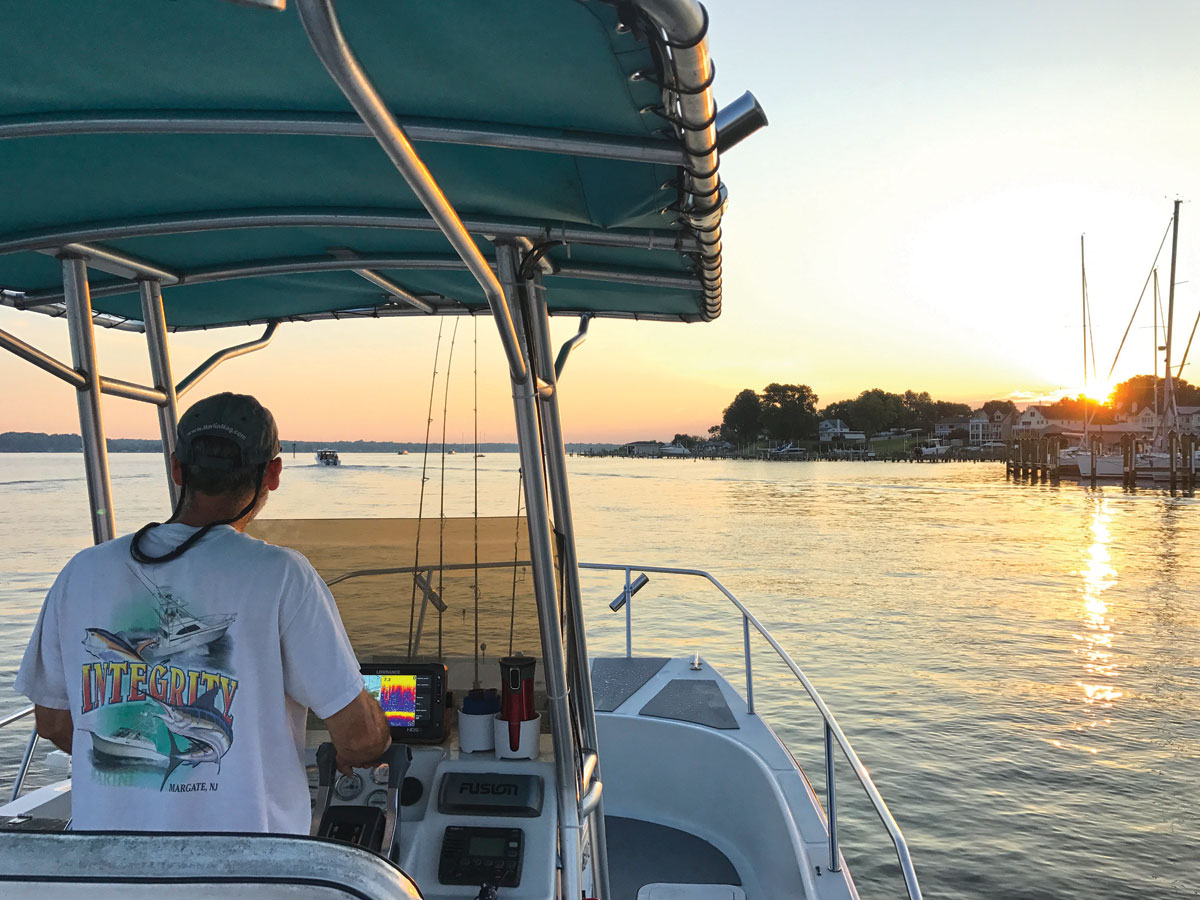 Neutron Flash
Lest you think all that's changed in recent years has to do with bells and whistles, here are just a few of the recent major-league advancements we've seen in the marine electronics world:
Virtually all new mid-range and higher MFDs have WiFi built-in. Why the heck should you care? Sure, you've heard about WiFi making it possible to see your chartplotter screen or change the radar range from your phone – those are the bells and whistles that may seem cool but don't really help you catch more fish. But there's a lot of utility beyond the silly stuff, because onboard WiFi gives your boat the ability to suck software and chartography updates right out of the ethereal mist, anywhere there's a hotspot. That means you get an angling edge via constantly improving bathymetric information from the like of Navionics and C-Map, and can add in UGC data layers. It also allows you to upload to the cloud, which means you can create your own bathy charts with the pings of your fishfinder and the position data from your chartplotter. On top of that, when the manufacturer of your gear makes a software improvement that boosts fishfinder detail or adds new features, you won't have to shuffle data cards to gain the added advantage. WiFi turns out to have some very real utility for fishermen, so WiFight it?
Radar's "main bang" (the inability to see within 100 feet or so of the boat, 360 degrees, due to the big power burst of a traditional magnetron pulse radar) is a thing of the past with many modern systems. Today's solid-state units can see shockingly close in, and have far better detail looking out into the distance. That means that spotting birds from afar just became a whole lot easier, too, if you have the latest and greatest aboard your fishboat.
Newer In-Plane Switching (IPS) LCD screens don't black out when viewed from extreme angles, even when wearing polarized sunglasses. 
Modern "scanners" and "imagers" have shockingly good detail in relatively shallow water (300 to 500 feet of water maximum, depending on conditions and the unit). Just how shocking? With the latest generation you'll be able to pick out the individual branches of a tree lying on the bottom of the lake, or the different parts of a wreck lying on the bottom of a bay. 
Side-finding ranges have expanded exponentially. Early units were able to see 150 feet or so in either direction, but today's units have boosted that ability to as much as 600 feet off to the sides. On top of that, many now offer 3D views. Yes, 3D seems a bit gimmicky, but we've tested 3D from three major manufacturers and find it does actually give you a much better concept of things like the orientation and positioning of a chunk of structure, or the location of fish along a drop-off.
You say your boat has never had a scanner/imager, nor a side-scanning unit, much less one of the new 3D systems? Dear friend, you're not one but two full generations behind. And if your LCD screen is still black and white, for gosh sakes, please stick it with a gaff.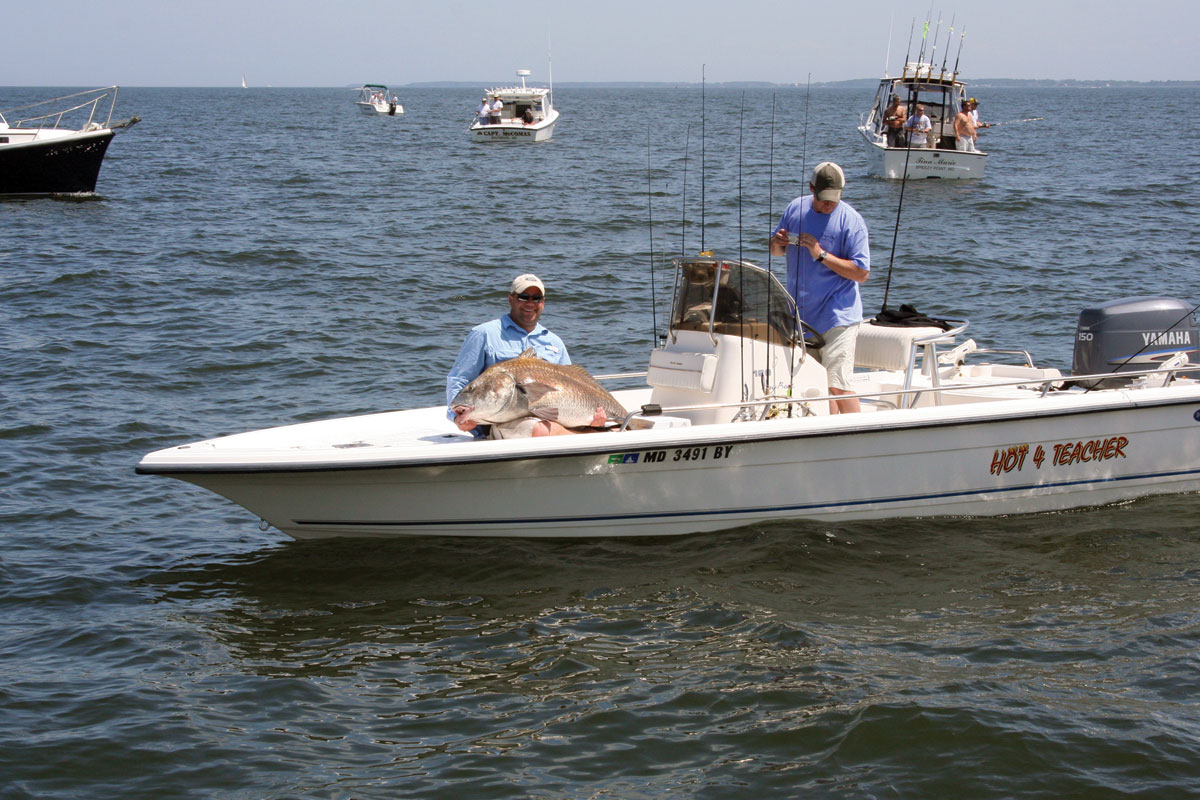 Decision Time
If you have an old unit at your helm, hopefully, you're starting to realize just how much you're missing. Now the big question becomes which unit to choose.
Truth be told, all of the major manufacturers on the market today offer highly competitive units. They're also all pretty darn easy to use, thanks to user-interfaces based off of smart phones. The days of spending a season learning how to use your fishfinder are ancient history, and you no longer need to stick with one brand when upgrading merely to limit the learning curve. In the decision-making process, however, there are several important items to take into consideration.
Expandability – Do you need a simple chartplotter/fishfinder, or a system that can integrate with radar, autopilot, video or FLIR cameras, and more? There's a big price jump when moving from a self-contained unit to a networkable MFD, so this is a question you need to answer early in the game. 
NMEA2000 Networkability – Networking beyond the standard electronics suite requires NMEA2000 connectivity. While this won't be a must-have for everyone, it will get you the ability to monitor things like engine and sensor data. In some cases (depending on the accessory units you already have onboard or add in the future) it can also allow you a level of control right from the helm. Paired with a NMEA2000 compliant stereo system, for example, you may be able to crank the volume or change the radio station right from your MFD.
Screen Size – When it comes to marine electronics, the bigger the screen size, the better. You'll be able to see more detail, especially in split-screen modes, and from farther away. So don't pick a budget and get the biggest screen you can afford. Instead, measure the helm and adjust your budget to match up with the biggest unit your boat can take. If you have room for a pair of MFDs at the helm, go for it. Stop whining about the cost – we know darn well you have a slush fund hidden away in the underwear drawer, and this is the time to use it. In the long run, you won't regret it.
Ease of Installation – If you're spending a few hundred dollars on a small unit for a small boat, you'll probably want to do the installation yourself. In that case, pre-check for things like the height of the unit (including the binnacle mount) versus the clearance behind a curved or raked windshield; the access and availability to the surface beneath the mounting footprint (for through-bolting and wiring); and the size of pre-existing holes for flush-mounted units. Otherwise, you could end up buying a unit that simply doesn't fit on your boat. For larger, more expensive systems and fresh flush-mount jobs, we recommend going to a pro instead of taking the DIY route. That way, you know you won't break anything during the installation or cross any wires, and chances are it'll come out looking a whole lot better. We shamelessly note that BOE is a FishTalk supporter (thanks, BOE!) and has a tough-to-beat 4.8-star rating on Google—so if you don't know who to call that might be a good place to start.
Processing Power – Staring at a screen while you wait for it to refresh is no fun at all, and how quickly an MFD responds to your commands is significantly affected by what type of processor it has. Units armed with quad-core processors are usually blazing-fast, dual-cores are good, and anything less will leave you yawning on all but the simplest machines.
User Interface – Some modern units rely on buttons, many have touch-screens, and many offer both. We're fine with having buttons and we like having both even more, but units with touch-screens only can be problematic. The smaller your boat is the more issues you'll have trying to swipe or poke in the right place, when you're running through choppy conditions. On a 28-foot center console cruising at 30 mph in a two foot sea, for example, you're just as likely to change the radar range as you are to set a new waypoint, regardless of intent. We love touch-screens, but having a tactile back-up is a good thing.
You say you love your boat but you wish it were a more effective fishing machine? Fresh electronics might be just what you need to gain an edge. So raid the kid's college funds, dig through that underwear drawer, and list the diamond tennis bracelet on eBay (don't worry, we won't tell). When you hook into Bubba, you'll be glad you did it.
---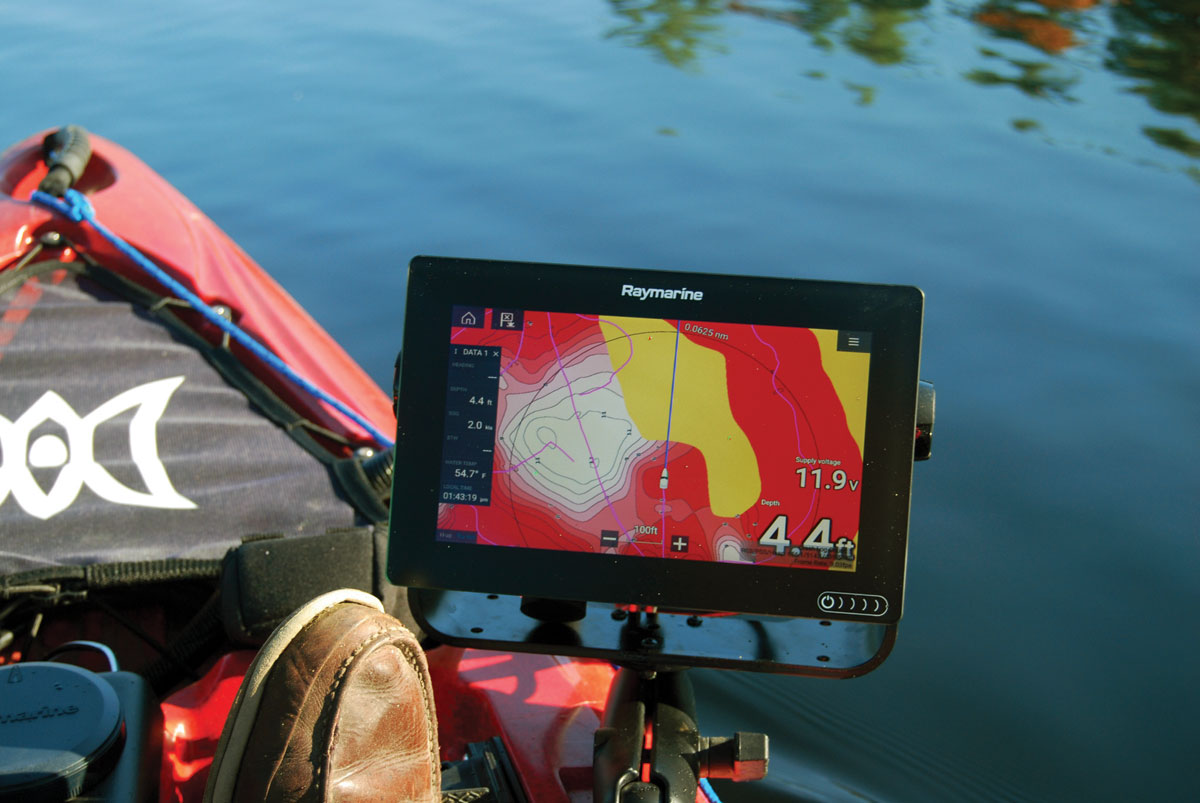 Kayak Angler Electronics Upgrade Tip
You may think WiFi is useless on a kayak, but a reader recently told us that the best thing he ever did was get a WiFi-equipped fishfinder/chartplotter for his yak. The reason? Like many kayak anglers, he often fishes with a friend. Now his paddling partners can download a free repeater app on their phones, link up via the onboard WiFi, and see his sonar and chartplotter screens in real-time.