"In the entire circle of the year there are no days so delightful as those of a fine October," said author Alexander Smith, and although it may not have been his intention that pretty much sums up this month for sportsmen. Bow hunting for deer is in full swing. Muzzleloaders have been taken out of cases and sighted in for the early season beginning October 17 in Maryland and October 11th in Delaware. DelMarVa corn fields are being harvested and the dove are flying. All fingers are crossed for a damp cloudy morning on the first day of duck hunting. Of course, squirrel and grouse are fair game as well. Oh, and let's not forget FISHING! October has fantastic opportunities for the Mid-Atlantic sportsman – so many choices... so little time.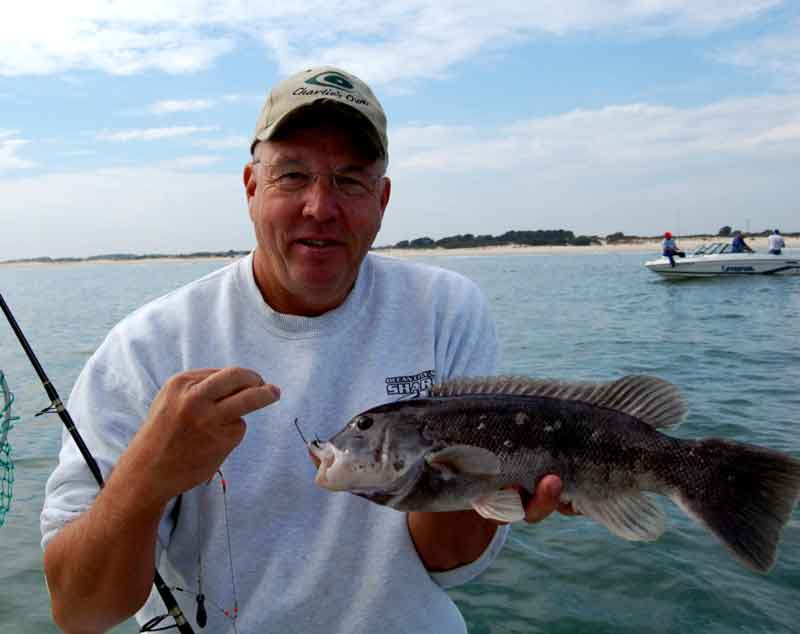 Inlet Fishing
Those fall flounder we discussed in Fall Flounder Fishing at the Coast are still waiting on you to drift live mullet around the inlets. And now another species will be sparking interest this month, including tautog (blackfish). Under-sized tog will have been hanging around structure in the bays and inlets all summer, but now legal size fish should be moving in and taking up residence around the rocks on the north and south jetties of the Ocean City inlet as well as around the pilings of the Rt 50 bridge near the main channel, and along the rocks off Martha's Landing. They'll be found next to the rocks of Indian River Inlet, and of course all along the CBBT's structure.
Tog have a palette for crabs of all types, and most anglers will temp this popular species into biting with green crabs. However, don't overlook sand fleas, which certainly catch their fair share as well. With baits and mouths on the small size, keep hook size down to around a 1/0. And when rigging keep it simple. A short hook leader (just four to six inches) will help prevent snags. Still, no matter where you target tog carry plenty of sinkers. You need to throw right into the base of the rocks, which is where these fish call home. Meaning, expect to get hung up and lose a lot of rigs. Also remember that most of the legal inlet fish will just barely make the tape. If you want to tangle with those bigger five to 10 pounders, head offshore to the wrecks. And set the hook on the first telltale sign of a bite – or be prepared to reel up and re-bait!
Fishing the Surf
Let's not overlook surf fishing – October is a tough month to beat when it comes to fishing the beaches of the Mid-Atlantic. The water and air temps are still warm enough, that anglers can have sand between their toes on most days, compared to those chest waders that will be required beginning in November. And October's Indian summer days on the beach are hard to beat. The kingfish (whiting) should be plentiful and this is the month to target pompano as they reach the northern end of their summer migration before turning around and heading back south. They are not plentiful, but most falls enough show up in the surf to make it interesting. And pompano are hard to beat on a dinner plate. Most anglers targeting pompano use sand fleas which can be easily caught on the beach for baiting these tasty critters. Don't be surprised, however, if a pompano is flopping around on the beach after eating squid.
Fishing cut mullet on a second rod will entice bluefish, and using a whole finger mullet gives you a good shot of catching one of those rod-bending red drum, especially if you're fishing towards the southern end of Assateague Island or on Virginia's beaches. Towards the end of the month, striped bass may make an appearance as well. Although the past couple years the majority of stripers have stayed offshore during the fall migration southward, disappointing surf fishermen who live and breath to target rockfish, every year holds new promise.
Offshore Fishing
If you are among the many anglers thinking about winterizing the boat at this time of year, just hold on a moment. The beginning of October typically sees the white marlin bite continuing, and even double-digit releases are possible depending on water temps. Yup, marlin, tuna, and mahi are still offshore in decent numbers this month. If history repeats itself, Washington Canyon should be a good place to point the bow. Twenty years ago on Halloween my best longfin tuna day occurred. The charter actually got tired of catching longfin while chunking on the 100 fathom line just south of Poormans. However, if you don't want to run that far, then work the 20 and 30 fathom lumps for wahoo. October is a great month for putting these toothy predators into the kill box. Think dark as far as colors go. Black/red or black/purple skirted medium ballyhoo are good choices, and don't forget the wire leader when rigging. (See October Wahoo, for more details on this fall fishery).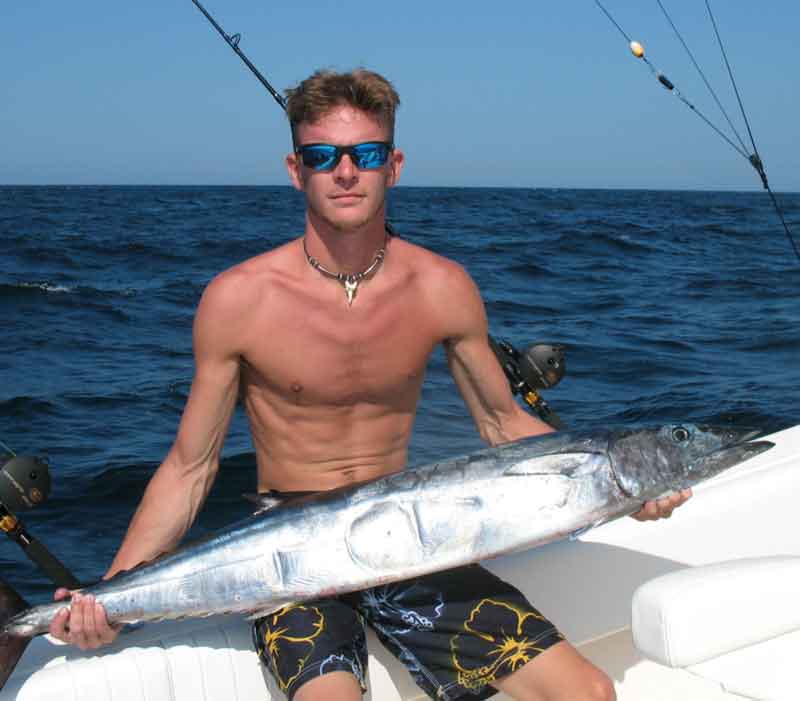 The bass grounds will also be a good place to visit this month, and should be holding bluefish and mackerel. However, if you're not fond of trolling, anchor up and drop lines down on a wrecks or drift one of the numerous reefs. Sea bass, tog, and flounder will be more than willing to cooperate. And if you don't have a boat of your own or it's already winterized, just jump on one of the head boats for a day of bottom fishing.
Ah yes, October. What a month. Does it get any better? I don't think so!!!
- John Unkart is author of Offshore Pursuit and Saltwater Tales.