Among all the artificial reef sites in the Chesapeake Bay, The Cell is unique. The reef site incorporates the remains of a former Navy degaussing station, features a range of reef materials, has diverse surrounding bathymetry, and is a modest run from multiple boat ramps. A patch reef layout typical for many VMRC fish havens, it has many individual structures in close proximity to each other. Fish may relate to a specific structure on any given day, or may move around between the structures. Finding the sweet spot or spots within any fish haven requires patience. But at VMRC fish havens like this one, some structures are close together. By positioning among them, lures and jigs can be cast to multiple reefs from a single position. Or, a boat can anchor up-current and float a live-lined spot or cut bait in a chum line back to a reef. Anglers can also troll the larger area, going over multiple structures. That's all possible, at The Cell.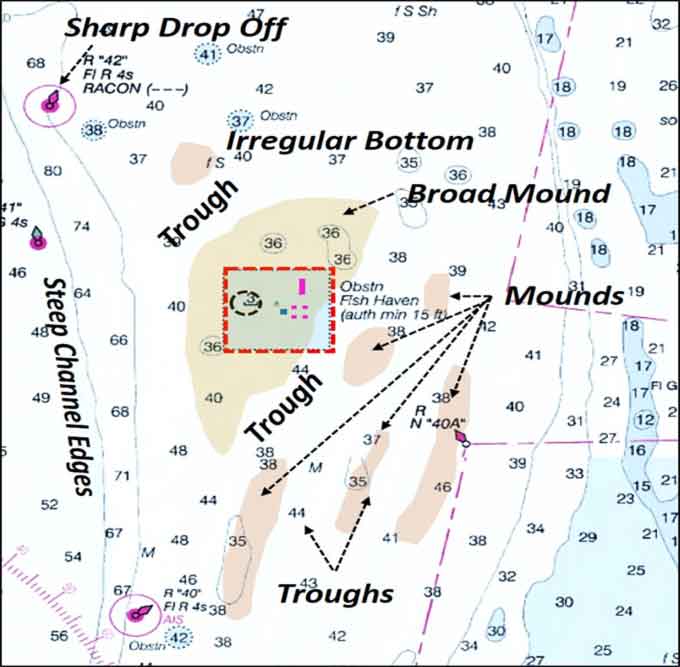 The Cell is located three miles west northwest of Mattawoman Creek green marker "1" and about six miles southwest of the mouth of Nassawadox Creek. The fish haven's location was well chosen. Natural features provide diverse marine habitat along with the artificial structures, making the area amazingly attractive to sportfish. NOAA BDV sounding data show a deep-water channel nearby to the west, and suggests variable bathymetry north and south. Electronic sonar charts from various other sources show mounds and troughs to the south, and irregular bottom to the north.
The northwestern quadrant of the fish haven was the site of the Wolf Trap Degaussing Station. The facility was used during and after World War Two for demagnetizing ships as a defense against magnetic mines. Very early during my Coast Guard career, my ship, the cutter Acushnet, was here in the Bay after she came out of a shipyard. The ship had been reconfigured to perform oceanographic service, and the yard work changed the ship's magnetic signature. We degaussed the ship to reset to a more normal operating condition, after which we had to recalibrate the magnetic compass. The station's foundation remains on the bottom; cables and endless snags should be expected if you fish top-and-bottom style or similar rigs. Work the foundation around the edges when bottom fishing or jigging near bottom, and if you try to drift fish over it, be prepared to say goodbye to a lot of tackle.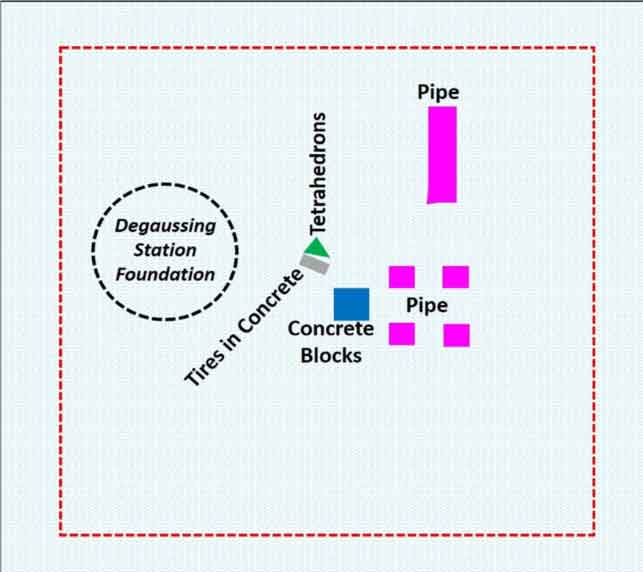 Substantial artificial material reefs shown in the layout graphic were placed in the site. Geometric shapes shown for VMRC materials are the perimeters of approximate areas where placements were made. Actual reef configurations within these shapes is uncertain without sonar images. Irregular patterns, patch reefs, smear reefs, and half-circle forms typical of many other VMRC reefs may be encountered here. The concrete pipes dropped here were donated by Hanson Pipe Company in 2001. "Nested" pipes donated by Hanson were placed at some of the other VMRC reefs, and possibly this approach may have been used here as well. (See "Pipe Dream: Reef Building with Nested Pipes," to learn more about this interesting and effective reef building method). According to the VMRC, 1000 tons – yes, tons – was dropped at the site in 2001, and in 2006, 2000 tons of concrete block were added.
Fish species caught at The Cell and surrounding areas are typical for the Lower Bay: flounder, croaker, tautog, stripers, cobia, gray trout, spot, and red drum may all be found foraging in the area. Some years spadefish also make a good showing here.
The triangle from the fish haven out to the green channel marker 41 north to the red channel marker 42 is known as good flounder ground. Old mussel beds reported north of the buoy are worth a try, too. Detailed sonar charts available using various electronic charting and fishing applications show a wide range of bottom conditions, while a graphic interpretation of bathymetry data reveals mounds, troughs, and steep channel edges which provide natural pathways for predators.
Although this fish haven is outside BDV side-scan sonar coverage, there are several nearby small areas that NOAA investigated, providing a glimpse into bottom bathymetry. An area characterized by sediment waves is immediately west of the northwest quadrant between the fish haven boundary and the deep-water channel. It looks like good ground for flounders to lie on the bottom in ambush. The red channel marker 42 a mile to the northwest of the northwest corner has a very sharp drop-off. A side-scan sonar image of a small area immediately east of the buoy gives the appearance of course sandpaper.
Artificial reef structure at The Cell is sufficiently diverse and substantial. Combined with surrounding natural features, there is a diverse range of bottom types and structures to attract multiple species and provide a huge range of fishing opportunities. If one species isn't biting or one fishing technique isn't working, the variety of structure invites trying other species or techniques – so it's no wonder The Cell is one of the best known, most fished reefs around in the Lower Bay.
- By Wayne Young, author of "Bridges Under Troubled Waters: Upper Chesapeake and Tidal Potomac Fishing Reefs," and "Chesapeake Bay Fishing Reefs: Voyages of Rediscovery," at Amazon.com. You can find his Facebook page at Chesapeake Bay Fishing Reefs.
Sign up here to get the weekly FishTalk Chesapeake Bay and Mid-Atlantic fishing reports in your email inbox, every Friday by noon.