Thanks to the wonders of geology the Eastern Shore of DelMarVa doesn't have as many tributaries as the western shore, and those that do exist aren't as significant in terms of the volume of water they contribute to the Chesapeake. They're at least as significant, however, when it comes to fishing. And one Eastern Shore trib that anglers plying the Upper Bay need to know about in a big way is the Chester. While this river is a bit too far north to see exotics like speckled trout or drum on any sort of regular basis, the fishing here for stripers in the lower sections of the river can be utterly spectacular. And a bit farther up-river, stripers, perch, and catfish abound.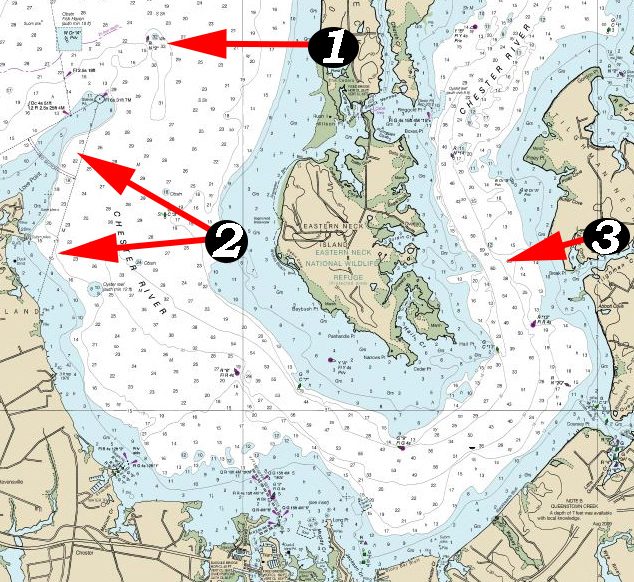 Lower Chester River Chart
The rise in this spot is quite significant, coming up to 15 feet on one side of the red nun buoy and dropping well into he 30s on the other side. Anchoring up here and chumming on the edge of the drop-off is a good bet for stripers, and believe it or not, a few decades ago this was a hotspot for big bluefish. Whether that will ever happen again or not is anyone's guess – but either way, file this one away in your brain for the next time you have a full chum bucket and a few bags of bunker.
This entire edge from the light pole to inside the point itself is a regular place to find breaking fish, late in the fall. Up in the shallows is where you'll most often spot the birds here, but don't be distracted. Nine times out of 10 it will be eight to 14 inch rockfish busting on glass minnow, in just a few feet of water. Instead, look for the surface action taking place in 20 or more feet of water, just outside of the shallows. Fish busting here tend to be much bigger, and often are keepers.
The drop-off marked by 3 is really the edge of the main channel, and is noteworthy for several reasons. First off, jiggers may encounter schools of rock anywhere along this edge. Secondly, trolling up and down this edge on the eastern and southern edges of the main channel is a top producer, particularly in the fall, for anglers pulling tandems with four- to six-inch shad, surgical hoses, and spoons.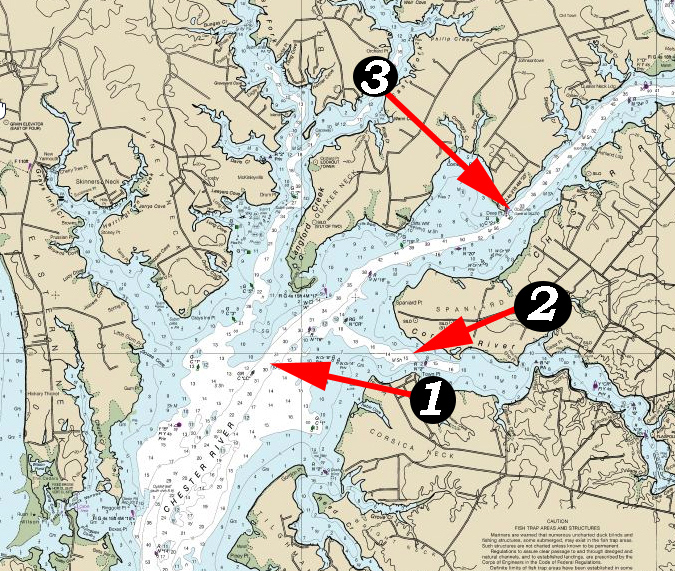 Heading Up-River In The Chester
Spot number one as we move on up-river on the next chart is about as far up-river as most anglers targeting Bay species like stripers will want to go. Yes, they may be caught much farther up the Chester, but as a general rule of thumb, they'll be individuals and not schooled fish. There's enough moving water here to try chumming along the edge of the drop-off, although light-tackle trolling is probably the most common method employed in this area.
Usually beginning in the very late fall and continuing into the pre-spawn staging, both white and yellow perch move into this area. Grass shrimp on bottom rigs can be deadly here, and loading the cooler is a distinct possibility. You can also catch perch here earlier in the season, but they'll mostly be whites and they'll mostly be very small.
Where the river begins to narrow significantly, you'll find sheer drop-offs into the main channel. This is the area where you begin to encounter catfish, including feisty channel cats, in rather extraordinary numbers. While you may catch a cat or two anywhere in the Chester, from this point up cut baits set on bottom in deep water will often be attacked by Mr. Whiskers. There are also hordes of white perch commonly schooled along the edges here throughout the fall, though often they're very small fish.
Far Up The Chester River
For the sake of space (and the windy nature of long, narrow chunks of the river) we aren't including a chart here of the upper Chester. However, it's pretty easy to nutshell what you'll find here: catfish, some perch and an occasional striper, and more catfish. Oh yes, and lots of catfish.
To enjoy a nonstop bite, cut chunks of bunker, herring, or pretty much any fish, or use chicken livers, threaded on an 8/0 to 10/0 circle hook. Put them on the bottom in deep water (plenty of snags are a good thing) and see if you can cast out another line before the first one gets a hit. The area around the bridge in Chestertown on up is all prime catfish territory.
Head even farther up-river from here, and you'll begin to get into some rather excellent largemouth bass territory. From Crumpton up there's a good deal of shallow water and navigation can be a bit difficult, but casting topwater, spinnerbaits, and other favorites can be quite effective all the way up the Rt. 301 bridges (and even a bit beyond). During February the holes in this region will also be packed tight with perch. And yes, there are plenty of catfish this far up-river, too.
Sign up here to get the weekly FishTalk Chesapeake Bay and Mid-Atlantic fishing reports in your email inbox, every Friday by noon.