The Hot Dog, Hambone, Sausages and Chickenbone — apparently, anglers get hungry when they're looking at nautical charts, since these lumps off the coast of Ocean City, MD, all have names resembling food shapes. All have long been popular locations when running out of the Ocean City or Indian River, DE, and occasionally, if word spreads that the bite is really good some of the Cape May fleet makes the run south while other boats may head north from Virginian ports. Regardless of how they got named, one thing is for sure: often there is no need to make a 60-plus mile run out to the edge to catch fish. Instead, simply pay a visit to the inshore deli.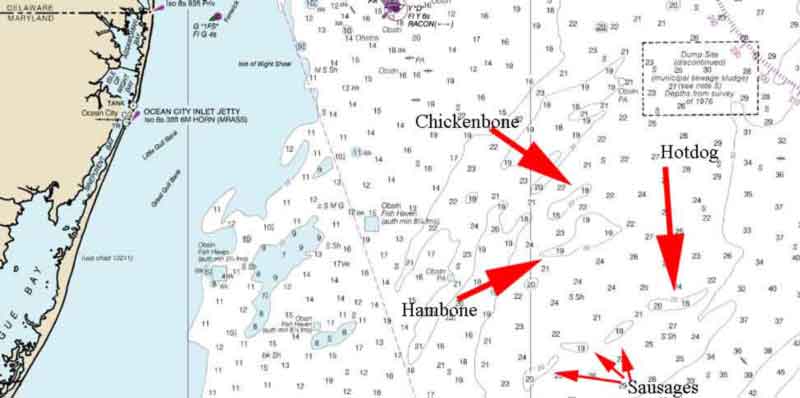 Turn the clock back 40 years and these lumps, located between the 20 and 30 fathom lines, were the bread and butter of the charter fleet. There was mostly trolling during the 80s, but then in the heydays of the 90s it was common to count 200 or more boats on the horizon all chunking for tuna. Occasionally the fleet ran south to Lumpy Bottom or Parking Lot when the bite heated up down there, or headed to the canyons if targeting marlin. But more often than not, fishing "out front" at the inshore deli was the typical day for charter clients out of Ocean City.
One summer during the 90s there was a large fleet of scallop boats working the lumps and the fishing fleet switched over from chunking to fishing behind the scallopers, using scallop guts. The following year the scallopers were gone and most of the fleet went back to trolling once again. Possibly it was just a cycle that anglers swung back around to trolling instead of chunking, or maybe the faster and more efficient fishing platforms found the longer canyon runs quicker and easier to stomach. Whatever the case, more and more of the charter boats began fishing the canyons and the rest of the fleet found it necessary to follow suite in order to attract clients. Maybe it was a combination of these issues, or something altogether different. But after the turn of the century, most of the fleet was trolling, chunking fell to the wayside, and fishing at the deli became less and less popular. Nonetheless, some years the deli lumps make a resurgence — this season's July yellowfin bite at the Hot Dog certainly being a great example — and so this option should be considered whenever you're planning to run through the inlet.
Spring at the Deli
The deli comes alive during the end of May with Mako chowing down on bluefish. Then in June, bluefin tuna are the norm. Although their showing hasn't been as strong in recent years they could decide to stick around at any time, and trolling a way-back line (TIP: try a blue/white Ilander with a large ballyhoo) often finds success with these bruisers — which can pull the scale down pass the 100-pound mark. I would not discount chunking for anglers inclined to target these big tuna, too, but trolling a mixed spread can also result in a variety of species in the killbox. Speaking of which, be ready to properly identify those Atlantic bonito that come over the transom, because unlike false albacore, the bonito are excellent table fare.
Summertime
Warming ocean temps in July often brings yellowfin tuna on a trolling bite and then may (or may not) transition into a chunking bite. (TIP: these yellowfin may prove leader-shy; when you can't get a bite try dropping leader size and remember that sometimes it's necessary to go all the way down to 30-pound fluorocarbon leaders). Mahi may also move inshore in decent numbers around this time, swimming near bass pots, weedlines or anything else found floating along. Keep the spinning gear aboard and ready to bail them (TIP: try casting butterfish or squid chunks on a 6/0 to 8/0 circle hook with no additional weight), in case you stumble upon that floating pallet that's loaded up with fish while you're shopping at the deli. Then August may see white marlin numbers increasing inshore. No, the numbers caught here will not commonly rival those of anglers targeting whites in the canyon, but a flat line naked bally often is responsible for white flags flown at the day's end and blues are a possibility, too. As I write this, earlier this week we saw one of the best early season (canyon) white marlin bites in many years, with some boats in double digits, yet the best yellowfin bite around is on the Hot Dog.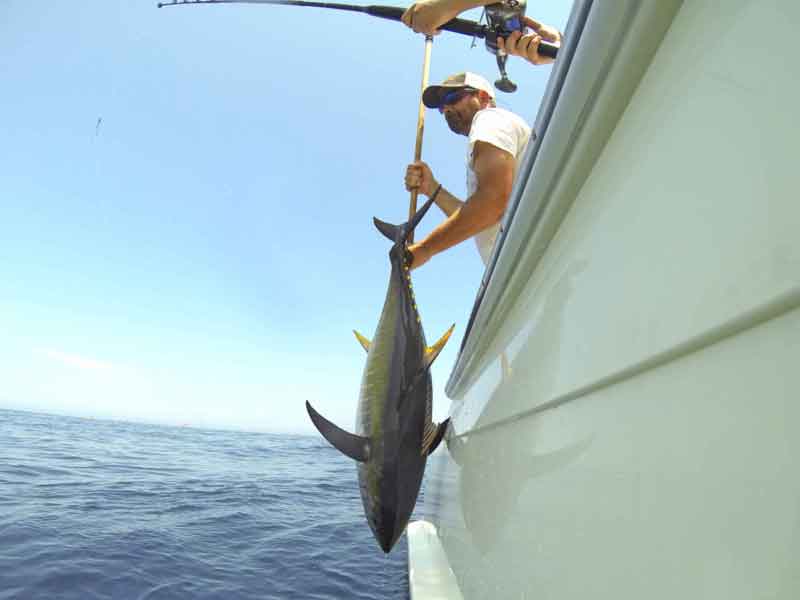 Fall on the Lumps
September along with October will account for a lot of wahoo catches at the deli. While not a school fish, during the fall migration they favor the deli lumps and often can be found in good numbers here. (Tip: think on running black/purple or black/red for skirt colors, rigged over medium ballyhoo). When the wahoo are around always rig with wire and don't take chances on using mono leaders, with those wahoo's razor-sharp teeth. Pulling a planer or Z-Wing to get a line or two down deep is a good move, too. You're not going to outrun a wahoo intent on grabbing your bait so feel free to up the trolling speed and cover more ground, say seven or eight knots. Just be sure the baits do not spin. Or if other species are still around in good numbers, troll a mixed spread with a couple of dedicated wahoo lines at around six knots.
It's September and fishing the Mid-Atlantic's waters doesn't get much better. So pack a cold-cut and head to the inshore deli — right now there could be wahoo, yellowfin, and even some of those pointy-nose fish out there.
Deli Menu
Chickenbone Sandwich - $38.14.0 x $74.26.7
Hambone Soup - $38.11.9 x $74.24.5
Sautéed Middle Sausage - $38.03.9 x $74.25.9
Hotdog with Yellowfin Relish - $38.06.9 x $74.17.2
- by John Unkart, author of "Offshore Pursuit" and "Saltwater Tales."
Sign up here to get the weekly FishTalk Chesapeake Bay and Mid-Atlantic fishing reports in your email inbox, every Friday by noon.