Mobjack Bay and the Piankatank River are two excellent areas for western shore anglers in Virginia to check out, whether you're on the hunt for monster speckled sea trout or searching for stripers in shallow water.
Mobjack Bay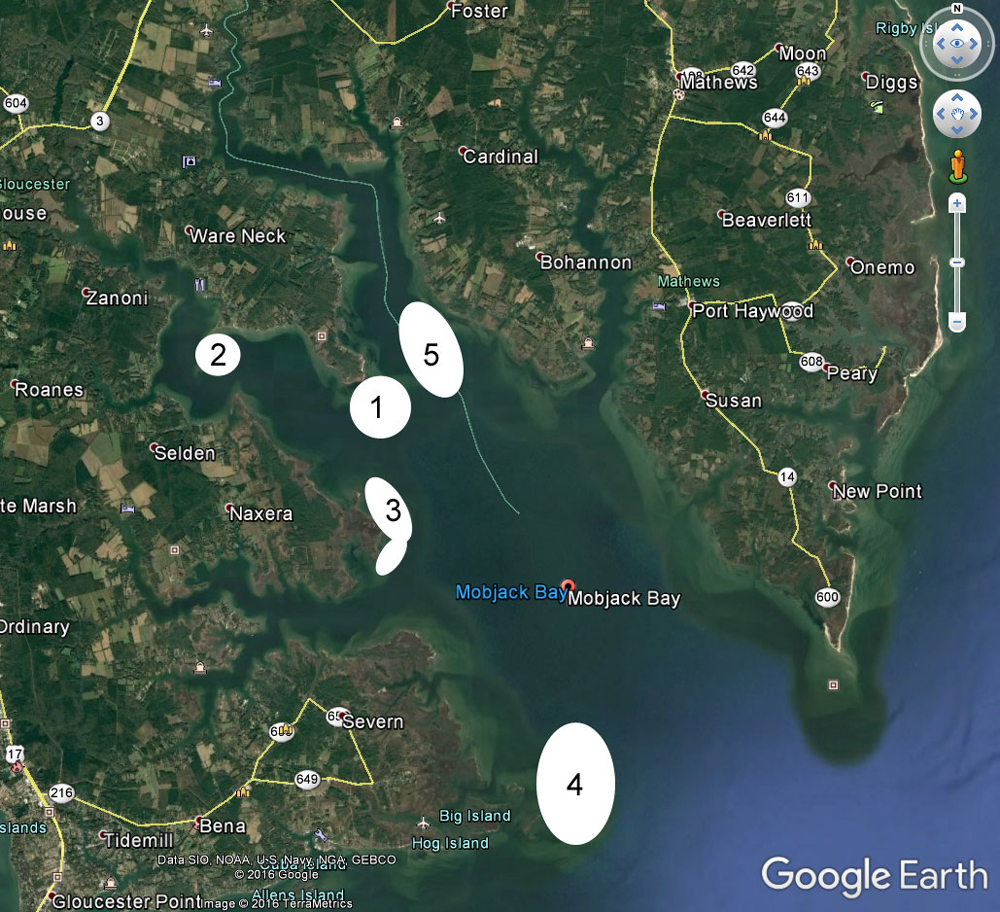 First, let's look at Mobjack. Year in and year out as fishing hotspots come and go, Mobjack Bay usually holds its own for light-tackle casting to stripers, speckled sea trout, and redfish. This is in no small part thanks to relatively healthy SAV (submerged aquatic vegetation), which for some reason consistently seems to do better here than in other near-by bodies of water. According to VIMS (Virginia Institute of Marine Science) researchers, widgeon grass here is mixed with eelgrass, and while widgeon grass in the nearby Rappahannock River (where there is no eelgrass) comes and goes, from year to year in Mobjack it's much more reliable.
As any serious angler knows, weedbeds are a prime hiding and hunting spot for predatory fish. So Mobjack remains a prime destination for predatory humans, too. While pointing out that the specific locations of weedbeds do shift quite a bit from year to year, here are five important spots you'll want to check out, the next time you head for Mobjack Bay.
The water off Ware Neck Point. This is a reliably weedy spot that should be checked out each and every time you fish Mobjack. Due to its position between the Ware and North rivers, there are also some interesting current patterns here.
There are VMRC (Virginia Marine Resources Commission) oyster reef here, located on the edges of Jarvis Point. These may hold fish at any time, but when weedbeds grow in the shallower water up on the point, you have a recipe for seriously good fishing.
While it does vary from season to season, the waters east and south of Four Point Marsh historically are an excellent bed for finding thick weedbeds.
The flats at the southern end of Mobjack are quite exposed, and the weedbeds here are subject to being torn up by rough waters. While that's bad, it's not all bad—the hap-hazard edges and potholes formed in the beds are great places to catch fish.
Relatively deep water just inside the mouth of the North River is a great place to soak baits for croaker and spot, during the middle of the day. Note that at night, the croaker will often shift to shallower water.
TIP: While casting and retrieving jigs is certainly effective in the weeds, locals have their own favored technique of fishing here. They troll, often with floating plugs like Mir-O-Lures, Rapalas, or Yo-Zuris, in as erratic a way as possible. Just how erratic? Some old timers will actually row the boat to get a jerky, on-again off-again action out of the lures. Chartreuse and pink are the favored colors.
The Piankatank River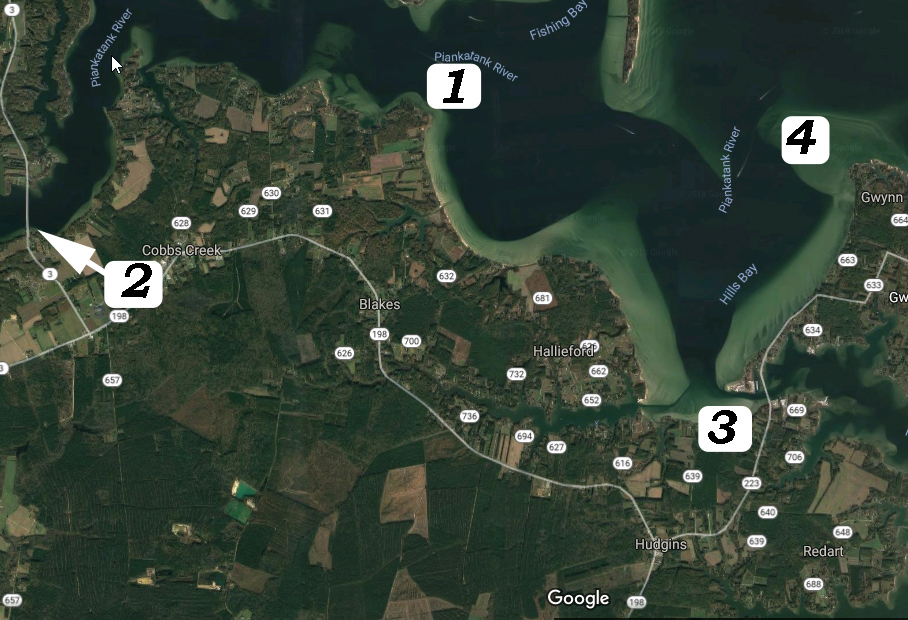 If you fish the Piankatank and saw the article 10 Billion Oysters in our July edition, we're guessing you already know about one of the things that makes the Piankatank a great area to fish: Virginia Marine Resources Commission (VMRC) oyster reefs. Many of those found in this small tributary are located on or near channel edges, making them particularly attractive to game fish on the hunt for dinner.
The hotspot marked number one on the chart has oyster reef which comes surprisingly close to the drop-off into deep water of just over 20 feet. Flounder can be found on this edge, and also along the edges of the hump around the red #12 marker just to the north-east. Rig up a light rod with braid line, a three-foot mono leader, and a one-ounce leadhead. Then add a four to five inch Gulp! Jerk Shad or Swimming mullet in white or chartreuse, and bounce it along the drops and edges.
Spot number two is the 301 bridge. It makes for a fairly reliable gathering point for stripers, and anglers casting jigs or trolling plugs along the pilings commonly enjoy some action.
Gwynn Island, down at the mouth of the river, has a deep channel cut behind it. This water sees a strong current and can produce just about any species found in the lower Bay at one time or another – specks, redfish, stripers, flounder, you name it. When croaker are around in decent numbers, this channel is also an area they'll ball up in. Drop a top-and-bottom rig baited with bloodworms, and hold on tight.
This spot marks another area where you can find virtually any species, but we need to call it out specifically because in years past when weakfish moved up the Bay in good numbers (no, it hasn't happened in quite a while, but we're certainly hoping that changes some time soon!) they used to congregate in the deep hole in the channel here. Dropping tandem rigs (a two-ounce pink or chartreuse Stingsilver on the bottom, with a streamer or a weightless plastic up top) is the ticket to success for this species, though until their return has been confirmed we'd suggest fishing soft or peeler crab and/or bloodworms here - that will get bites from everything from those weakfish to flounder to croaker.
TIP: Try another favorite local old-timer tactic for specks, reds and stripers, called "letting it ride in the tide." Take a medium-weight spinning or casting set-up, and rig it with a swivel leading to a four-foot leader of 20 to 30 pound test, terminating in a 6/0 to 8/0 hook. Then cut a "hotel" size soft or peeler crab in half, and thread the entire thing onto the hook. Don't add any weight; gently flick the offering away from the boat a ways, and then just let it ride in the tide.
Sign up here to get the weekly FishTalk Chesapeake Bay and Mid-Atlantic fishing reports in your email inbox, every Friday by noon.