After spending the season with a new Minn Kota Riptide Ulterra equipped with Spot-Lock and integrated with a Humminbird SOLIX MEGA SI MFD, Capt. Pete Dahlberg has the scoop on how an electric trolling motor and virtual anchoring can help you catch more fish on a Chesapeake-style boat. But before we learn what Capt. Pete has to say, let's take a look at how he uses the feature in real-world action, on video.
Guiding on the Chesapeake Bay
I've been guiding anglers on the Chesapeake Bay for almost 3500 fishing trips, starting in April of 2000 with a 21-foot Parker center console and then proceeding up to a Judge 27 Chesapeake. As time progressed my fishing has changed to more and more casting to structure with current. The Chesapeake Bay is loaded with incredible structure fishing opportunities like bridge pilings, light houses, rock piles, and lumps. Over the years I would set my boat up in a position to drift just off of a productive area, and cast to the structure as the boat passed by within range. If I miscalculated my drift I would have to start my engine to reposition – and maybe spook fish, depending on the situation. Hence, I thought hard about a trolling motor.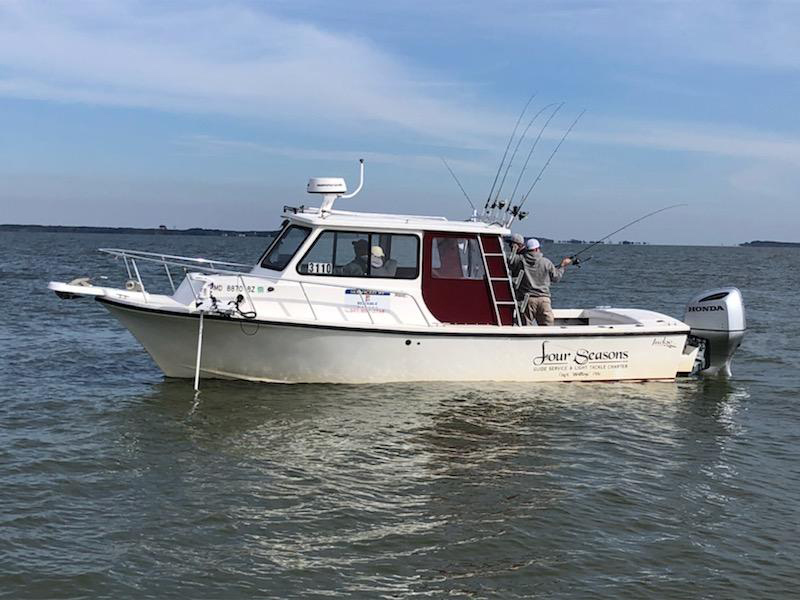 The most well-known advantage of having an electric trolling motor is allowing you to move and position the boat with stealth. But when integrated with GPS, some modern systems also allow you to use a virtual anchoring function – Spot-Lock, in the case of my system – where the motor uses GPS data from either an internal antenna or integration with your fishfinder/chartplotter to hover the boat in place. But I was skeptical as to whether or not an electric trolling motor could possibly work this way on a large boat with a high bow like mine, weighing in at around 7000 pounds loaded. The folks at Minn Kota, however, were confident a Riptide Ulterra (a 36-volt model with 112 pounds of thrust and a 72-inch shaft option) could do the job.
I still wasn't convinced the rig would work, being that my boat has a bow rail. I have anglers fish off the bow quite often, and cutting the bow rail was not an option. The folks at Reliable Marine in Solomons, MD, had a solution: they determined that a two-inch aluminum bracket holding the engine out to the side off the bow would do the trick.
Fast forward to March of 2018. I had a Minn Kota Riptide Ulterra installed on my boat in conjunction with two Humminbird SOLIX MEGA SI fishfinders. The custom bracket job added some additional cost to the install, but was well worth it.
Electric Trolling Motor for Shallow Water Fishing
April 3, 2018, I had the first chance to test out the Minn Kota and Humminbird rig in shallow water. Historically I'm able to start catching fish in the shallow waters around Taylors, Barron, Hoopers, Bloodsworth, and other islands when the water temperature strikes 50 degrees. Springtime the main-stem Chesapeake Bay stays cool longer than the shallows, and on this day the open Bay was 45 degrees but the shallow water I wanted to fish had warmed to just over 50 degrees, giving me some hope for a possible bite.
As I gently idled into a shoreline current rip streaming out of a shallow cove, I was shocked at what I saw on the fishfinder screen. On both sides of the boat I noticed what looked like fish on the Humminbird's Side Imaging. I took a quick screen shot (below) and told my anglers to cast both sides of the boat.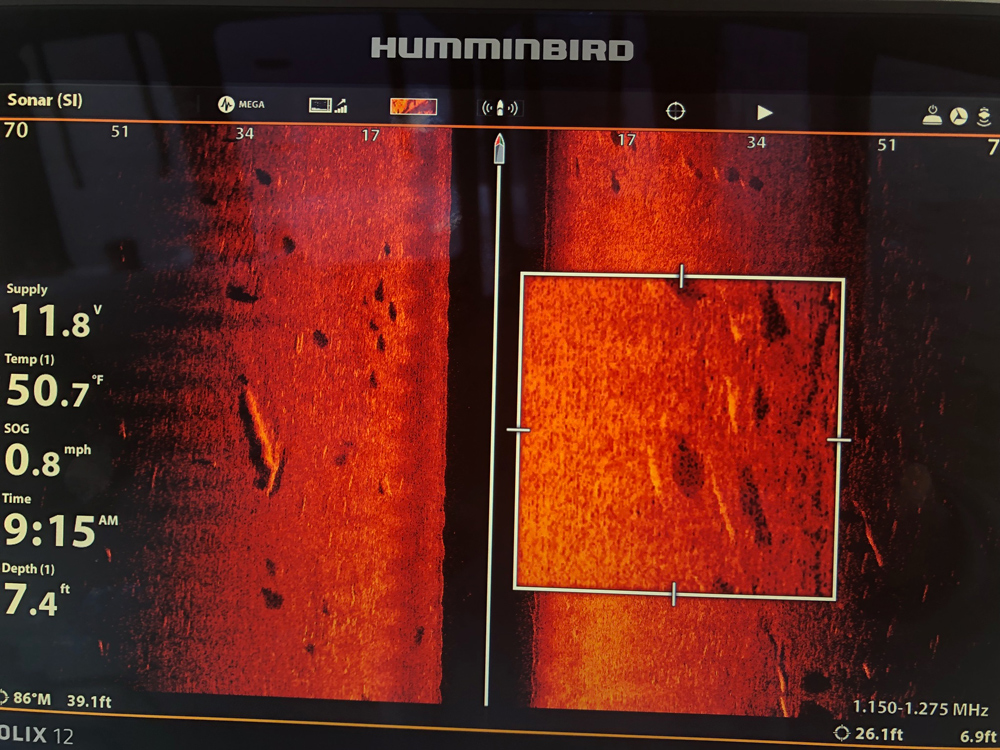 I hit the touchscreen to zoom in and could literally see fish shapes. At the same moment three out of four anglers hooked up with nice stripers. I immediately hit the Spot-Lock button to engage virtual anchoring, and the Minn Kota began silently holding the boat in position. We continued to catch fish, hovering in the exact same spot, for about an hour. This was literally my first try in the shallows with the Minn Kota/Humminbird motor/fishfinder/chartplotter package – and the results for me were game-changing.
The option I use most extensively in my fishing is that Spot-Lock feature. When I approach an area I'm going to fish, I cut the Honda 250 off and deploy the electric motor (automatically, with the push of a button on my controller). Then I can quietly cruise into the location and either drift or hit Spot-Lock, depending on the situation. Silently adjusting the position of my 27 foot, 7000-pound boat in very clear shallow water is a huge advantage, and has become crucial to catching more fish.
Details and Down-sides of spot-Lock and Minn Kota
Today, I use the Minn Kota every day on my boat when fishing around structure and I don't know how I've fished without it. My anglers are able to put the baits to the fish without moving off the structure and the results are more fish caught. However, anyone considering a rig like this should be aware of several important factors.
I've learned that having the trolling motor mounted on the side of my boat, instead of right on the bow, makes docking more of a challenge because the side of the boat with the trolling motor on it is no longer able to touch the pilings or docks. After several months of docking with the trolling motor on the boat I've had no problems, but I do post a person on the bow to "spot" my motor while docking.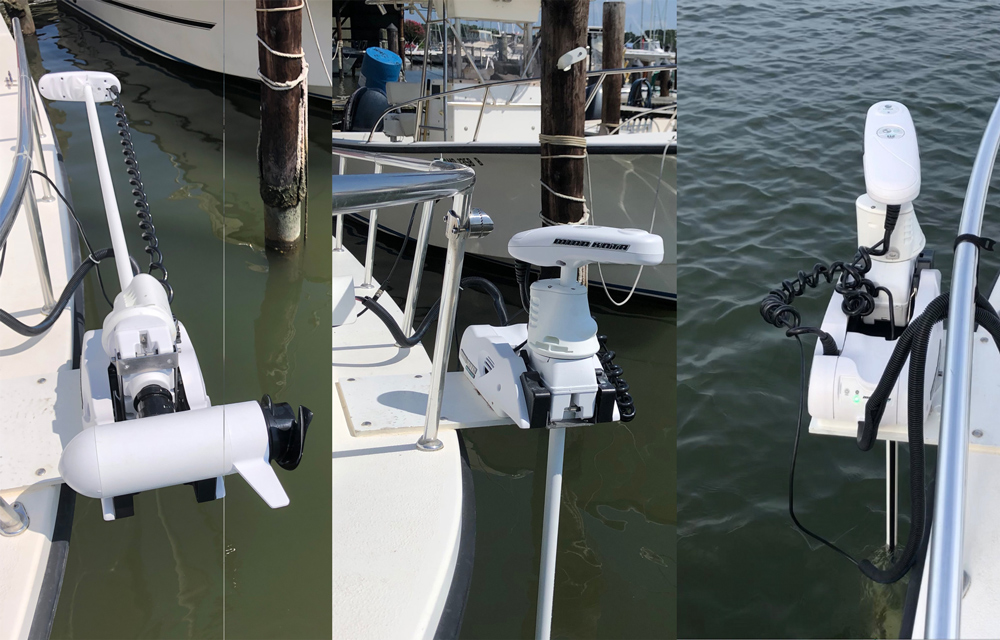 With the trolling motor on the side instead of right at the bow, it also can't be expected to perform quite as well on a large boat like mine; the Minn Kota Riptide Ulterra at full throttle with no wind or current will pull my Judge 27 Chesapeake at about three mph. If it were mounted in the usual position closer to the boat's centerline, one can expect it would go a bit faster. That said, it absolutely does what I want it to do, especially when holding position and gently idling through fishy water.
What about battery capacity? This has turned out to be no problem at all. So far the 36-volt system used almost daily has yet to burn up the battery bank's power during a trip. In fact, I've only had it use half its power, so fishing for an entire day on a charge isn't an issue.
Finally, one must wonder, does the rig spook fish? In water as shallow as six feet, fish have held under my boat without being spooked by the trolling motor operating on Spot-Lock. Now my anglers can cast non-stop to fish-holding structure instead of drifting by then repositioning, or making noise and risking bad positioning by dropping an anchor.
The results speak for themselves.
~ By Capt. Pete Dahlberg