You want to enjoy fast action on as wide a range of species as possible when you go Chesapeake Bay fishing? Then you may want to consider heading for the Tangier Sound – few other sections of the Chesapeake can offer as much diversity and potential, not to mention easy access and amenities. Just how diverse are the opportunities here? Stripers, blues, weakfish, speckled sea trout, croaker, flounder, spot, perch, and both red and black drum are all good possibilities. Oceanic oddballs like shark, sea robins, kingfish, blowfish, and lizard fish show up on occasion, and there's even the possibility of running into a cobia some seasons. In fact, depending on where you head and how you fish it's not unusual to reel up 10 different types of fish during a single day in the Tangier. You want to experience the diversity of the Tangier Tango? That's a sound decision – it's time to head for: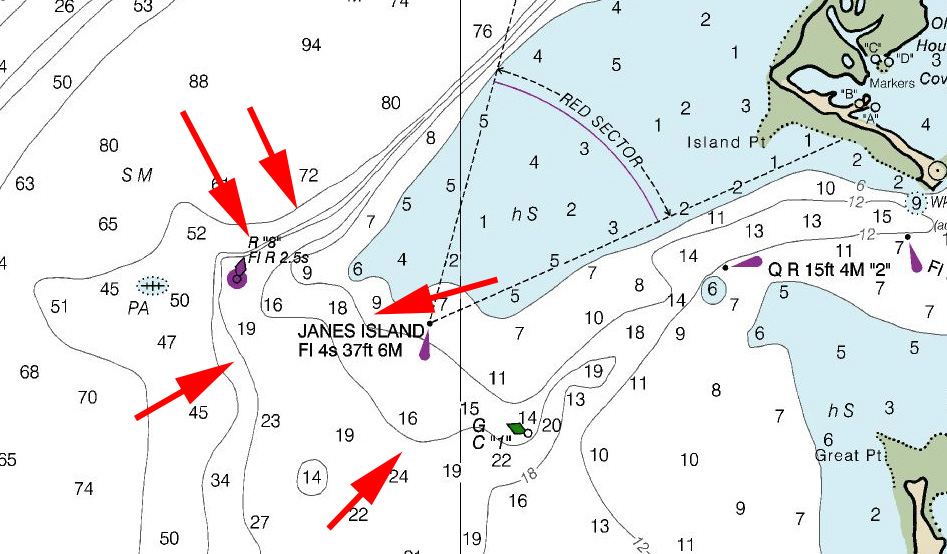 Hotspot#1 – Janes Island Horn – This marker sits at the area known as the "puppy hole," off to the starboard side of your boat as you leave the Little Annemessex River. But don't judge a spot by its name. Sure, drifting baits like peeler crab or bloodworms can produce puppy drum here and you'll also pick up plenty of croaker and spot when bait-fishing. But this is an even better place for flounder hunters to keep in mind. Look for the red #8 marker on the underwater point that drops from 10' to 70' on the north side, and into the mid 20's on the south side. Try drifting along these drops with the old stand-by squid/minnow sandwich on a Fluke Killer rig, or while jigging soft plastics (Gulp! Jerk Shad and Swimming Mullet in white, chartreuse, and pink are top picks) on one-ounce leadheads. One problem: since this hotspot is very close to Crisfield it gets plenty of pressure when the fishing is hot, so it's often best to head here on weekdays if possible.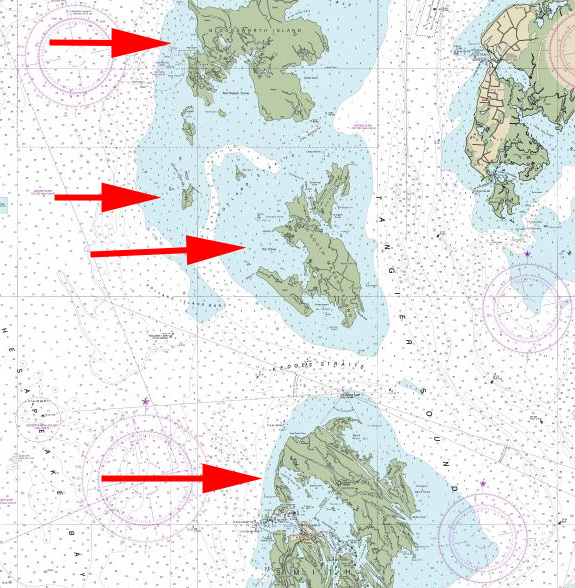 Hotspot #2 –Islands of the Sound – The marshy edges of Bloodworth, South Marsh, Smith, and Tangier islands are prime for shallow water casting jigs and topwater plugs, for stripers, speckled trout, and red drum. The western side of the islands tend to have sharper drop-offs and are easier to approach without fears of running aground in most areas, but you'll find fish along both west and east shorelines, particularly in areas where creek mouths and cuts form small points and channels. You'll also find more weedbeds on the eastern sides.
Plan where to fish more according to the wind than anything else; you'll need calm, clear water for this type of fishing and if there's a breeze much over 10 knots, the water on one side or the other of the island will often be riled up. Always make your approach to unfamiliar shorelines slowly and stealthy, but not only to sneak up on these fish. WARNING: There are stump fields, submerged rocks, and fun underwater hazards all over the place around the Sound's islands. The use of caution is in order. On the other hand, of course, that potential prop-eating structure is also excellent potential fish-attracting structure. Any time you can ID a stumpfield, rockpile, or any other type of structure try slinging your lures among the snags. Otherwise, casts should be close in to the shoreline and points, or to channels running towards them. Also look for holes that have been scoured out by the current, and be sure to try bouncing a jig through them. TIP: A close study of Google Earth prior to visiting any specific island will prove helpful.
Hotspot #3 – The Chain Hole – Head north into the Sound to find the Chain Hole, marked at its southern end by the red number 12 marker and to the north by the red number 14. This is a deep, deep hole, hitting 80' to 90' in several spots, with sharp drops on both sides plus a series of lumps to the west. And anyone who's experienced at fishing for weakfish knows that sometimes, these fish like to hold in extremely deep waters like these.
Yes, weakfish have been thin for the past few years even in the Tangier, which was once famous for holding massive schools of these fish. But dedicated anglers who want to focus on this species in specific should consider trying this spot. Tandem rigs with two- to three-ounce spoons (Stingsilvers are a favorite) on the bottom and a tube jig or streamer at the top are a good choices for artificials, and drifting soft or peeler crab baits on top-and-bottom Trout Scout rigs (just like Fluke Killers but with two teasers and the hooks a spread few feet apart) are a top offering for bait anglers.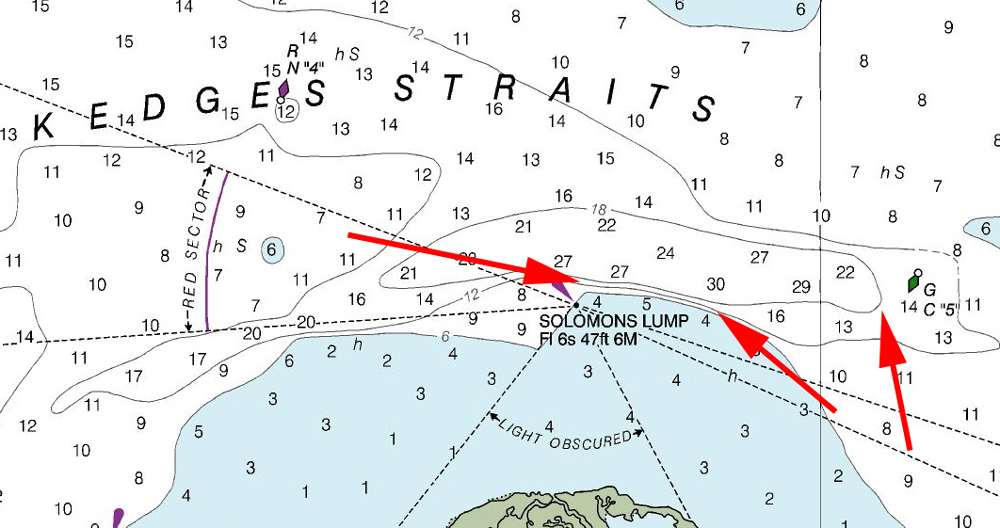 Hotspot #4 – Kedges Straights – Many boats run right through Kedges Straights without even dropping a bait, and this is nothing short of tragic — this is an excellent area to catch all sorts of bottom fish, flounder, bluefish, and in some years red drum make a cameo here too. There's often a ripping current moving through this zone which churns up the baitfish and puts predators into hunting mode.
You'll locate the fish by drifting baits and/or jigs along the southern edge of the channel, just to the east of the lighthouse, where the drop-offs are sharpest. There's a five to 25' or 30' drop along here, which is often loaded up with fish. Also pay close attention to the drop offs and shoals to the east of this spot, on the other side of the green #5 marker. You'll often find croaker and flatfish up on top here, when they move shallow with a flood tide or a falling sun.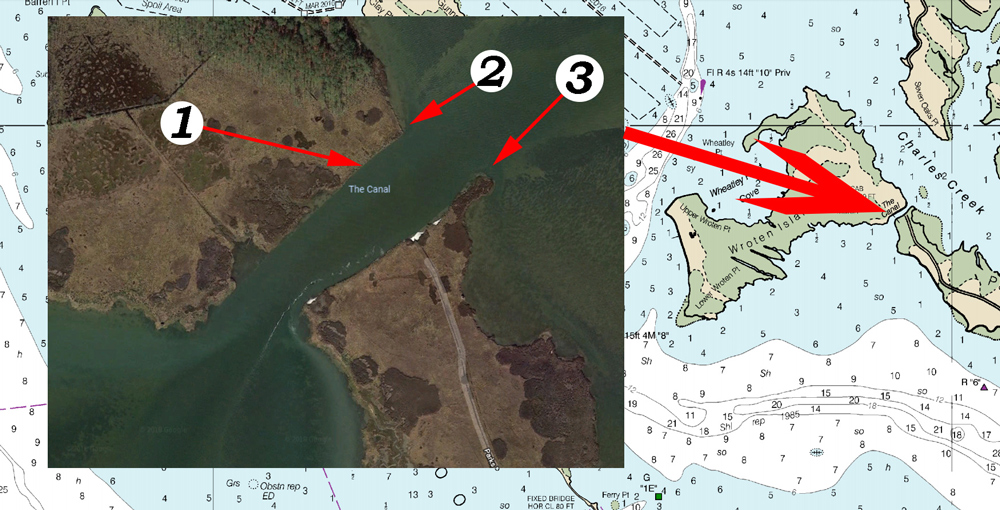 Hotspot #5 – Wroten Island Cut – The Cut is small and well-known, so it's best to avoid during weekends and arrive early in the morning if you want to fish it without any competition. You'll usually catch a mix of stripers and specks by casting four to six inch plastics in white, chartreuse, and pink – always put some bubble-gum pink in the water, if specks are desired – and you may encounter fish along either shoreline anywhere in the cut.
That said, there's a rip that forms in the area marked by the number one arrow in the chart, which is always a prime target. The point at number two produces often as well. Position yourself between the two, and you're in the prime casting territory. A rip-roaring current pushes through this cut, and has scoured a hole out at the spot marked by the number three arrow. Again, you'll find stripers and specks casting up to the shoreline here, but be sure to also let a jig sink and then bounce it along bottom – you'll often pull a flounder or three out of this deep spot.
Keep these five hotspots in mind, grab plenty of bait and jigs, and you'll be ready to do the Tangier Tango. Who's ready to dance?
Sign up here to get the weekly FishTalk Chesapeake Bay and Mid-Atlantic fishing reports in your email inbox, every Friday by noon.