A year ago this month Formula made the rather shocking announcement that they were entering the center console market, showing a pair of scale models along with artist's renderings at the 2022 Miami International Boat Show. Today these boats are a reality, and we got our first chance to set foot on the Formula 387 CCF at the Fort Lauderdale International Boat Show this past fall. Before we dig into the details, check it out on video.
Formula is well-known for building high-end performance and cruising sport boats, but fishing boats? Not so much. As in, not at all. In fact, they haven't built a center console of any sort in decades. The two center consoles in the 2023 lineup are the 387 CCF (Center Console Fish) and 387 CCS (Center Console Sport). The Sport version is meant purely for cruising and trades off goodies like the livewell for stuff like bulk stowage. It trades off fishing space in the bow with a bunch of seating and a cocktail table. So as you might surmise we fish-heads will happily ignore it henceforth and focus solely on the 387 CCF.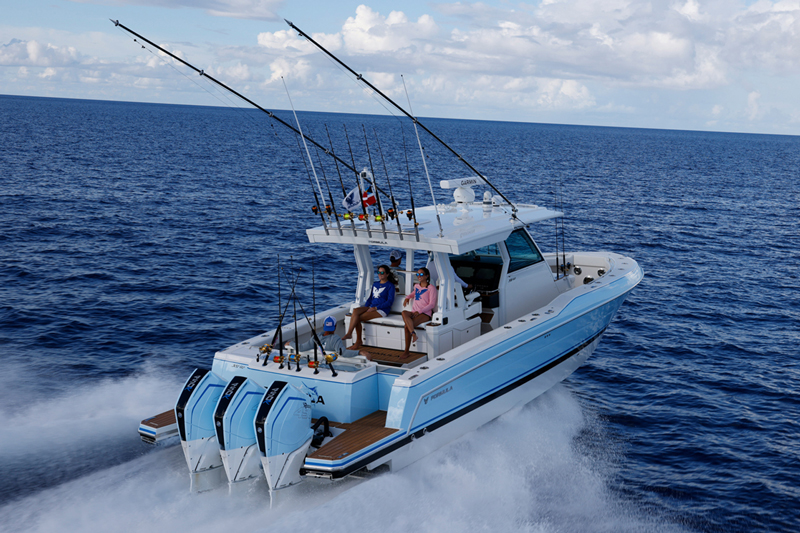 It's obvious at a glance that Formula found some fish-heads of their own when it came to designing the layout for this model, and wisely, put two monstrous, pressurized, 40-gallon livewells in the transom. Bulk stowage, indeed! As for the bow, the forward seating is eliminated and the entire area in front of the console and a cabin-top doublewide lounger is left wide open for angling.
A fishing feature stand-out we found was in the twin 90-gallon in-deck fishboxes. Freezer plates lined each side, so you only need to haul a small amount of ice to chill down the catch in a big way. In fact, the reps onsite mentioned that they had done a multi-day fishing trip on the boat during the middle of the summer, started out with a couple of small bags, and never had to get more.
Another angling accouterment we applaud is the tackle station in the back of the leaning post. It has a rigging station with removable cutting board, a sink, and a Yeti Tundra 35 underneath, but what really stood out was the sheer volume of tackle stowage. Along with the five-box Plano organizer you get four big stowage drawers. The fresh and raw water washdowns are another highlight. On rare occasions on very high-end boats, you'll see self-retracting washdowns which have a reel inside the gunwale or leaning post, so you'll never be tripping over the hose. Peek under the gunwales of this boat, and you'll discover it's got 'em.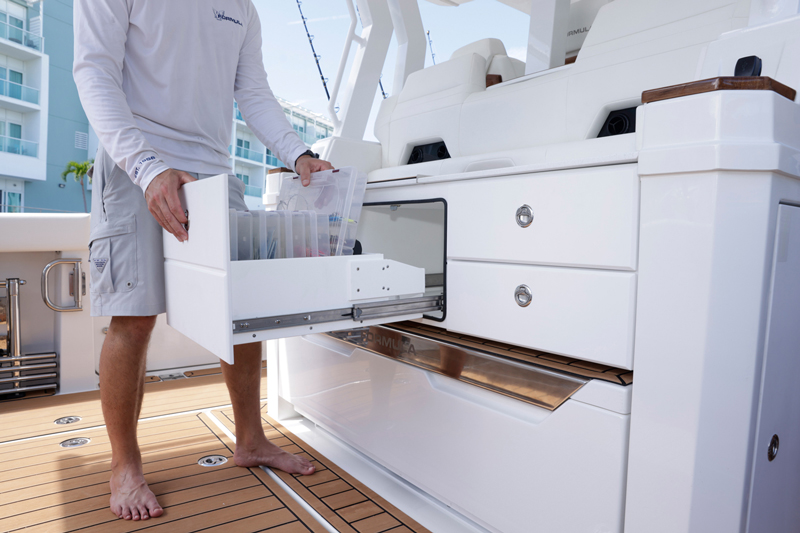 The console cabin isn't exactly a fishing feature, but we need to touch on it nonetheless because it will seriously enhance comfort aboard and make overnighting at the canyons a joy. Extending forward under the lounger is a large berth which converts into a dinette, there's a fully enclosed stand-up head, and a small galley with a sink, refrigerator, and microwave. It also enjoys the chillaxing benefit of an 8000 BTU air conditioning system which — critically — is also piped out to the helm so you can enjoy cool breezes even in a tropical heatwave.
So: just how long will it take you to get to the hotspot? The boat at the show had max power, triple Mercury Racing 450R outboards (it's also available with triple 300-, 350-, or 400-hp outboards, or a pair of Mercury's V-12 600 horsepower Verado outboards). But since it was shoe-horned in place at Lauderdale we couldn't put it through its paces. Luckily, the angler who had fished it was on hand and he said it topped 60 mph without a problem even when loaded up for fishing.
Downsides? Obviously, you can't expect this boat to come cheap. We'll also note that there's a trade-off involved with getting that relatively ginormous console cabin, as it means there's no big coffin box under the forward lounger. Considering the size of the fishboxes, however, we're thinking that's a non-issue.
Formula building a center console? It might be a bit shocking, but yes, Formula now has two — and one of 'em is the real fishing deal.
Formula 387 CCF Specifications
LOA – 41'2"
Beam – 12'0"
Displacement – 20,500 lbs.
Draft (max) – 3'10"
Transom Deadrise – 23 degrees
Fuel Capacity – 500 gal.
Max. Power – 1350 hp