Though Fountain Powerboats has been building center consoles for decades now, they were known for speed boats long before fishing boats. So when you get a peek at the sleek lines, twin-stepped hull, and big outboards on the Fountain 34CC, the first question that naturally comes to mind is "how fast does she go?" The answer: with a pair of 400 horse Mercury outboards on the transom, at top-end the boat pushes 70—we'll see you at the Washington in about an hour. But first, let's take an up-close look at the boat on video.
Putting performance to rest, the second question that comes to mind is fishability. Can a company that was so focused on performance design a serious fishboat? Those of us who recall the heyday of the SKA kingfish tournaments remember well that Fountain has done more than merely dabble in the fishboat market, but has produced numerous tournament contenders and indeed winners. So when we came across a 34CC this winter we weren't a bit surprised to discover a pair of big livewells in the transom, tackle stowage in the leaning post, eight flush-mount gunwale holders, seven rocket launchers on the hard top (including a pair of kingfish-mounts on the sides), under-gunwale racks, and four cavernous fishboxes in the deck. But there were also two very surprising stand-out features, one in the bow and the other in the stern.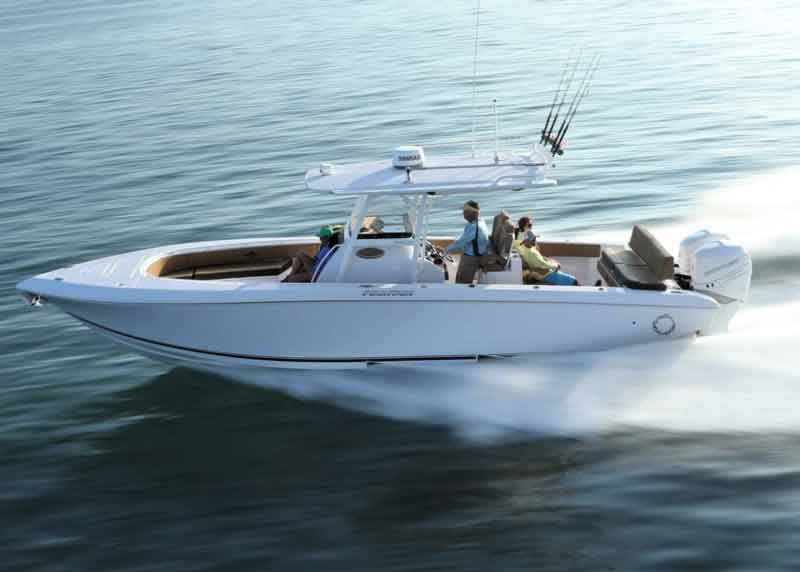 Up front, we loved how the forward seating is split and you can walk clear up to the bow. Sure, that means sacrificing the aft-facing center section of the common wrap-around U-shaped bow seating found on many boats. But that seat's useless to fishermen and is only comfortable to use when the boat's sitting at rest, anyway. Having open deck all the way forward is far fishier, since it provides additional casing space and makes it easier to work a fish around the bow.
In the stern, meanwhile, Fountain redesigned the transom seating to allow for quick conversion between cocktail hour and casting calls. It has a large, thickly-padded backrest that's on quick-release mounts. When you're "entertaining" your passengers can enjoy its comfort, and when it's time to get down to business you can simply pull it off and leave it in the garage.
One more part of the boat that we anglers will love: the helm. It's graced with a pair of eye-popping 16-inch Simrad NSS EVO3 MFDs (Garmins are optional), with Broadband CHIRP sonar making its pings between 130- and 210-kHz via an Airmar B175 H one-kW transducer. And the stock electronics package goes beyond mere fish-finding with an included 4G Broadband radar, autopilot, and VHF.
One other important note to make about this boat: fuel capacity and range are on the outrageous side. With a 418-gallon capacity and a cruising mpg of around 1.4 at 40 mph, you won't hesitate to point the bow for very distant horizons. Just as a point of comparison, remember that most boats in this class max out at more like 350 gallons of fuel capacity.
So is the Fountain 34CC a fishing boat? Or, is it actually a performance boat? Yes on both counts—check one out for yourself and see if you don't agree.
Fountain 34CC Specifications
LOA – 34'0"
Beam – 9'6"
Displacement – 10,000 lbs.
Draft (max) – 2'7"
Fuel Capacity – 418 gal.
Max. Power – 900 hp
Area Dealers – Total Marine, Stevensville, MD, (410) 604-6000.