I am a lucky boy. I have a father who has shared with me his love for the outdoors. Even better, he has spent the time to explore nature and explain that there is a balance in everything, and that you should learn and respect wildlife and the environment. I have friends who aren't as lucky. Some of them are as happy inside playing video games as I am wading up a muddy creek. And there's nothing wrong with that, but maybe they just never had an adult in their life who knew the outdoors or were interested.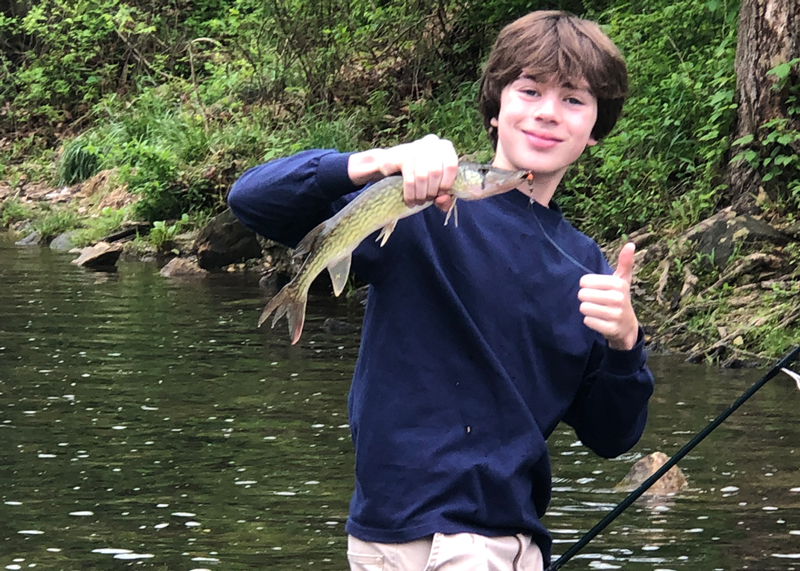 I also have friends whose parents or relatives have beautiful boats and go Chesapeake Bay fishing or out on the ocean to catch fish. My dad sold his 28-foot boat a couple of years ago for different reasons (one being that my brothers and I are approaching college in the next few years, so he said he has different financial priorities in life). But I really think the reason he sold his boat is because he had fallen out of love with fishing in the Chesapeake Bay. He grew up fishing the southern Bay waters of Deltaville and Tidewater which ultimately led him to being a fishing guide in the Florida Keys, but upon our return to Maryland in 2010, he realized that the Bay has changed… as well as the regulations.
So now we have rediscovered what has been here all along. I wanted to share my experiences of what I consider world class fishing, all reachable by walking, biking, or car — all in the state of Maryland. In the last year as my dad and I visited over 20 to 25 different fishing locations, the one constant is how very few other kids we see fishing. We occasionally see adults, but very few kids my age or younger. I wonder if they don't have someone to help teach them? Or, if there is not enough being done to broadcast what a great sport catch and release fishing really is? (Editor's note: we're working on that, Charlie!!) Or maybe the attention deficit of kids nowadays isn't built for the patience that fishing often requires.
So, how do I locate new, off the beaten path fishing spots? There are several tools:
Here is a recent fishing report from a trip planned using the above tools. I saw a post on Fishbrain that someone caught a pickerel on the Gunpowder River near Loch Raven Reservoir. I went on Google Earth and saw that there's a dam at Loch Raven, and the river coming down from there looked like it had rocks and faster moving waters which would be perfect for wading and casting spinners in the slower moving pools of water. Dad and I left around 7 a.m. from Pasadena, and after a yummy breakfast at Burger King, were at the Gunpowder looking for a good place to park and fish. Immediately we saw the dam and a little below was a perfect spot to wade into the water. We always wear beat-up tennis shoes to wade in, and I'm sure you can spend much more on nice wading shoes, but we are warriors (and cheap!) so in we go.
The rapids were not that strong and at the deepest spot, roughly two feet, easily manageable. I'm 15 years old but I really think someone eight years old could wade in this type of water comfortably. I always start out with spinners since they seem to be the most consistent lures and most every fish will hit them. Then as the day goes on I may switch to plastic worms, grubs, crankbaits, or other lures depending on the conditions or fish we are targeting. Early mornings, my dad is old-school, ALWAYS going topwater with his faithful Zara Spook. I've seen him catch some amazing fish on that lure, including barracuda in the Florida Keys.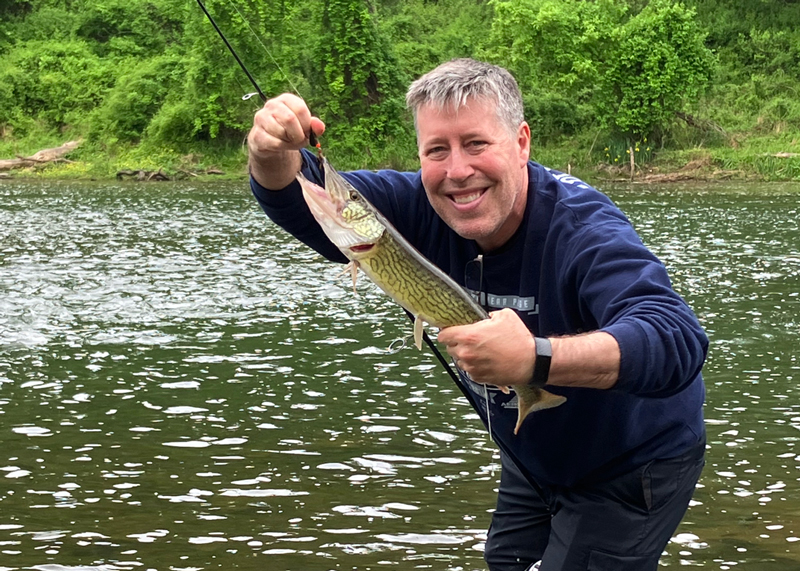 There are a couple of "bucket list" fish I have. I have never caught a pickerel or a snakehead. I was anxious for a pickerel since I saw the report on Fishbrain a few days before, but was unsure if I was even in the right part of the Gunpowder. Well, time to start casting.
Word of advice? Bring a lot of lures. I have found river fishing to be unforgiving to your tackle box. Rocks, underwater branches, over-water branches, and just plain mysterious snags will make you practice your knot tying skills over and over. And also, never fall in love with a lure because you are sure to lose that one first.
About 10 minutes into fishing, dad switched to a small white grub and cast right into the rapids. He bounced the grub a few times off the bottom and then hooked up a small rainbow trout. His first in Maryland, just a beautiful fish. I opted for casting in a deeper, slower moving area just a bit downriver from there. After another 10 minutes of casting, something hit my spinner. I could see it roll on top of the water, and all I saw was green. As I brought it closer, my dad saw me fighting the fish and came to me to help. I couldn't believe it — my first pickerel! Dad always says, have a plan when you fish and then throw it out the window. This was a rare time the plan worked.
After hyperventilating for a few minutes I went back to fishing, and by the time we quit at 11 a.m., had caught smallmouth bass, pickerel, rainbow trout, bluegill, and a sucker fish. It was what I'd consider an epic day of fishing, in only three hours. We finished the morning with our new tradition of finding a small local place to have lunch, in this case McFaul's Iron Horse Tavern. A perfect place to warm up wearing wet shoes and soggy pants, and the best chicken fingers I've had in a long time.
I hope to continue sharing fun adventures with my dad and hope this inspires other parents, aunts, uncles, grandparents, or family friends to take a kid fishing. And you don't need to have a boat!
- By Charlie Sutphin