For anglers who fish relatively protected waters and only go Chesapeake Bay fishing in open waters when its nice out, aluminum boats are a fantastic option. Their light weight makes them easy to load, launch, tow, handle at the dock, and push on or off the beaches and marshes. Plus, the light weight means they need less power to attain similar performance as a fiberglass boat, which reduces both initial cost and running expenses. In fact, rig a G3 Bay 18 with a Yamaha F90 and you'll see speeds of 40-mph plus. A fiberglass boat this size would likely need 115 or 140 horses to hit that pace. But the sticker price for the G3's boat-motor-trailer package hovers in the range of $25K, so this boat costs a heck of a lot less than a glass rig in the class and even less than most new cars — but is a whole lot more fun to own than any $25,000 land vehicle.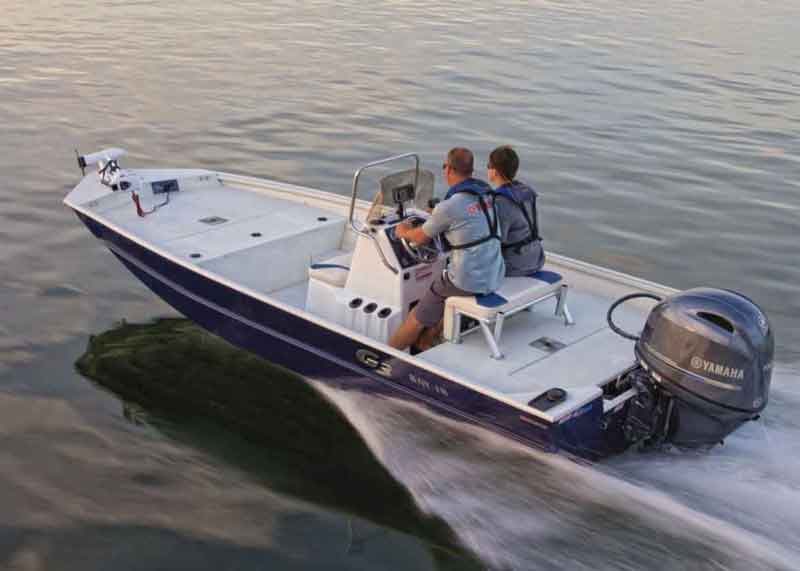 We had the chance to check out a new Bay 18 this summer, and the first thing that jumped out at us again related to how the boat can help make life easier: the entire interior is covered with grippy, rugged Tuff Coat spray-in liner, so washdowns and regular maintenance will mostly consist of a few squirts from the hose. The hull weight of 880 pounds will be hassle-free compared to a 1200- or 1400-pound fiberglass rig, and being aluminum the hull itself isn't likely to need repair if you bounce off a rock or a dock.
Beyond the boat's metallic magnetism, we also noted some nice construction perks. For starters the hull is .100-inch all-welded aluminum. Unlike some other boats the deck and hatches are also aluminum. The stainless-steel steering wheel is equipped with a suicide knob for quick maneuvers, and the trailer is a dual-axel rig with a detachable tongue and 14-inch radial tires.
Wait a sec — can an aluminum rig offer all the slick molded-in goodies of a fiberglass boat? Of course not, but G3 does integrate a surprising number of features. The boat comes with a hefty 31-gallon livewell, six vertical rodholders in the console, horizontal racks for both rods and running/anchor light poles, and a chill box under the forward console seat. Critical options most of us will want to add include the bow-mount trolling motor and a fishfinder/chartplotter, but aside from those this package is ready to fish right out of the box.
You say you want to make your life easy? Owning, operating, and maintaining a Bay-worthy fishing boat doesn't get much easier than this.
G3 Bay 18 Specifications
LOA – 18'1"
Beam – 7'3"
Displacement – 880 lbs.
Draft (min.) – 0'11"
Fuel Capacity – 19 gal.
Max. Power – 90 hp
Area Dealers – Anchor Boats, North East, MD, (410) 287-8280.