Giant ribbonfish invaded the Virginia Beach oceanfront this summer, filling up dock shots, providing a good fight for their weight, and proving even better table fare. Until recently, China, Japan, and Korea were the countries that prized these delicious fish, where they sometimes sell for as much as $35 dollars a pound. For years ribbonfish have been caught in the Chesapeake Bay and along the Virginia Beach Oceanfront, but this past summer they showed up in force. The exotic looking fish were huge, schooled up, and eating anything in sight. They tore through gear and bait with their unique teeth – and as it turns out they really are actually darn-right tasty.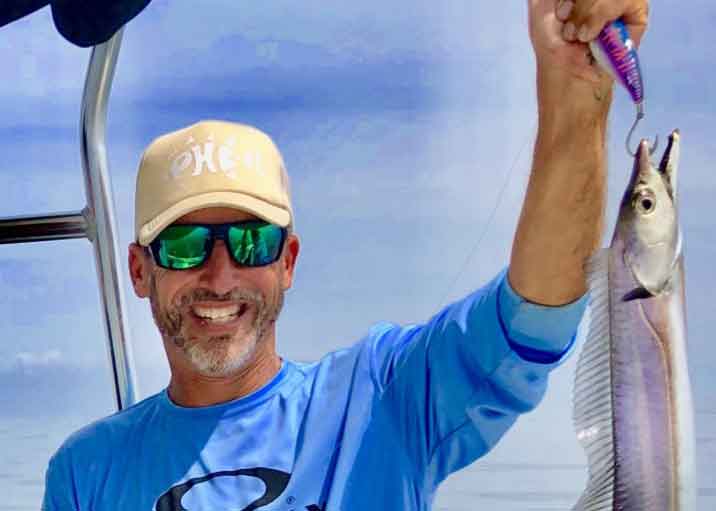 The ribbonfish, also known as cutlassfish or hairtail, do not have pelvic or caudal fins and can be found in the Atlantic, Indian, and Pacific Oceans. Ribbonfish look like a silver eel, with a set of teeth only a mother could love. There was a great bite off Oregon Inlet, NC last year, before it found its way up to Virginia's waters this past summer. And though they may look a bit unusual, think twice about throwing them back or just freezing them for bait.
Once fileted, they actually have more meat than one would think at first glance due to how long they are. After the meat is removed it's very light, not fishy, and very comparable to flounder, where some locals believe it's even better. The skin is edible and helps hold the filets together. It can be eaten raw, pan fried, or baked into stuffed ribbon rolls. The centerline bone filets right out, and then the ribs can be frozen for bait.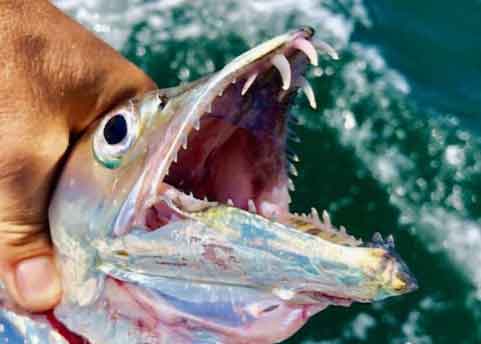 The ribbonfish's teeth are gnarly grinders, and they actually have barbs similar to those on our fish hooks that keeps prey from escaping once bitten. They also swim like a snake, biting and whipping their prey. Warning: A tail whip to a bare leg will sting more than mamas switch did, and leave a red welt longer, too. A mild toxin is present to sting fish, but wears off after a few minutes.
Chong Chae, a Virginia local who has been catching these for himself and his family for years, agrees that 2019 was the best year for ribbonfish in Virginia Beach ever – catching up to 250 or 300 some nights. These fish were smaller than the ones in the ocean, and all around the same size, caught around muddy bottom. He liked catching them in Lynnhaven Inlet, on Sea Striker Gotcha plugs and Rat-L-Traps. They can also be caught in most other inlets and connected rivers fed by the Bay, by structure, and with a light source close to or under the water.
The bigger fish were in the ocean, between two and 12 miles offshore where they concentrated for weeks, making them fun to target and catch. They seemed to need an hour or so after the sun got over the horizon to get going good. They are extremely aggressive both in the water and out, and they will destroy tackle unless you run wire.
Some may not think of ribbonfish as sporty or like how they taste, and they can say what they will. But those who know, we're okay with people talking negatively about them – that just means more ribbonfish for us!
Virginia Beach Ribbonfish Fishing
All along the oceanfront, this year the action ranged from red drum, to cobia, to Spanish mackerel, to ribbonfish. They say don't knock it until you've tried it, and every year a different month and season provide new opportunities for a fresh catch to hit the table, make 'em smile and do the food dance. Stuffed ribbon rolls will be in the 2020 cookbook. Pretty cool fish to come our way, and make for fresh ocean cuisine for the locals and tourists to enjoy. Late July through August is the best time of the year to get them – so get booked and get hooked.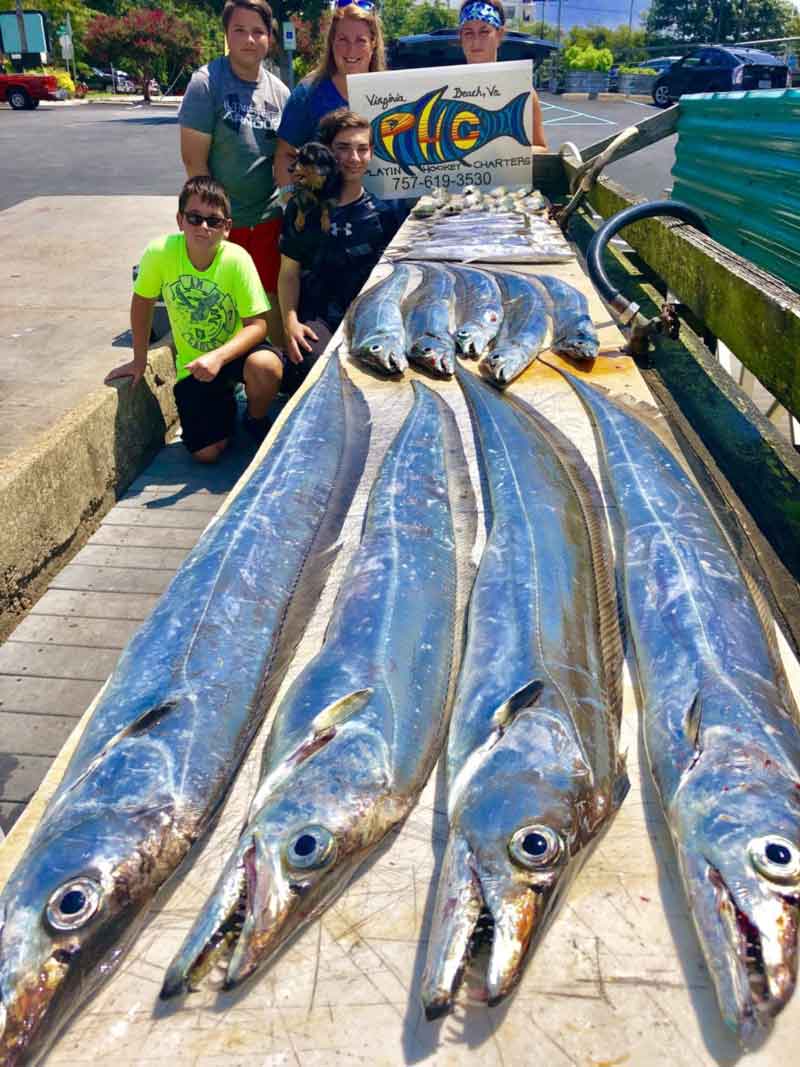 Catching Cutlassfish
If you were keeping an eye on the fishing reports this summer, you probably noticed that whenever ribbonfish came up the info on fishing for them was very much like fishing for any other inshore and Lower Bay predator. Despite their unique appearance, ribbonfish don't really require special gear or lures. They'll willingly hit both plugs and spoons, either cast or trolled. You can also catch them on fish or shrimp chunks. The key element is having that trace of wire leader to prevent bite-offs. And don't forget – smaller ribbonfish also make prime baits for king mackerel, usually slow-trolled in a harness with fore and aft treble hooks.
- By Captain Bill Pappas, captain of Playin' Hookey Charters, running out of Virginia Beach, VA. Visit his website or call 757/619-3530 to learn more.