September is a prime month for jigging up big bull redfish from beneath bluefish and rock that are churning the surface of the Chesapeake Bay. If you want to get in on this action we'd advise going to FishTalkMag.com, perusing the How To section, and reading the Chesapeake Bay Bull Redfish feature article by captain Pete Dahlberg. In the meantime, here's a quick run-down of the basic tactics:
Cruise open waters, preferably with a good pair of binoculars, and look for surface action marked by birds in water at least 25 feet deep. The bigger the blues are and the more violent the frenzy is, the better. When you spot 'em, run over (but slow down at least 100 yards or so from the school, so you don't spook them) and position your boat up-wind and/or up-current, so you drift into the melee.
Cast out metal jigging spoons or plastics with heavy heads, in silver, white, and chartreuse patterns, and allow them to sink all the way to the bottom. Lures six or seven inches long are in order.
Jig the lure back to the boat with a rhythmic action. Keep it up until the lure breaks the water's surface, because sometimes the redfish will follow it all the way up to the boat before striking.
If you don't have any luck after working the same school for 10 or 12 casts, move on. Not every pod of breaking fish holds reds underneath it, and one of the keys to success is keeping on the move and fishing a number of schools through the course of the day.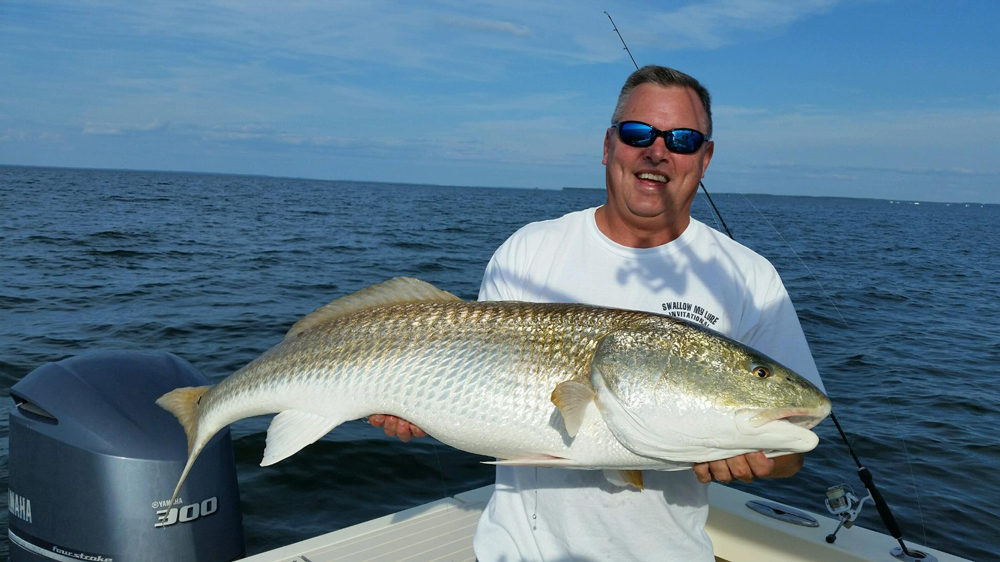 Don't forget to check the latest reports from the Middle Bay and the Lower Bay, to find out where the reds have been lately.