It's still cold but temps in the mid-50s and bright sun has you itching to hit the water, you don't have the time to drive to one of the top spring perch run hotspots, and the wild trout are off their feed due to heavy runoff. You need a fishing fix, quick! And while the actual "spawn" for largemouth bass may still be several weeks away, maybe even a month, the urge to fish is strong – and you don't want to miss out on an early season opportunity. Is it too early to have multiple-fish pre-spawn bass fishing days, too early in the year to bust a lunker in chilly water? Absolutely not!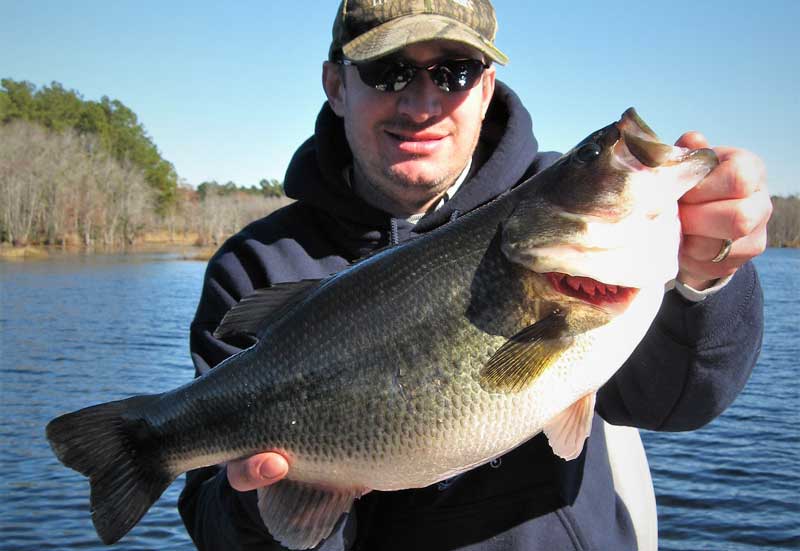 For the past 15 years I can honestly say that I have caught more largemouth bass of four pounds and greater during early spring than any other timeframe throughout the year. The progression of spring differs from one year to the next, and subsequently the kickoff bite for pre-spawn bass can vary year to year by several weeks, depending on the warmup and the influence of cold fronts, which can wreak havoc with the timing of the early bass bite. Fish move shallow, then they back off, move shallow again, then back off again. Timing it right can be tough. But there's one thing for sure: long before fish are even thinking about spawning, they are thinking about eating, and water temperatures of 40- to 48-degrees are not too cold to catch them, including big fish.
Thermal Banking
Every spring the shallows of small lakes, ponds and coves of larger reservoirs heat up fairly fast once the right conditions are met. The natural phenomena of thermal banking will occur when both sunlight and wind activity combine to raise water temperatures from three to six degrees in shallow flats, coves or along rip-rap shorelines. The upper two feet of surface water will heat up from extended sunlight periods and southerly winds will push the warmer surface water into the shallows, along bluff banks or against rocky shorelines. This usually occurs along the northern shorelines of lakes and ponds but can happen elsewhere where open, sunlit areas are exposed. After a few days of prevailing winds, the water along these areas will be warmer than the rest of the lake, drawing early insect activity, baitfish, and bass.
In March warm spells are usually two to four days in duration, but they tend to become longer as April hits and spring progresses. At this time bass are longing for a decent meal after a long, lethargic winter. Baitfish options could include various sunfish species, shad, or in some instances (like many waters of the Eastern Shore) native golden shiners or mummichogs (bull minnows) in tidal areas. By imitating specific baitfish species and placing them in areas of warmth, your chance for quality catches will increase. That's why it's important to know the predator/prey relation in your favorite bass waters – and keep thermal banking in mind.
Pre-Spawn Largemouth Lures
There are a number of lure types and styles that will generically imitate a variety of prey fish species. Spinnerbaits have universal, year-round appeal and are high-percentage lures when fishing muddy or turbid water conditions, which often occur in conjunction with springtime rains or snow melt runoff. We like these large profile lures in 1/2- and 3/8-ounce sizes with big Colorado blades for increased vibration. Bladed jigs (chatterbaits) are also excellent vibrating lures that enable bass to home-in when fished in turbid conditions. Rattle baits, like the classic Rat-L-Trap or the Cordell Spot, have been one of my go-to lures for a long time simply because they catch high numbers of fish along with the occasional hawg. We like to fish those in 1/2- or 3/4- ounce sizes and the larger option seems to attract a better grade of bass.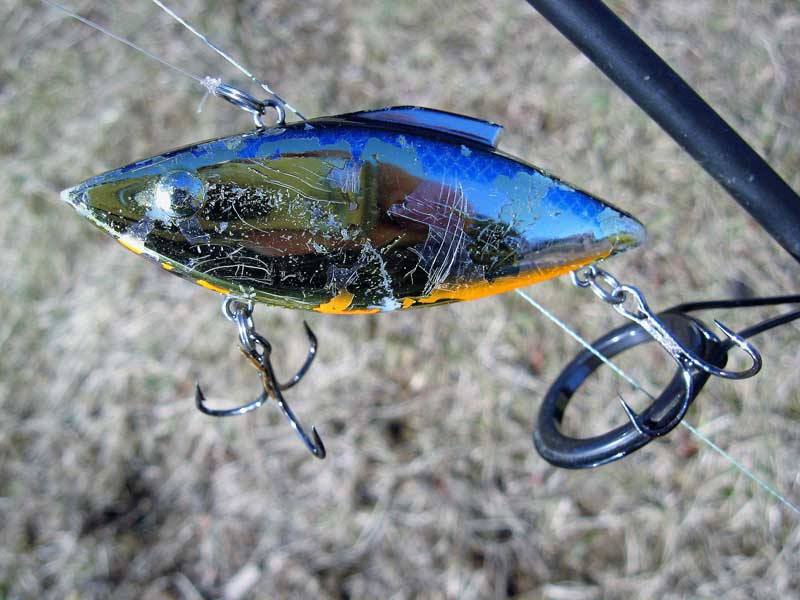 One of the overlooked but classic options would be Mepps Aglia spinners in gold or silver with a white bucktail. We like a number three blade for numbers of fish, but larger game seem to prefer a number four or even a number five blade with the increased profile and vibration. We speculate that these time-honored classics represent golden shiners, especially in the darker, tannin-colored waters of many of the tidal flows. Additionally, they attract other gamefish species including chain pickerel, northern snakeheads, and even the occasional huge crappie.
Another early season winner for us has been the Lucky Craft Pointer in the 100 or 120 series. Rapala X-Raps and other suspending jerkbaits or "slashbaits" can have their days too, especially if similar-sized shad or other minnow species are present. The only drawback is that some areas that are influenced by thermal banking also contain a variety of wood, rock or weed structures and can prove costly with snagged lures – yet these are often the best areas to catch fish, especially big fish. And then there are times when you may catch an absolute giant along a plain-looking "nothing bank" that has little or no cover. Elevated water temperature, structure or not, usually draws the early season bite when water temperatures are still in the 40s.
Bass Fishing Rods and Reels
We like to use medium spinning outfits with seven- to 7.5-foot rods that can detect strikes yet have the backbone to drive hooks home. Often, early season strikes can be soft or "mushy" and initially feel almost as if a leaf was snagged. At other times you may feel slack at your rod tip as a bass overtakes your lure from behind. Set the hook! As temperatures continue to rise and fish become more active, they will begin to pound lures with aggression. To detect this variety of strikes we use 20- to 30-pound braids with a monofilament leader of 14- to 20-pound test. Retrieve speeds vary from slow to fast, depending on the conditions, but don't be afraid to burn a rattle bait in 44-degree water as post-winter largemouths can easily overtake a fast-moving bait.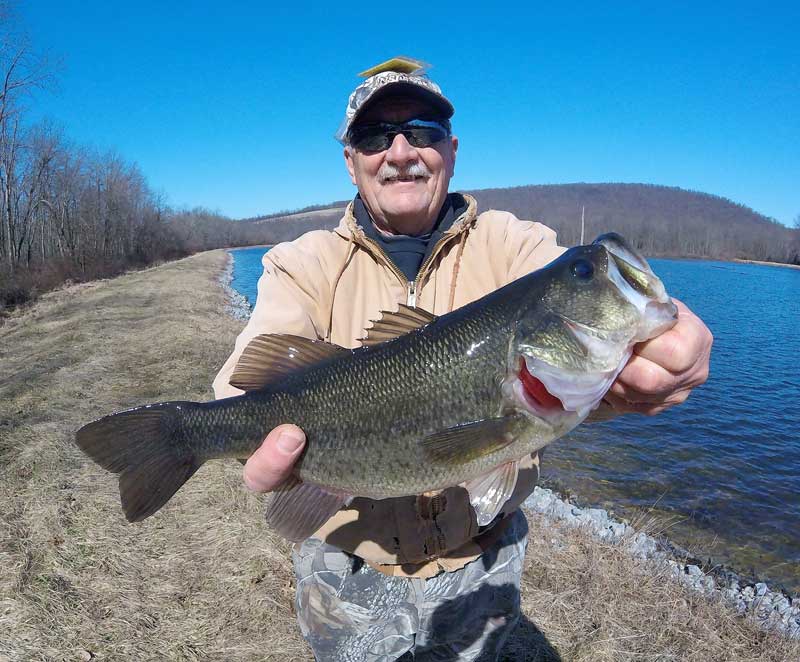 It pays to have two rods rigged up with each having a different lure, because some days fish want a vibrating bait and at other times will want a spinnerbait. Pay particular attention to any rain event that puts warmer water into the back ends of cove, creeks or in your favorite bass pond. Don't let muddy water scare you – bass have an uncanny ability to zero in on any lure that gives off vibrations, even in cold, turbid conditions. And there are times when you may encounter bass in extremely skinny water, as shallow as two feet or even less. I have caught some very impressive fish by wading in the early season as spring emerged.
This year, don't wait until the bass are spawning to cash in. They'll be feeding before Easter hits and the fat robins fly.
-By Jim Gronaw