As an angler who primarily enjoys kayak fishing I've spent years exploring the Chesapeake Bay region, and that includes lots of kayak camping trips. Many of my fishing trips start out with long hours of driving just to get to a launch location, and then many more hours of pedaling or paddling to get to the prime fishing spots. After all that effort, it's painful to have to turn around and drive home just as the fishing is getting good. Kayak camping has helped me to solve this problem. By bringing along my sleeping accommodations, I can be at the best spots longer and fish during optimal times. And by keeping the gear to a minimum, my kayak handles and fishes no differently loaded to camp than it does for regular fishing. Less pressured and more remote areas that were previously only in range for powerboats are now within reach.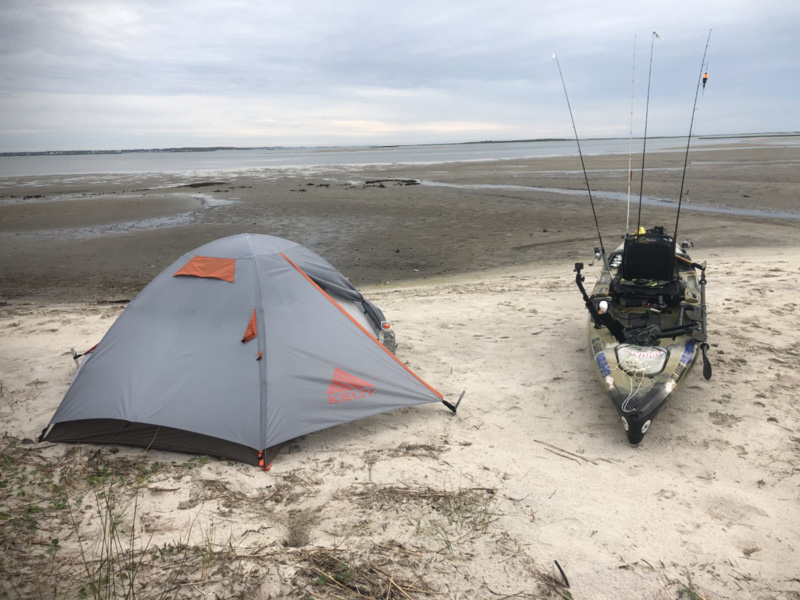 Kayak Camping Legalities
Do your homework before choosing where to go and set up camp. Is the area you're going to privately owned? Is it state land? Is it a wildlife preserve with restricted access? These are all questions to answer before planning your trip. Due to sensitive nesting habitats of our region's shorebirds, some shoreline wildlife refuges are closed to human visitors. Other places like Bloodsworth Island are off limits because it was formerly a naval bombing range — not somewhere I'd want to set up my tent. Check local ordinances and consult with authorities before setting out.
Kayak Camping Site Selection
The criteria for campsite selection are simple. For kayak camping I'm just looking for high ground that is reasonably flat and close to the water. One easy to find camp spot is the sand spit. Sand spits are generally deposited on the eastern side of shorelines in our region during storms and high-water periods. These areas sit just slightly above the high tide mark and are perfect quick camp spots. You have to be careful during full moon tides, especially if it is windy as these spots do occasionally flood on a high or wind-driven tide. The line of debris left by the last storms is your tell-tale sign above which you should aim to put your tent. Standing trees are also a sign of higher ground. Small "islands" of trees can be found surrounded by lower marsh grass in most parts of the Chesapeake. Below these clumps of trees is another good area to camp.
I also strongly encourage you to leave no trace of your visit. The last thing you want to find when you go camping is other people's trash. Take everything you brought back home with you. Even better, collect some of the trash you find along the way and leave your camp spots better than when you found them. Each of us, as residents and outdoor enthusiasts, have the responsibility of stewardship of our shared outdoors.  
Gear for Kayak Camping
It's easy to fall into the trap of thinking you need all the comforts of home. While you can find all of your favorite things in a miniature "camping size" at your favorite outdoor retailer, you certainly won't enjoy your experience if you try to bring all of these things with you. The more items you bring, the more time you end up managing your stuff and the less time you have to enjoy fishing and being outside. Gear mostly just slows you down, and less is almost always is more. My kayak camping kit contains four basic items: a tent, a sleeping bag, a sleeping pad, and a small travel pillow. These are each kept in their own small drybag to make it easier to fit them inside my kayak. In addition, I bring a change of clothes and enough water and food to keep me going. On the subject of food, I also prefer easy. Sure, cooking on an open fire is great fun, but it adds to the gear and work involved. If I'm by myself I usually keep it easy with food that is ready to eat: granola bars and canned food that I can pop open without a fuss.
Tent – A tent is your place of refuge at the end of a long day of fishing and exploring. It gives you a dry and bug-free place to recharge. I like a two-person, two-door tent with a two-pole design and dual vestibules over both doors. The dual vestibules give you some cross venting which can help cool you off if there is a breeze during hot summer nights. This style of tent is free-standing, sets up quickly and easily, withstands heavy winds, and sheds the heaviest of rainstorms. The only specialized item I've added to my tent kit for kayak camping is longer tent stakes to secure my tent on the sand. Most standard tent stakes are only about 10 to 12 inches long and won't hold down your tent or secure your tent fly in this type of terrain. During heavy wind or rainstorms, this can be a serious problem. To remedy this, I went to my local Home Depot and purchased several lengths of aluminum angle iron. I cut these to 18-inch lengths, shaped them with tin snips, and sanded the edges. In my opinion, these are necessary if you're camping on sand.
Sleeping Bag – Due to the limited space in my kayak, I prefer a sleeping bag that compresses into as small of a stuff sack as possible. Goose down bags are one of the most compressible materials in this category, but they won't keep you warm if they get wet. In the summertime, I switch over to a "summer weight" sleeping bag which is small and light. During the heat of the summer, you really don't need more than a sheet as you'll pretty much be melting inside your tent with anything more than that.
Sleeping Pad – Unless you like sleeping on the hard ground, you will want a sleeping pad to serve as your bed. There are many types to choose from including air pads, self-inflating pads, and closed cell foam sleeping pads. I've used the self-inflating sleeping pads from Thermarest for almost 30 years and they have delivered exceptional durability and performance. They are self-inflating, having an inner core of foam that expands when you open the valve. They are comfortable and durable. I honestly sleep as good or better on mine than I do on my bed at home.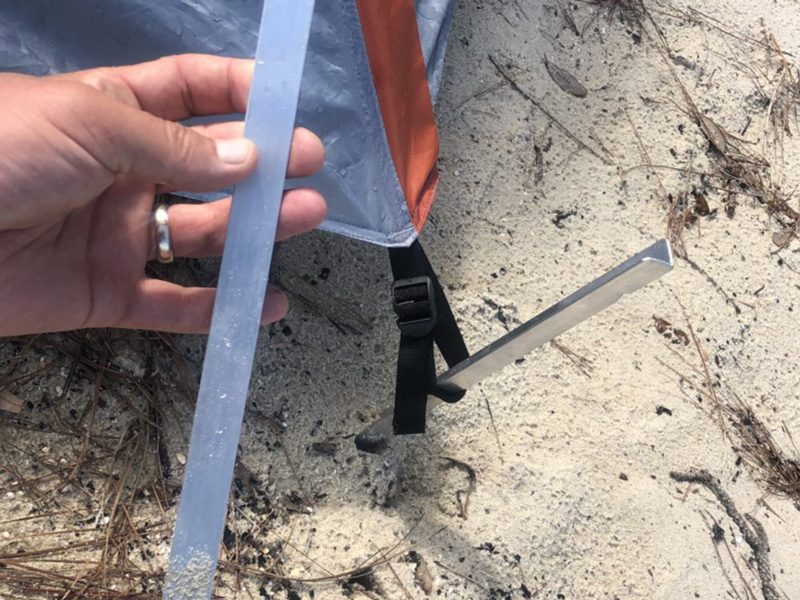 Getting Started Kayak Camping
If you've never gone camping before, doing so at a remote location alone and away from help isn't a wise choice. Like any other type of skill, camping is something you have to learn how to do. Build up your gear and your skills in small incremental steps. Start with car camping or set up camp in your backyard for a weekend. Figure out what items are essential for you, and what you can do without. Go camping with friends before setting out on trips of your own. Build up your skills and eventually it will become routine. While camping may at times be a little less comfortable than the domesticated life we're accustomed to, I've always found that beauty and solitude quickly outweigh minor discomforts — not to mention the great fishing you'll get to enjoy.
-By John Hostalka