Sometimes you just have to get away and unplug. Isn't that why most of us fish in the first place; to get outside and to enjoy the peace of nature? For an extended escape from the day-to-day, take a tip from epic 80's rocker Bruce Dickinson and "Run to the Hills." With the Potomac and Monacacy Rivers right up the road, Western Maryland offers several float trip options with very good fishing opportunities. I'd like to detail a specific overnight kayak camping/fishing trip I've enjoyed on several occasions. This is a two-day, one-night kayak fishing trip and you will be covering approximately 20 miles on the Paw Paw Bends of the Potomac River.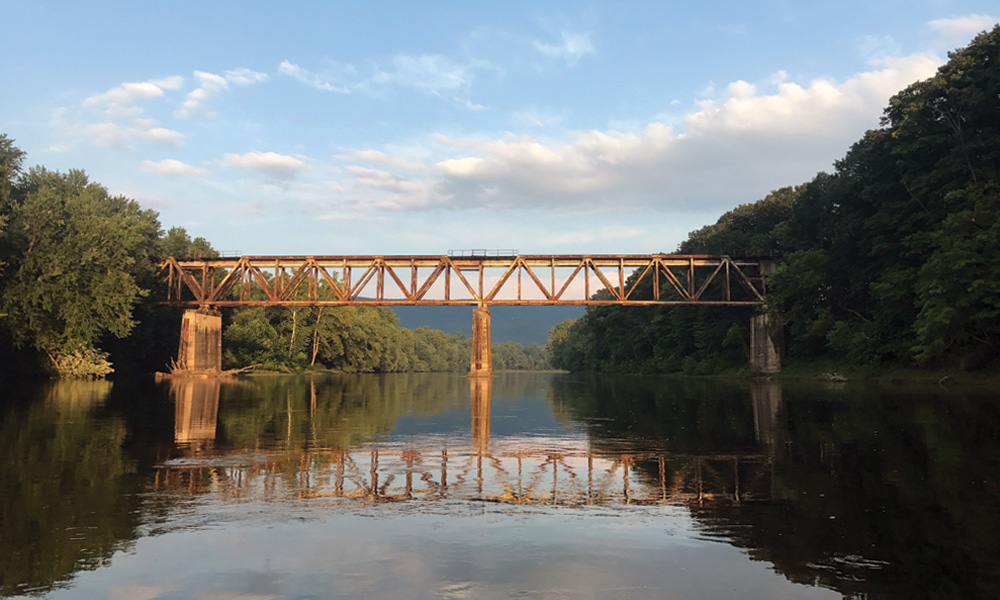 Getting There
Load up your kayaks, fishing, and camping gear in two vehicles and head up Interstate 68 to the Fifteen Mile Creek boat ramp in Little Orleans, MD. Transfer all of your gear into one vehicle and leave the other vehicle locked up in the parking lot. You'll then take a 20-30 minute drive down Oldtown Orleans Road SE to your launch destination at Paw Paw, West Virginia.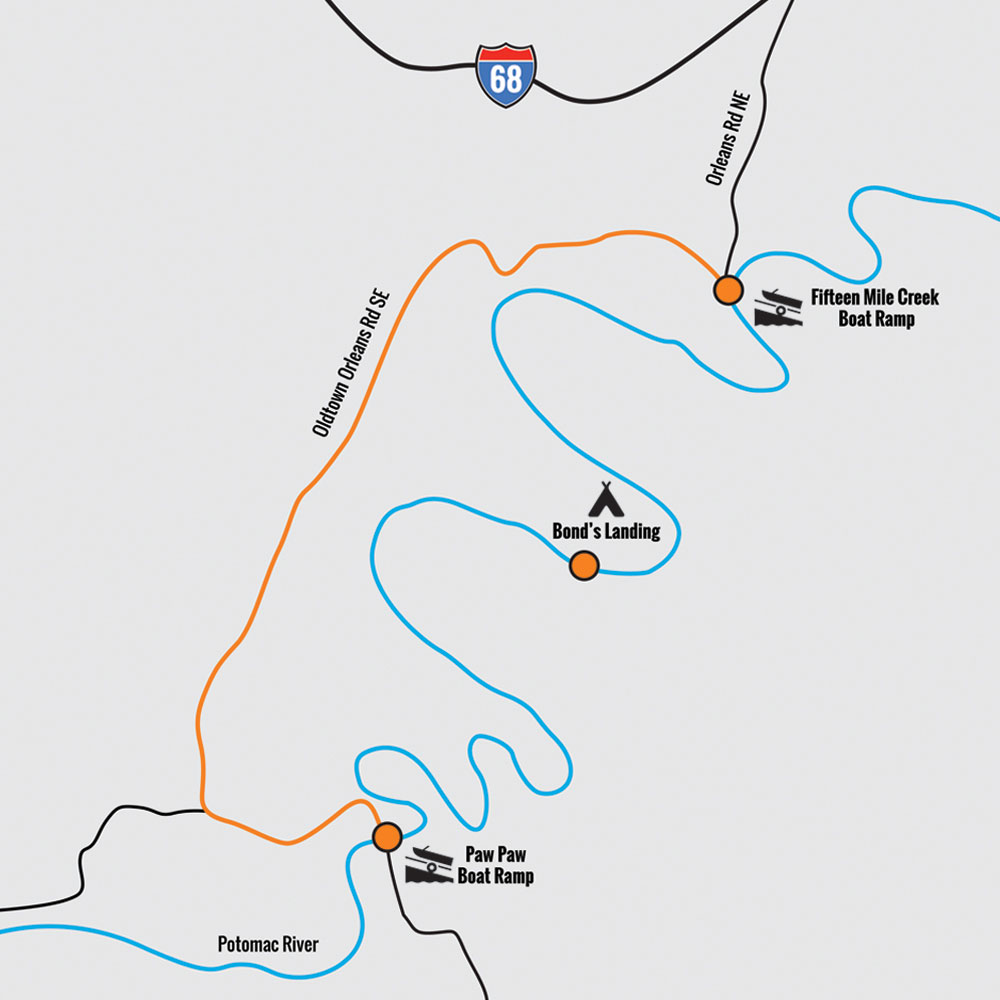 Paddling the Bends
Before you go, check the USGS website (waterdata.usgs.gov) to make sure the conditions are safe. Days following heavy rainfall can result in heavy currents and increased water flow by several thousands of cubic feet per second. 
From Paw Paw, you'll paddle 11 miles to camp at Bond's Landing located within Green Ridge State Forest. Once you've reached the park, you will see a concrete boat ramp on the north side of the river. Just before the ramp is a dedicated river access campsite which does not require reservations. Since it is public there is a possibility that you may  have to share the area with others. Call the park office for details on how to reserve a private site at Bond's Landing. The only amenities here are a fire ring, a picnic table, and a basic toilet house with no running water. The river bank and rocky steps up to the site can be very slippery, so proceed with caution. 
The following day, you'll have a nine mile paddle back to the take out at Little Orleans. In this section of the river there are some deeper holes to fish and fun class I rapids to navigate. Once you meet your destination, load up the trucks and shuttle back to Paw Paw before heading home.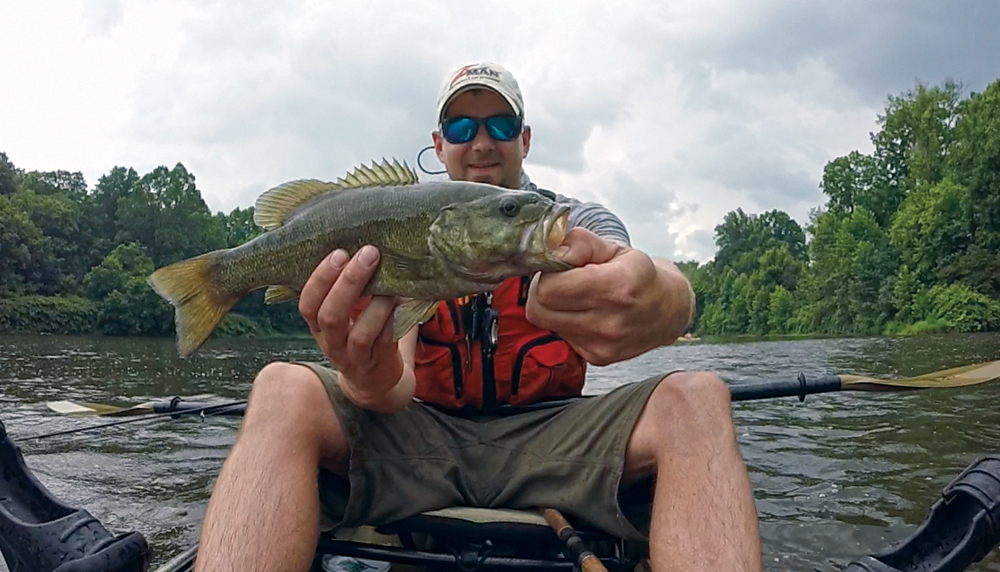 Fish Along the Way
Now to the important stuff: the fishing. This section of river typically averages about two to four feet in water depth. Smallmouth bass, bluegill, and catfish are abundant here. I've found the most effective lures for smallmouth to be small spinnerbaits like a Mepps or Strike King Micro-King with a chartruese and white skirt. You can also pick up countless bluegill drifting downriver with a nightcrawler under a bobber. Musky also inhabit these waters, but they tend to reside a bit further downstream.
Kayak Fishing/Camping Tips
Just as you would if you were backpacking, you'll want to keep your gear to a minimum. One rod and a small tackle box should suffice. A gallon of water should be enough for each person and non-perishable food such as freeze-dried MRE's are ideal. A small heating source to cook your meals can be shared amongst everyone. Small tents and camping hammocks are easy to stow in your kayak. A dry bag is essential to store anything that you absolutely don't want to get wet. And, remember pack it in, pack it out. 
~ By Zach Ditmars