Most of us remember the first fish we caught as a child and that fish was most likely a bluegill, or a similar panfish. The term "panfish" covers a wide range of fish that are small enough to be cooked in a frying pan. There are far too many fish that fit into this category to cover them all, so we'll just look at four: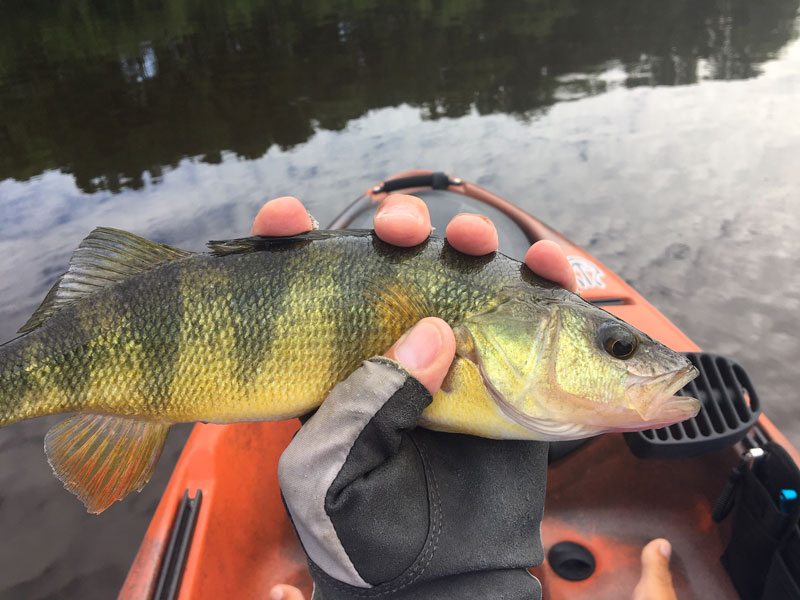 Let's talk tackle before we get into catching these tasty fish. I like to use ultralight fishing rods. Using ultralight gear allows me to cast very small baits; the one-eighth-ounce size and smaller are my preferred offering. If I am on a larger lake and I am vertical jigging I may use a longer rod, up to seven feet and medium-light action. This is so that I can set the hook the instant I feel a bite. If I use ultralight gear for vertical jigging, I tend to miss more fish because of the light action. As for my fishing line, I like to use 10-pound braid with a six-foot fluorocarbon four-pound test leader. You don't need the braid line, but I prefer to use it because I can feel the slightest tap of a bite.
Bluegill, crappie, yellow perch and white perch are all schooling fish, so if you catch one fish you'll most likely catch additional fish in that same location or out of the same school. Let me say first and foremost, when you find the fish you'll want to keep the noise level down on the kayak. Once the bite is on you don't want to push them away and have to find them all over again.
Kayak Fishing for Bluegill
Try casting a small weighted bobber with a fly or micro jig 12 to 18 inches below the bobber, under overhanging brush or shade of trees along the shoreline. Let the fly or jig settle below the bobber then twitch the rod tip while taking a little line in. The same technique works along laydowns and other cover close to the shoreline, too. On a small creek you can repeat the motion the entire width of the creek. When fishing a flat on a larger body of water with grass right below the water's surface, it's time to cast or slowly troll an inline spinner or small spinner bait.
Crappie From the Kayak
While fishing millponds on the Eastern Shore I'll target crappie. You can find them along laydowns, under tree cover, and off points of land. I don't take my fish finder while on millponds because the water is rather shallow and the fish are easy to find. I cast eighth-ounce lead jigs with a spinner and a white, chartreuse, or a combination of the colors, on a twister or paddletail plastic grub. I will also cast inline spinners and jigs. I have slowly trolled the baits behind my kayak with great success, too. While fishing the lakes on the Western Shore I do take my fish finder to locate fish in the deeper, cooler water. I will vertically jig small pink, white, chartreuse, or a combination of colored jigs on the longer rod, with enough backbone to set the hook.
Catching Yellow Perch
You'll catch yellow perch in the same locations and using the same methods as crappie, but you will find it harder to find them in the heat of the summer on rivers and creeks. They tend to move to deeper cooler water, so you will need to use the fish finder to locate them in schools. Once you find a school of fish you'll want to vertically jig. Let your jig drop until it hits bottom and then bounce it off the bottom with light twitches of your rod tip. You may want to tip your jig with a piece of red worm or bloodworm to entice them.
White Perch Kayak Fishing
These fish will sit tight to the shaded areas under the docks and they will hang out in the shade of pilings. I like to throw small jigs with a white twister tail grub with or without a jig spinner or if fishing on a flat with grass, troll or cast small spinnerbaits.
Panfish are fun to catch and they make great table fare, so grab the kayak and your fishing rod and head out for some easy summer fun.
-By Eric Packard