Let's face it, boaters: 22 foot center console boats with white hullsides, a leaning post, and a transom livewell are a dime a dozen. Except that in this scenario, the dime actually costs as much as a house in some parts of the country. Wouldn't it be nice if there was a boat that you could semi-customize for the way you enjoy going out on the water? One that had all the fishing features you wanted, and was also affordable? It would take something completely new. Hence, the LFG 22 CC.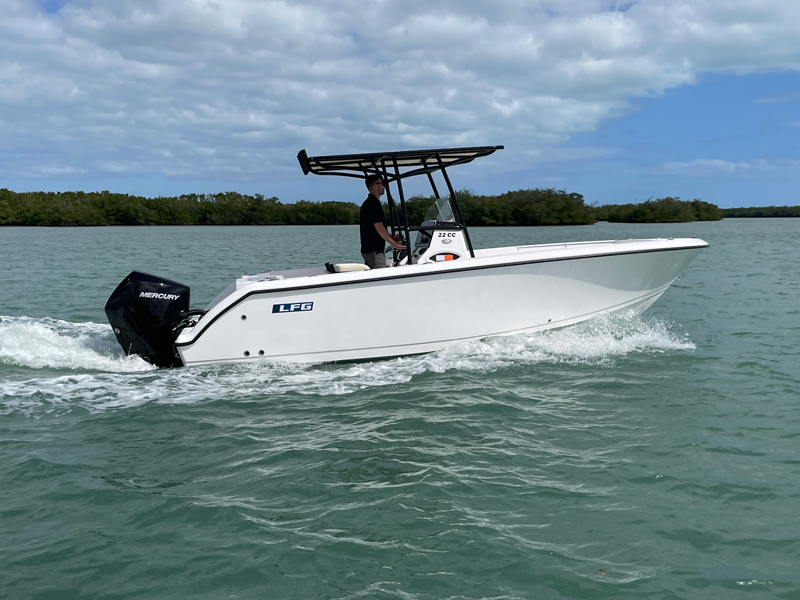 If you want those white hullsides on the 22 CC you can have 'em. Or, you can order the boat in Ice Blue, Seafoam, Whisper Gray, a number of wrap designs, or you can even upload your own design. You can have the aluminum pipework in an anodized finish, or powder-coated in white or black. You can add underwater LED lighting in white, blue, or green. Long story short? You can make the LFG 22 CC look the way you want it.
Beauty is, of course, more than skin deep. And the customization options aren't all about looks alone. You can also choose to have (or not have) things like a sun shade, kingfish rocket launchers on the T-top, a freshwater system, different electronics packages, different cushion packages, and a wide range of outboards from 140- to 200-hp. Many manufacturers give you a choice between this or that, but few let you choose it all — or not.
As far as the basics go, the LFG 22 CC has the "must have" items to head out and catch fish whether you're planning to troll for salmon on Lake Erie or go striper fishing on the Chesapeake Bay. There are rodholders in the gunwales plus four across the transom, the T-top sports four rocket launchers, the leaning post has two more, there's a 26-gallon livewell in the starboard corner of the transom fed by an 800-gph pump, rodracks are under the gunwales, and there are fishboxes under the foredeck with a total of 190 quarts of capacity plus a 135-quart in-deck box with a molded-in recess for securely stowing a five-gallon bucket. Cockpit space is maximized by recessing the fold-out transom bench seat, and the bowdeck is elevated for casting.
More about that bow: while the deck does rise to boost your angling ability, it sits relatively low in this boat compared to some others. This makes for a very deep bow cockpit, a design feature that helps make the LFG ideal for families with young children and/or those who are new to boating, and may be intimidated if they don't have tall, protective gunwales ringing them. Other family-friendly features include a console head compartment (the MSD is optional, of course), courtesy lighting, a molded-in 36-quart console cooler, and a recessed aluminum bow grabrail.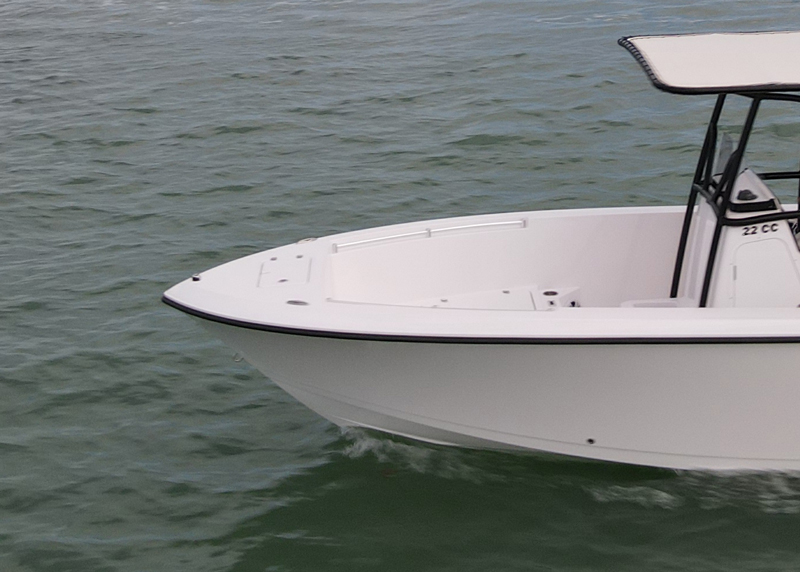 Does the 22 CC have goodies like lighted LED cupholders, USB ports at every seat, or electric-actuated sliding chairs? Nah, that's the kind of glitz that drives boat prices through the roof, and this is intended to be an affordable boat. But it has the quality where it counts. Swing up a hatch and check out the tension hinges, for example, which hold the hatch in place while you access a compartment. Examine the cleats, and you'll find that they're stainless-steel pull-ups. Flip a switch, and you'll realize that the rocker switch panel is backlighted. Get up close and personal with the bilge pump, and you'll notice that it's a 2,000-gph model. Most importantly, the stringer grid is all-composite and the hull and components are infused fiberglass.
Have you looked at a million and one 22-foot center consoles, and walked away thinking they were pretty much all the same? Have you wondered why there isn't a builder who delivers what you choose, when you choose it? LFG did, too. In fact, the people behind the boat have 30-plus years of experience in the industry building other brands (LFG is owned by Twin Vee Boats), so they had a pretty good idea of what people wanted, what the current market delivered, and what it did not deliver. The net result? The LFG 22 CC. Problem solved.
LFG 22 CC Specifications
LOA – 22'0"
Beam – 8'6"
Fuel Capacity – 90 gal.
Water Capacity – 6 gal.
Max Power – 200 hp.
Visit LFG Marine for more information.