Are you sick and tired of gentrified fishing boats with so many frou-frou features that they're better suited for cocktail hour than casting? The gold-stitched seating, wine-chillers, and light-up cupholders may look nice, but they force boat pricing into the stratosphere while also making it seem like a faux pas to drip a drop of fish blood on the deck. That's why we love no-nonsense fishing boats like the May-Craft 1900 CC. It's a straightforward, un-complexicated, no B.S. fishing boat. Period. Before digging into the details, check out this short video we shot on a 1900 CC at the Bay Bridge Boat Show.
The 1900 CC features an open cockpit with stowage/battery box/livewell compartments on either side at the transom, four flush-mount gunwale holders, vertical rodracks for three rigs per side on the console, under-gunwale racks, and a big fishbox/stowage compartment in the foredeck. The foredeck itself makes for an ideal elevated casting platform, and May-Craft caps off the bow with a standard-issue bowrail that reduces the teetering will-I-go-over feeling some elevated casting decks engender. The boat's available either with or without a T-top, a feature we'd suggest getting not only for sun protection but also for the six rocket launchers (two angled out a la kingfish holders) and the overhead electronics box.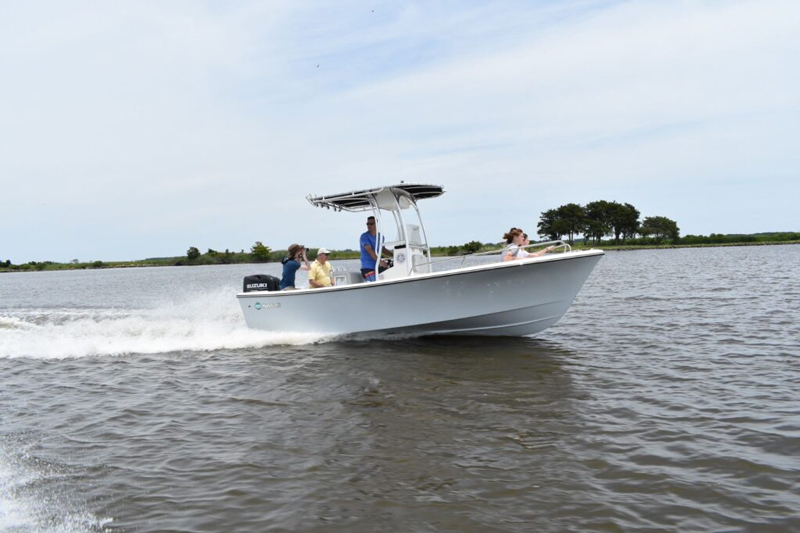 Another optional feature we'd recommend going with is the aluminum leaning post, which is a big step up from a flip-back cooler seat and nets you three more rocket launchers across the back, as well. Dittos for the trim tabs. Note that the 1900 CC has a very steep entry that transitions back to a relatively low-deadrise stern, a design that works well for small boats dealing with a big Bay chop. But to really take advantage of it you'll want those tabs, so you'll have more control over just what part of that hull (as in, the sharp entry) meets the waves while cruising at different speeds with varying loads.
The console is just as straightforward as the boat's attitude, with a flush-mounting surface for electronics, a glove box, and swing-open aft doors and stowage space inside. The top of the console is flat and there's plenty of room on top for additional electronics, a compass, or hard-mounting other accessories.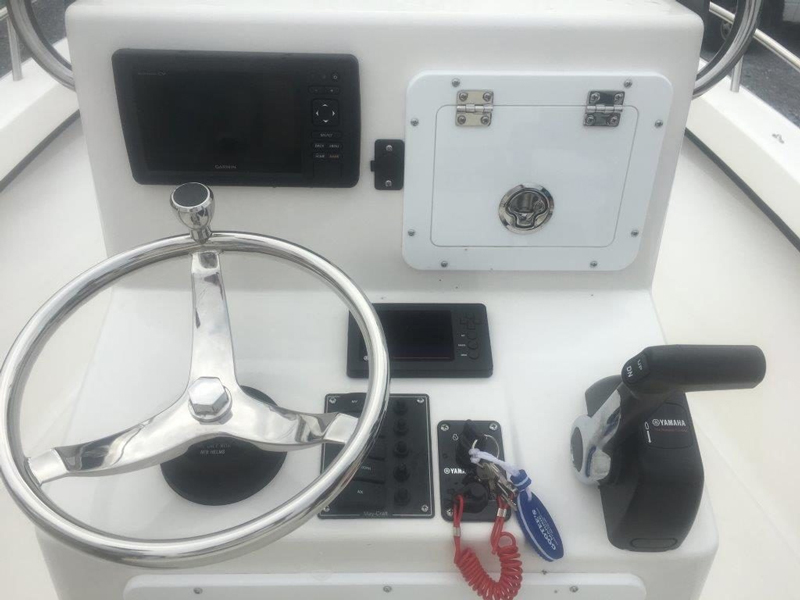 Max horsepower for the boat is 140, but many of the 1900 CCs you see out on the water will be rigged with a 115. In truth, this is plenty of power and will get you a cruise in the mid-20s to the 30-mph range, and a top end in the upper 30s. For most anglers, this is more than enough speed on a 19-footer.
Signs of gentrification, or sacrifices in fishability made in the name of comfort? Nada, zip, zero, and zilch. We suppose you could argue that the forward console seat (with stowage underneath) is one, but in truth no one's going to stand in that spot when they're fishing anyway, so it's not like that costs you any fishing space. Beyond that this boat is a fishing platform — plain and simple, no B.S., and period.
May-Craft 1900 CC Specifications
LOA – 18'10"
Beam – 7'9"
Displacement – 1900 lbs
Draft (hull) – 0'11"
Transom Deadrise – NA
Fuel Capacity – 52 gal.
Max. Power – 140 hp
Area Dealers – Beacon Light Marina, Middle River, MD, (410) 335-6200.