It's painful to go night fishing for rockfish in December — plenty of folks would call it utterly insane. But if you layer up sufficiently to beat the cold, grit your teeth, fill up a thermos with piping-hot coffee or soup, and grind through it, you can come up with some utterly spectacular catches. Here's how to make it happen: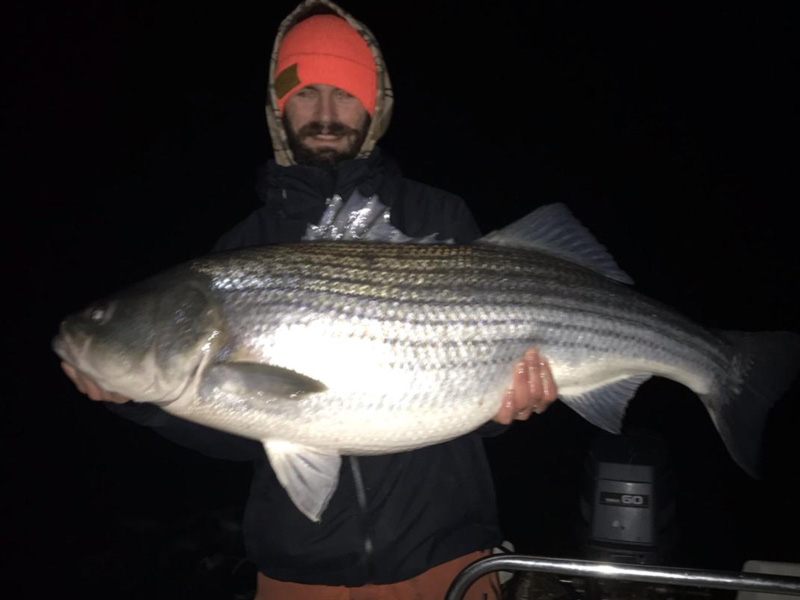 Go Dark – If you're casting jigs, try dark colors like black, deep purple, or brown/avocado. At night dark colors create a silhouette when viewed from below that's easier for the fish to see than the one created by lighter colors.
Go Big – Large stripers trying to feed in the middle of winter aren't interested in chasing down small bait, which may provide fewer calories than they'll receive even if successful. They want a big meal so that the energy being expended is a worthy investment. That means moving up to nine- or 10-inch baits (try those big BKD lures), skirting for larger profiles, or using jigs on large bucktails that appear as a bigger meal.
Go Eeling – Eels are often an effective striper bait, and never more so than in the dark during the winter (where legal; note that using eels in Maryland is not allowed during the closed or spring seasons and that the regs are constantly changing everywhere, so check for the latest rules). When fishing them around structure try to cover different depths until you locate fish, by using float rigs suspending an eel at 10 or so feet, another at 15 to 20 feet, sending one back with little or no weight, and sending another line to the bottom.
Go Late – One common mistake people make is to fish for a couple of hours right after dark. But the first hour or two of dark is commonly not the most productive time for night fishing. It takes some time for the fish to adjust to the dark conditions, and if you leave early, you'll likely miss the bite entirely.