One of the best things about being in the fishing industry is meeting countless cool fellow fish-heads and Chesapeake Bay fishing nuts who have found a niche in the business. Most people don't get into the business to get rich, but instead because they just plain love fishing. As a result, it's rare to run across those hard-nosed acerbic types who are in a business to make money, period, and are so common in other industries. And every once in a while, you meet someone who has managed to turn their love of fishing into a profitable business through a dose of good old-fashioned entrepreneurial spirit. Case in point: 17-year-old Ian Rubin, a high-school student entering his senior year this fall. A bass fishing addict who also enjoys going for stripers, catfish, or whatever species he can as opportunities arise, last summer Ian was facing the same doldrum-inducing problems as the rest of us — thanks to Covid-19 "normal" life was on hold. He wanted to do something constructive between fishing trips, but for a high-schooler getting a job during Covid-19 was even tougher than usual. He saw the opportunity to not only create his own job but also create his own niche in the fishing world, and he seized it.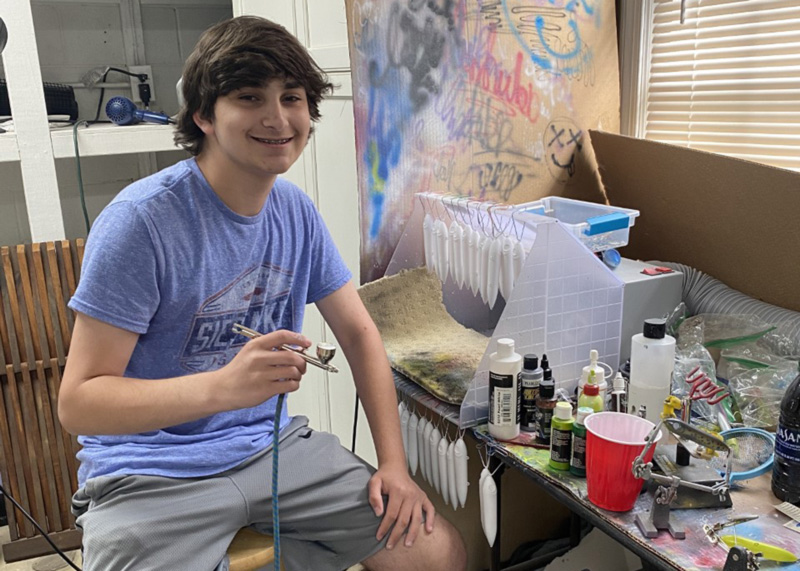 "I saw an ad for an airbrush kit," he explains, "and I jumped on it. Last June I began painting lures and by the end of the summer orders were pouring in."
Take a gander at Ian's work and you'll know right off the bat why he has no trouble selling his LipRipperZ lures, why local tackle shops have ordered hundreds at this point (both Alltackle and Angler's now carry them), and why he gets up early to paint before virtual classes, paints during lunch, and then paints some more after dinner. The finish is utterly fantastic, and once he gets done with a Spook or a Plopper it looks like nothing the major tackle manufacturers can come close to matching.
"I can put company logos on the lures, too," Ian says. "Now I have a lot of orders from companies and a waiting list I'm trying to catch up on. I know that my lures are being used from Cape Cod to the Bahamas — this thing really took off."
Ian also has the desire to use his brand to help promote catch and release, and switched to using fish-friendly inline hooks rather than trebles on his saltwater baits — setting an example that every conservation-minded angler on the Bay should follow. This is the kind of attitude and the kind of success that we absolutely love to see in the fishing industry, and there's no doubt in my mind that Ian will fit right into the wider fishing community. First and foremost, of course, because he simply loves to fish.
If you want to cast a lure that borders on art or if you'd like to have some lures custom-made with your company of fishing-team logo, visit lipripperzbaits.
Oh, and one final thing: "I really like FishTalk," he adds. "It's full of good information for anglers all through the area."
Woo Hoo!