The fall season is upon us and while for many anglers that conjures up thoughts of fall flounder fishing or kayak fishing for schoolie stripers, there are way too many other things to do: stuff like soccer games, football, yard work, and hunting. In the midst of it all, those many countless fishing options compete for our time and attention. However, in recent years I have taken advantage of fall trout stocking and capitalized on both stream and still-water environs to enjoy the fruits of hatchery-reared rainbow, brown, and golden trout. With fall stockings underway in many of our regional waters there are numerous ways to catch them. Here are some of my favorite tactics.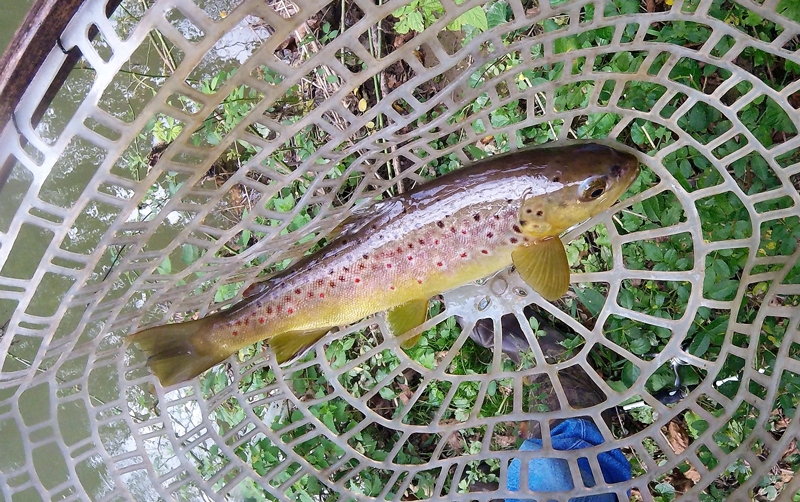 Casting Spoons and Spinners
Many freshly stocked trout will pounce on a variety of small spoons. We always like the classic Kast Masters, Swedish Pimples, and Super Dupers, that run from 1/12th to as large as 1/4 of an ounce. Many trout fans have their own favorite colors. But sticking with standard gold, silver, bronze, or copper hues will cover most of the bases, most of the time. The Super Duper lineup of lightweight spoons has a full array of color patterns including rainbow and two-toned patterns. Some days color will make a difference, so it pays to have a selection if the fish are discriminating.
Spinners such as the classic Mepps Aglias, Rooster Tails, and Panther Martin brands have been "go to" hard ware for stocked trout for decades. Blade sizes from #0 to #2 are preferred and these small, rotating lures should be attached with a small snap swivel to minimize line twist and kinking in monofilament. Some anglers utilize lighter diameter braids to attain greater casting distance with increased strike indication. (Editor's note: don't forget that FishTalk supporter Dangle Lures makes a line of weighted spinners that are designed to maximize casting distance. We've tried 'em and these things absolutely do out-cast any other spinners we've ever used, so if maximum casting distance is a concern we'd recommend trying a Dangle). Often, the use of a fluorocarbon leader at six-pound test can boost strikes from keen-eyed trout in clear water conditions.
Floats and Jigs
I found out quite by accident that the standard float and fly tactic that is so popular for panfish can be a dynamite tool for fall trout as well. The exception is that jig sizes and floats should be downsized for most situations. This is essentially the spin fisherman's answer to the fly angler's indicator nymph, suspending a hair jig to trout that are feeding on any number of insects, stone flies, or aquatics during the late fall/early winter period.
Trout jigs tend to be larger than most flies yet are still considered tiny by spin fishermen. We have had great success with 1/64th and 1/80th ounce hair jigs with mostly dark patterns of black, brown, and olive taking the majority of the fish. Recently, I have experimented with bead-head creations on #10 and #12 hooks that shine for panfish. Remember, these micro-jigs generically represent any number of food items on the fish's menu and often exact duplication of a particular insect is not necessary. I tie most of mine from jigs I purchase from Chuck and Deb on the internet. 
One thing we like to do is bend down the barbs of the jig hook which aids in hook penetration on the set. Additionally, it makes unhooking the trout much easier and if by some chance you get a hook in your hand, well, it makes it easier unhooking you, too.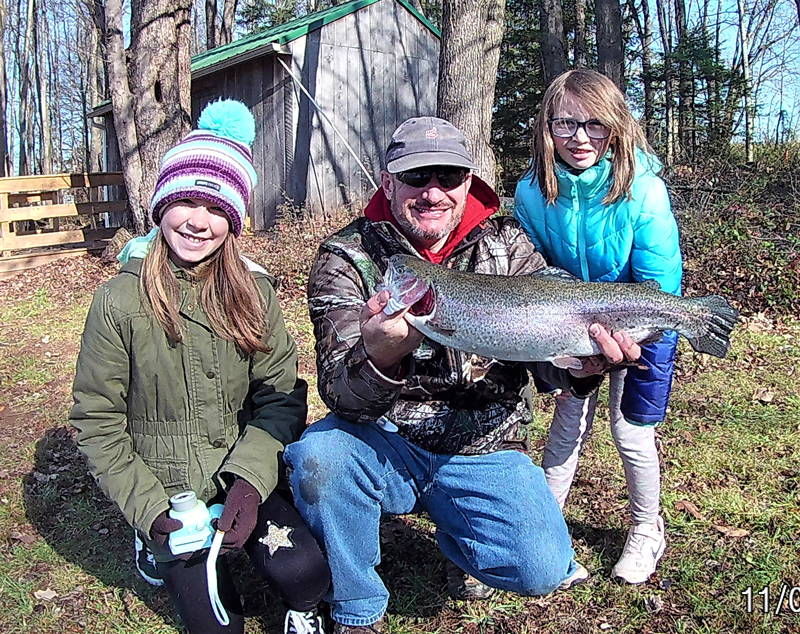 Float styles can vary but keep them small. I like the Plasti-Lite oval float of 3/4 inch diameter. The Comal weighed floats at 1.25 inches are also a good choice. Some anglers use the classic Adjust-A-Bubble, fill it with water, and make long casts to insect-feeding trout in lakes and ponds where distance is needed for success.
Tipping jigs with bait is optional, and often not needed. However, items like mealworms, wax worms, Gulp! products or salmon eggs can be used as an enticement if the trout are finicky.
Powerbait for Trout
One of the largest selling local fishing items each year is the huge variety of Berkley PowerBait Trout Baits that come in a jar in practically every color and shade of the rainbow. Some are in the form of small, marshmallow-style nuggets, but most are a gummy paste that can be formed into a small ball that you bury your hook into. Among the hatchery trout crowd, they are the mainstay.
Most Power Baits float, so you can put a couple split shots 16 inches up the line and they will hover just above the bottom where many trout roam. Hook sizes should be #10 or #12 and baits should cover the entire hook. The only drawback is that the fish almost always swallow the hook, so when you are done catching your limit you need to stop. Catch and release areas traditionally do not permit any form of bait, live or commercially made, so always check the local regulations for each water you fish.
Trout fishing will remain an option right up until the snow flies. Check the Maryland, Pennsylvania, and Virginia trout stocking schedules and go for the gold… trout, that is!
Trout Catch and Release Care
Throughout portions of the Mid-Atlantic some clubs and agencies will sometimes stock large breeder or trophy-class trout. If you are a catch and release angler, as many trout anglers are, then you must take care in handling large, aggressive trout that can possibly expire due to a long struggle on light gear. Even though these fish exceeding 20- or even 24-inches are big and strong they are quite vulnerable to delayed mortality. To up your catch and release game use these tips:
Use a net to land your fish and keep it in the water as much as you can while unhooking your trophy.
Use barbless hooks and the smallest sizes you can get away with. Heavier gauge hooks enable you to tame big fish and still maintain a tight line. Make unhooking chores quick and safe with the barbless gig.
Avoid excessive playing of large fish. I know, it's fun and sometimes even called for when a giant shows up. But the longer you play a fish the more difficult it is for recovery with lactic acid buildup, especially during late fall warm spells.
Take photos quickly and minimize the time of your photo session, to limit the time the fish is out of the water. Preserve both the memory and the fish.
Share the joy. If you are blessed to be on some exceptional fish, then take a friend or a child and let them experience a great memory with a beautiful, quality trout, native or stocked, and keep the late fall trout tradition alive.
If you're new to trout fishing, be sure to check out Fishing for Beginners: Rainbow Trout.