For many Chesapeake Bay anglers, the shorter days and cooling temps of fall signal big striped bass, fat crabs, and football. The land of pleasant living, however, has many secrets. One of those secrets is the red drum and speckled seatrout fishery that is also at its peak during this season.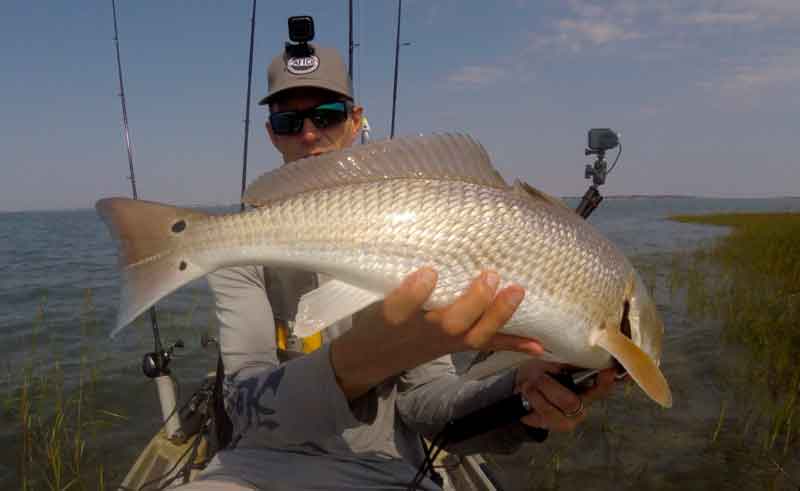 Unfortunately for those addicted to them, the Chesapeake Bay lies at the northernmost edge of the redfish and seatrout range. Our winters are just too cold for these fish and they migrate in and out of our region, so we don't always get good years for them. A good year for specks and reds is often many years in the making. Since the population is adversely affected by the cold, a good winter is a warm one. Extreme cold in the winter will push these fish way south, and in some cases even cause fish kills of specks from a sudden drop in temperature. It may take several years for the fishery to rebound from a hard winter. Who knows, one outcome of the gradual warming trend of our oceans may be a regionally improving redfish and speckled trout fishery?
Kayak Fishing for Red Drum
Red drum, known as redfish, puppy drum, reds, or channel bass, are part of the Sciaenidae family of fish which interestingly includes speckled trout as well as black drum, spot, and croaker. Redfish have a downturned mouth designed for bottom feeding and sucking up food. They generally aren't picky eaters. Crabs, shrimp, and baitfish are all part of their diet. You will definitely know if you have one hit your line as the redfish "thump" is a telltale sign. They are broad shouldered fish, putting up an excellent fight with great runs. Known for bending out trebles, breaking knots, and drag-peeling runs, redfish will test your gear like no other. Don't forget to loosen up your drag when targeting these fish, because reds will always take a fast and hard first run when they feel the hook. If your drag is tightened down too much, you will quickly discover wherever your tackle's weakest spot was.
As far as locations, I have done best closer to the mouth of the Bay. The inlets around Virginia Beach, the seaside creeks and marshes of the lower eastern shore of Virginia and Maryland, as well as some of the lower bayside creeks and grass flats are prime puppy drum habitat. Unlike striped bass that congregate in areas with fast moving water or current breaks, redfish are more of a lazy swimmer. They prefer eddies and areas with slower, lazier moving water. Redfish are known to "ride the tide" coming into inlets or grass beds with the rising tide and then rolling back out with the outgoing. I prefer areas with a good regular exchange of ocean water as these areas tend to hold more concentrations of puppy drum. Most of the forage a redfish is looking for will either be near oyster beds or grass beds, so an area without these is generally not worth targeting. I find a kayak to be an ideal platform for working small creeks as the water is often too shallow for a boat. My Hobie Outback is perfect for this type of fishing, as the pedal drive makes covering distance relatively easy. I can stand and sight-fish as well as paddle if it gets too shallow.
Stealth is the name of the game for redfish. One of the reasons I enjoy targeting them so much is that it is a visual chess game. Redfish are wary hunters. You have to stalk them if you want to catch one, which often requires seeing them first. A well-placed cast out ahead of a cruising group of pups and you get the reward of watching one pounce on your lure, and then run the line off your reel like a lunatic. My overall strategy on reds is to work an inlet the way redfish do. I like an early morning low tide which allows me to ride the tide up into small creeks and grass flats with the incoming tide. For lures I generally fish Zman DieZel minnows in natural colors on a quarter-ounce EyeStrike fishing redfish eye jighead. Lure color choices are determined by the type of day, just like bass fishing. Overcast days: darker colored plastics, bright sunny days: lighter colored ones. If the water is cloudy or stained, my go-to is a gold Johnson silver minnow spoon tied straight to 15- to 20-pound braid. This allows you to cut through weeds and minimize time spent un-fouling your line. Finally, don't forget scent. While they are a highly visual feeder, adding scent often helps to seal the deal.
Speckled Trout on the Kayak
Speckled trout (Cynoscion nebulosus), also called spotted seatrout or yellowmouth, are a seasonal resident of the lower portions of the Chesapeake Bay and can be found from mid-April through the fall months. They are often found mixed in with stripers and can be caught using many of the same tactics. The Honga river, Tangier sound, Pocomoke sound and areas south to the mouth of the Bay on both east and west sides are all areas that hold speckled trout. Typically, speckled trout fishing is a shallow affair, although deeper jigging can also produce. Specks feed on baitfish, small crabs, and shrimp and can be caught using a wide range of tactics. They are a visually oriented ambush predator, lying in wait along grass beds, potholes, current breaks, sod banks, stump fields, and other structures. While they will feed right in a current rip the way stripers do, I find specks are usually just a bit off from the main current. They don't typically compete with stripers when feeding, but often as the striper bite falls off during slack tides the speck bite will pick up. The best spots are classic areas that concentrate current and funnel forage. Specks being somewhat lazy can just hide near these ambush points for the current to bring them their next meal.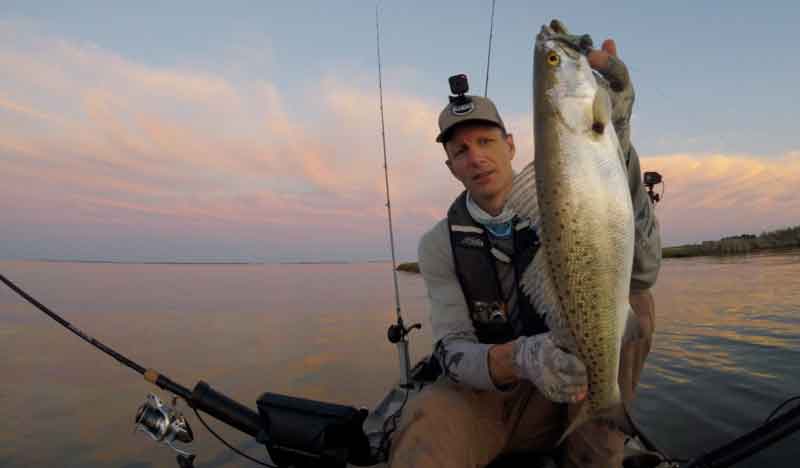 The "not-so-secret" tactic for many Chesapeake Bay kayak anglers when it comes to targeting specks is trolling. While not necessarily the most exciting way to catch them, it is a producer. It is also a great way to cover water to find where fish are holding. Once you have located fish you can always switch to other tactics such as casting topwater plugs or soft plastics. Direction is extremely important when trolling. I've worked many a weed line without a sniff, and then a pass in the opposite direction results in multiple bent rods. Specks, as I've mentioned, want their food brought to them. I troll the same soft plastics that I use for redfish and add a small amount of Pro-Cure scent in the belly. Jig head weight is matched to the depth you want your lure to run. A quarter ounce is my standard for three- to four-foot depths but occasionally it pays to explore slightly deeper water with heaver weights.
Here again, a pedal drive is critical. The Hobie MirageDrive excels in this type of fishing. The fins of the MirageDrive push through grass with relative ease, without getting fouled up. Pedals also allow you to have your hands free to tend to your line or lines while moving forward. My trolling setup for trout is a seven-foot medium action spinning rod spooled with 15- to 20-pound braid on a 2500 to 4000 class reel, and a four foot length of 15- to 20-pound fluorocarbon leader. The strategy is pretty simple: Just make a nice long cast out behind your kayak, set your rod in your rodholder, and pedal forward at two to three knots. Monitor depth and structure by keeping an eye on your fishfinder. I generally work grass beds, potholes, and grass edges in the three to four foot depth range. Once I locate fish, I will make several passes through an area before moving on. Low light conditions like evening, early morning, and overcast days, produces the best bite, as does good clean water.
Fall is prime time for targeting speckled trout and redfish, for those who enjoy Chesapeake Bay fishing. The cooling weather and shortening days signal a big change is coming for these seasonal residents. Bait is abundant and the fish begin to feed heavily as the water cools to a more comfortable range, and they begin their cycle of migrating back towards warmer wintering grounds. The grass flats and creeks of the lower Chesapeake Bay are beautiful places this time of year. Turquoise waters overflowing with life, remote islands, cuts, and bays. Give it a shot and you won't be disappointed. There is so much water to explore — worst case scenario you will only end up catching stripers.
- By John Hostalka, @fishstalka