At the 2022 Miami International Boat Show last winter, Parker Offshore introduced the second in its all-new lineup of center consoles: the 24CC. This follows on the heels of the 22CC introduction at the fall Fort Lauderdale show, and these boats represent a new dawn for the Parker no-nonsense fishing machines many Bay anglers have come to know and love. But if it ain't broke, why fix it? Parker's stated aim is to "maintain the quality, strength, simplicity, and seaworthiness," along with "added features and refined styling."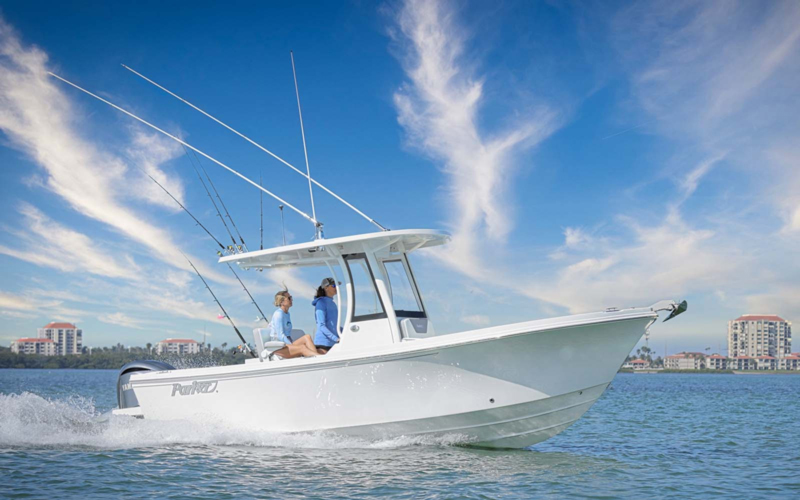 One of the first things Parker fans will notice about these new boats is the console/windshield/T-top configuration. The new configuration integrates a three-sided enclosure, vastly boosting the protection at the helm. The top has a recess molded in for the rack of four rocket launchers. Courtesy and spreader lights, speaker pods, and an electronics box are all integrated. The helm flat has gobs of surface area for flush-mounting electronics including those big-screen 16-inch MFDs, and there are even modern niceties like USB ports and lighted push-button switches. On top of all the features the structure is raked back slightly and incorporates a graceful arc. Added features? Check. Refined styling? Check, again.
Both boats run on a 17-degree deadrise hull, and the 22CC can take up to 250 horses while the 24CC can handle 300. While we haven't had the opportunity to run numbers on these boats as of yet, Yamaha has. And in our experience their performance reports are uber-reliable. So, we're happy to quote them here: with max power both boats cruise in the 35-mph range at 4500 rpm, and top out at right around 49 mph. And of note considering current fuel prices, these boats also break the 3.0 mpg mark at their most efficient cruise, which comes in the upper 20s.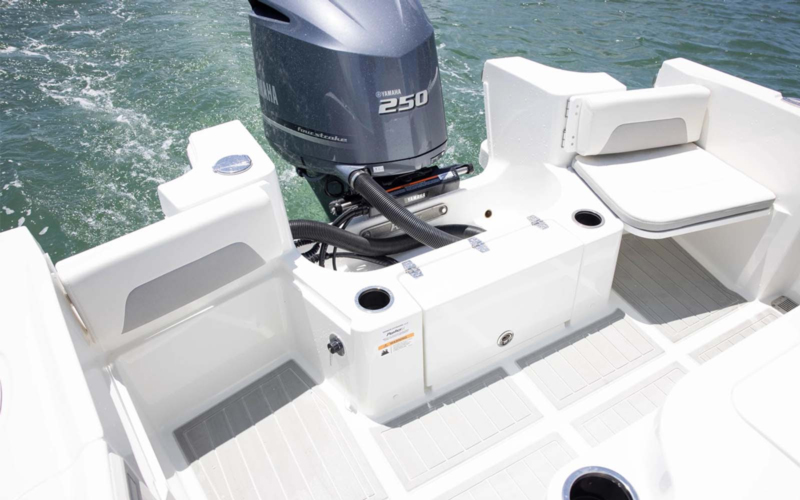 Since these are Parkers, naturally, you expect them to be set up to fish and fish hard. One thing that sets these boats apart from the pack in this regard is the cockpit design, which incorporates removable aft jump seats. Ditch 'em once you get where you're going, and you can move all the way aft to either side of the motorwell and stand right against the transom. In fact, if there are any center consoles this size that let you get farther aft — something you'll really appreciate when it's time to work a fish around the outboard — we haven't seen it. In another nifty design tweak, the seatbacks for those jump seats swing open to allow easy access to the swim platforms.
The new fiberglass leaning post option on these boats is another area where real advancements can be seen, again in both the feature and styling departments. It houses a 30-gallon livewell in the back, tackle stowage in the sides, a pair of flush-mount rodholders (stainless-steel, of course), and has seats with flip-up bolsters and fold-down arm rests. Kick back and plop your feet down on the integrated console footrest with Marine Mat padding, and you'll discover that the new styling also delivers a comfort boost.
Parker has a long, long history on the Bay, and there's no doubt that half the eyes running across these pages have fished from the deck of one model or another through the years. But if you're on the lookout for a 22- or 24-foot center console, don't think for a moment that you've already experienced what these new Parkers have to offer. Because in 2022 their evolution has, in fact, become a revolution.
Parker Offshore 22CC and 24CC Specifications
LOA – 22'0"/24'0"
Beam – 8'6"/8'6"
Displacement – 4751 lbs./5600 lbs.
Draft (hull) – 10"/11"
Transom Deadrise – 17 degrees/17 degrees
Fuel Capacity – 79 gal./97 gal.
Max. Power – 250 hp/300 hp
Area Dealers – Tri-State Marine, Deale MD, (410) 867-1447.